Cam MacKugler '09 Lands a Deal on Shark Tank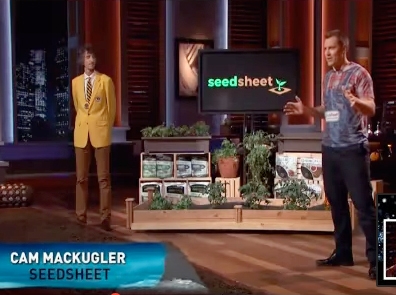 MIDDLEBURY, Vt. – Cam MacKugler '09 introduced himself as a "Vermontrepreneur" when he appeared on ABC's reality show Shark Tank on April 7.
"My company hacked horticulture," MacKugler told the panel of celebrity investors, "and combined algorithms with agriculture to create a product that turns anyone into a successful farmer."
The show gives budding entrepreneurs a chance to pitch their fledgling businesses to potential investors, who may or may not make offers. In the best scenario, the so-called "sharks" start a bidding war to invest, providing the entrepreneur with multiple options. MacKugler said he was seeking $500,000 in return for 10 percent equity in his startup, Seedsheet, a product designed to make gardening easy for anyone in just about any location.
"We are specifically targeting new gardeners," MacKugler told the investors. "The fastest-growing gardening demographic is millennials." MacKugler said that in its first gardening season, Seedsheet was carried in 46 Home Depot stores. The weed-preventing sheets, which contain embedded pods of vegetable seeds, can simply be rolled out over soil and watered to grow fresh, organic produce.
"How do you reach them [millennials]?" asked entrepreneur and investor Mark Cuban. "Going through retail is going to be tough, don't you think?" Cuban had earlier demonstrated how fast and easy it is to use the product by rolling out a 7,000-seed sheet over a gardening container in just a few seconds.
"You say you're targeting millennials, but your first step is in retail," said Cuban. He observed that in retail you have to deal with inventory, markdowns, and returns, etc., while online you can "build to order."
Daymond John, the fashion sportswear mogul, praised Seedsheet as "a disrupter," but agreed with fellow panelists that retail was not necessarily the best way to reach millennials.
Product designer and QVC host Lori Grenier was the first to pounce. "I freakin' love this!" she exclaimed. Noting QVC's huge gardening-products season, she said, "I think I could help you to get publicity out there, to get people to know what it is, and get some good sales fast."
Before making an offer, Grenier paused. "But you only have one hundred sixty some-odd-thousand in sales, right? I'm going to offer you $500,000 for 22 percent."
Kevin O'Leary, the software entrepreneur, quickly jumped in to undercut Grenier's offer, saying he would pay $500,000 for 15 percent equity. Later he pushed even lower to 12.5 percent. Cuban, for a short time, also expressed interest before bowing out.
In the end, MacKugler accepted Grenier's offer, which she had lowered to a 20 percent stake, noting her track record of sales in the gardening category.
"I was very honored to have multiple offers," said MacKugler as the segment closed. "In the end, I think Laurie has a lot of experience with home and garden products, so it was a great fit–destined to be a good partnership."