Faculty Authors Recognized at Book Reception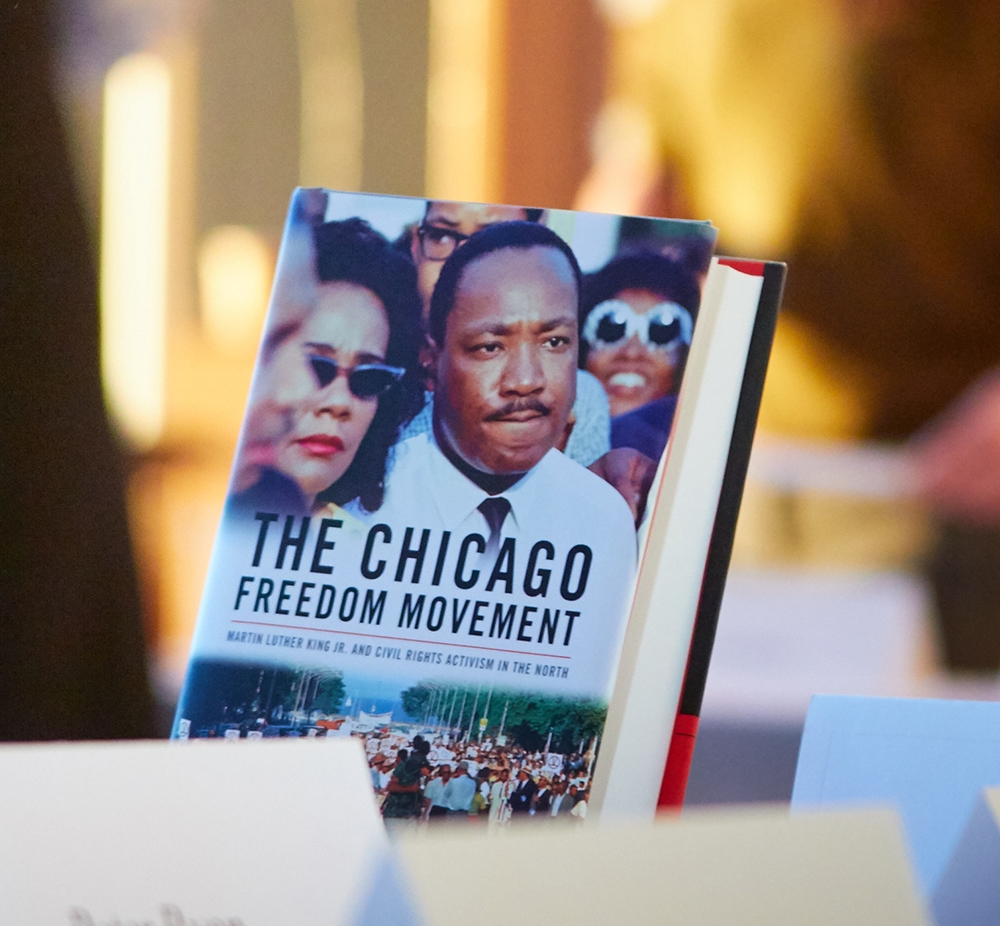 Professor Jim Ralph's The Chicago Freedom Movement: Martin Luther King Jr. and Civil Rights Activism in the North was one of the books noted at a reception for faculty authors.
MIDDLEBURY, Vt. – Middlebury College celebrated the accomplishments of faculty authors at a reception on April 4 in the Davis Family Library's Special Collections and Archives room. Seventeen books by Middlebury faculty members, completed in 2016, were on display at the annual gathering.
Jim Ralph, Rehnquist professor of American history and culture and dean of faculty development and research welcomed the gathering, noting the continued importance of books to the academy in the digital age.
"I'm sure each of you have an answer to the question, 'why write a book?,' said Ralph in his welcoming remarks. "I would wager that all of you would say–whether you are the sole author, a co-author, an editor, or a translator–that you had something that you wanted to say, that you wished to communicate with others. That desire, that mission, ultimately led to the commitment necessary to see through your books from inception, to drafts, to gaining a contract, to reviewing proofs, to publication."
Following is a list of books published by Middlebury faculty in 2016:
. New York: Routledge, 2016.
John Bertolini, The Case for Terence Rattigan, Playwright. London: Palgrave Macmillan, 2016.
Robert Buckeye, Not Her Nor Him. New York: Spuyten Duyvil, 2016.
Luis Castañeda, and Javier González, eds. Alternative Communities in Hispanic Literature and Culture. Newcastle upon Tyne: Cambridge Scholars Press, 2016.
Luis Castañeda, La fiesta del humo. Lima, Peru: Peisa, 2016.
Luis Castañeda, Patricia Saldarriaga, and César Lengua, eds. Han cambiado de agua tus ojos. Alfonso Cisneros Cox. Poética, Poesía, Persona. In memoriam. Lima: Ed. Librería Sur, 2016.
John Elder, Picking Up the Flute: A Memoir With Music. West Brattleboro, VT: Green Writers Press, 2016.
Kemi Fuentes-George, Between Preservation and Exploitation: Transnational Advocacy Networks and Conservation in Developing Countries. Cambridge, MA: MIT Press, 2016.
Michael Katz, translator. Sleptsov, Vasily. Hard Times: A Novel of Liberals and Radicals in 1860s Russia. Pittsburgh: University of Pittsburgh Press, 2016.
Christian Keathley, and Jason Mittell. The Videographic Essay: Criticism in Sound & Image. Montreal: caboose, 2016.
Rebecca Mitchell, Nietzsche's Orphans: Music, Metaphysics and the Twilight of the Russian Empire. New Haven: Yale University Press, 2016.
Elizabeth R. Napier, Defoe's Major Fiction: Accounting for the Self. London: University of Delaware Press, 2016.
James Ralph, Mary Lou Finley, Bernard LaFayette Jr., and Pam Smith. The Chicago Freedom Movement: Martin Luther King Jr. and Civil Rights Activism in the North. Lexington: University Press of Kentucky, 2016.
Richard Saunders, American Faces: A Cultural History of Portraiture and Identity. Lebanon, NH: University Press of New England, 2016.
Daniel F. Silva, and Aidoo Lamonte, eds. Emerging Dialogues on Machado de Assis. New York : Palgrave Macmillan, 2016.
Stanley Sloan. Defense of the West: NATO, the European Union and the Transatlantic Bargain. Manchester: Manchester University Press, 2016.
Christopher Star. Seneca. London: I. B. Tauris, 2017.