Middlebury and Monterey Students Undertake 'Projects for Peace' in Bulgaria, Germany, Cambodia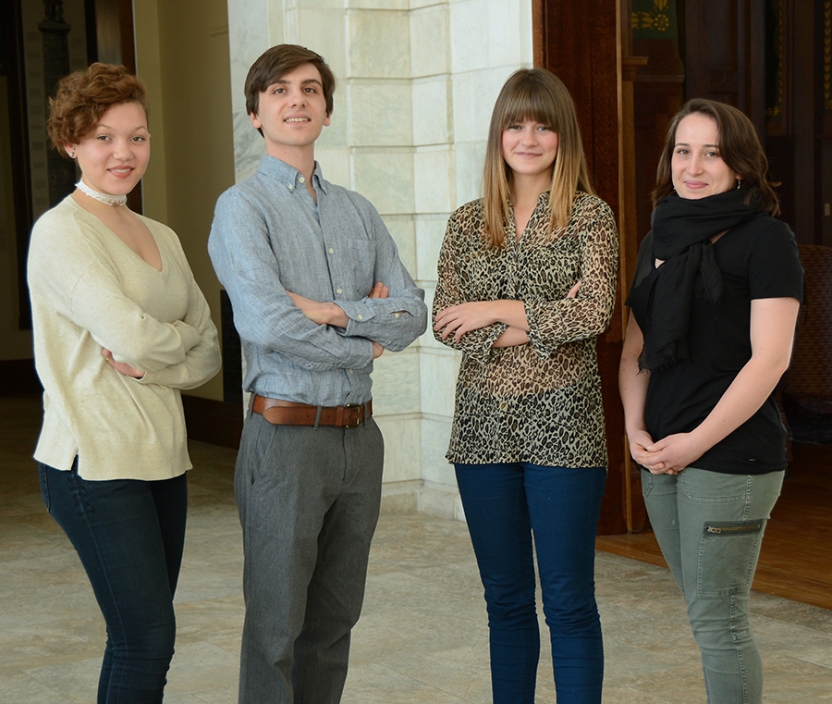 MIDDLEBURY, Vt. – The Davis United World College Scholars Program will fund two Projects for Peace proposals submitted by Middlebury College undergraduates and one by a graduate student at the Middlebury Institute of International Studies for the summer of 2017, one project in Bulgaria, one in Germany, and the third in Cambodia.
The Projects for Peace initiative, now in its 11th year, seeks to fulfill the vision of Kathryn Wasserman Davis, the late philanthropist and scholar who pledged $1 million per year to work toward lasting peace in the world. She challenged college students "to bring about a mindset of preparing for peace instead of preparing for war" through innovative projects that promote love, kindness, and global understanding.
Middlebury students have undertaken 15 Projects for Peace since the program was launched in 2007. They have operated a personal development camp for youth in Senegal, leveraged tea cultivation as a means of bringing economic and social benefits to small villages in Nepal, and trained young people from Burma (Myanmar) to be journalists. Other projects directed by Middlebury students have taken place in Pakistan, Morocco, Turkey, Israel, Guatemala, Thailand, Afghanistan, Uganda, and the United States.
The 2017 projects proposed by Middlebury undergraduates are Immersion Summer Language and Leadership Academy in Bulgaria and Integrating Voices: Community Building in Berlin via Creative Writing and Translation.
The project in Bulgaria was developed by Maggie Nazar '17 with Eva Bod '20, Isabella Carey '17.5, Lee Garcia Jimenez '19, and Keenia Shingawa '17. Their academy will be a three-week immersion program in English for 40 young Bulgarians between the ages of 16 and 23. Their vision is to produce "a generation of empowered youth who will use English as a tool to access information and communicate with people outside of Bulgaria."
In addition to engaging learners to improve their proficiency in the English language, the summer academy will support the development of critical thinking skills by modeling how to frame problems from different perspectives, evaluate information, and communicate effectively. It will also promote the ideal of active citizenship and change-making through leadership training.
"Our goal is to build the foundations for a sustainable social enterprise which will grow and build a wide network of empowered individuals beyond Bulgaria," said team leader Nazer. "Looking forward, we hope that Immersion Academy will not only impact the lives of select few, but set a precedent and drive innovation in foreign language teaching in Bulgaria at large."
The project in Germany – Community Building via Creative Writing and Translation – was created by Amir Firestone '17 and Oakley Haight '17 to counterbalance the "disheartening rise in Islamophobia and xenophobia" in Germany due to the recent arrival of hundreds of thousands of refugees from Muslim-majority countries.
"Refugees are often vilified in mass-media narratives and their voices are infrequently heard on local or national levels. Their life stories have been narrated by Germans for Germans, and this process alienates the refugees from their own stories and their new communities, fostering a dominant narrative of 'refugee crisis' divorced from the refugees themselves," Firestone and Haight said. They propose to address the issue through a three-month long collaborative process of self expression "to return narrative agency to the Arabic-speaking refugees themselves."
They plan to partner with the Berlin-based NGO Über den Tellerrand for networking resources, volunteers, and bilingual translation facilitators, in addition to using the organization's community space to conduct their workshops over a period of 12 weeks.
Christina Lukeman
Middlebury Institute student Christina Lukeman MBA '17 will work on a project to increase business literacy among women in the Boeung Kak Lake region of Cambodia. Lukeman worked for an impact investment venture capital firm in Cambodia during the winter J-term, an experience that taught her that "earning higher wages is only the first step out of poverty." This summer she will return to Cambodia and start offering training sessions teaching women some of the basic foundations of running a business.
As Kathryn Davis approached her 100th birthday in 2007, she pledged to support 100 Projects for Peace at $10,000 each, for a total commitment of $1 million per year. (Middlebury is one of about 90 participating colleges and universities.) Mrs. Davis passed away in 2013 and her work has been continued by her son Shelby M.C. Davis and the Davis United World College Scholars Program.
Projects for Peace are intended to "encourage student initiative, innovation, and entrepreneurship focused on conflict prevention, resolution, or reconciliation." The Davis family and friends believe that today's youth are tomorrow's leaders, and tomorrow's leaders should be challenged to formulate and implement their own ideas. In 2007 Middlebury College conferred an Honorary Doctor of Humane Letters to Mrs. Davis in recognition of her vision, generosity, and lifelong achievements.
– With reporting and photography by Robert Keren
For More Information