Fifty-one Students Inducted to Phi Beta Kappa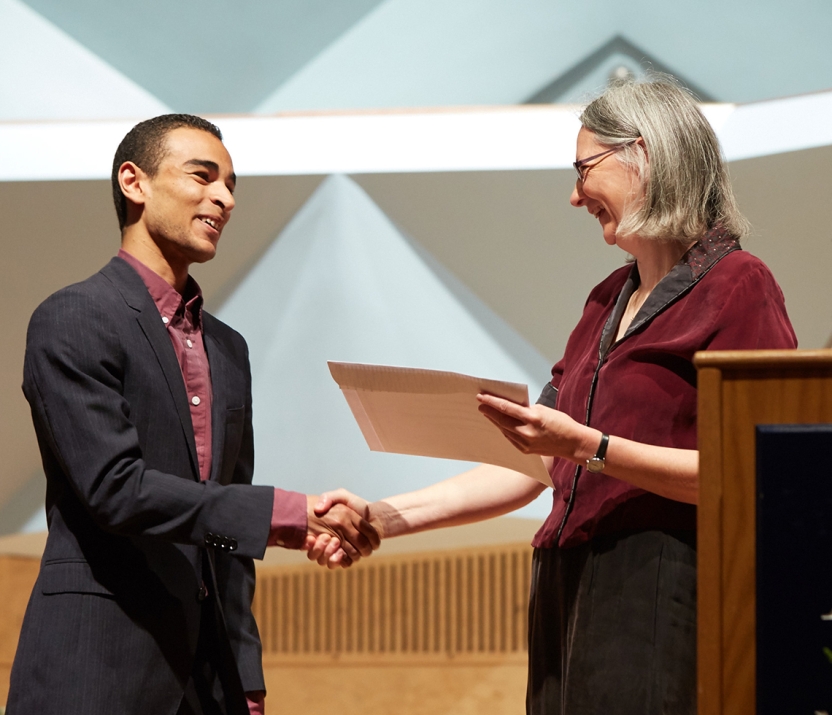 MIDDLEBURY, Vt. – In a commencement-weekend ceremony at the Mahaney Center for the Arts, 51 Middlebury College students were elected to Phi Beta Kappa, the oldest honor society for the liberal arts and sciences in the United States. The new members join 12 classmates who were inducted last fall after three years at Middlebury.
"At institutions like Middlebury it is all too easy to take this kind of higher learning for granted," said Jane Chaplin, president of Middlebury's Phi Beta Kappa chapter and the James I. Armstrong Professor of Classics. "But very few people enjoy the sort of education you have received here, and only about one in every 100 students graduates from college as a member of Phi Beta Kappa. When you join that one percent of college graduates tomorrow, we hope you will cherish that privilege, and that you will go on to share it with everyone you meet."
Chaplin described some of rich history and traditions surrounding Phi Beta Kappa, which began at the College of William and Mary in 1776. One of the traditional symbols most often identified with Phi Beta Kappa is the key, which the society developed in its early days. Middlebury owns one of the oldest Phi Beta Kappa keys still in existence, Chaplin noted, holding up a key that belonged to Middlebury's first president, Jeremiah Atwater.
Graduating senior Julie Priya Merchant, who was inducted last fall after three years at Middlebury, gave the student address.
Mohamed Hussein received the Phi Beta Kappa Prize, which is presented "to the graduating senior(s) whose scholarly or artistic accomplishment and breadth, and contribution to the intellectual life of the community, best exemplify the Society's regard for intellectual excellence."
Susan Baldridge, vice president of Middlebury's Phi Beta Kappa chapter and provost, led the group in the traditional oath of induction, then presented the new members to the audience of family, friends, and faculty members.
Each year the Middlebury chapter elects up to 10 percent of the senior class to membership: Two percent of the class is elected in August, on the basis of six semesters' work, and up to an additional eight percent is elected in May, on the basis of work completed over eight semesters.
Seniors elected after three years at Middlebury
Noel Jean Eyman Antonisse
Taylor Scott Berkley
James E. Burke
Chia Ming Juay Davin
Melanie Ann English
Mohamed Ayman Hassan Hussein
Yanfeng JinJulie Priya Merchant
Ethan McKinley Peterson-New
Katherine Ann Reinmuth
Day Dakota Robins
Evelin Eszter Tóth
Seniors elected after four years at Middlebury
Amir Amangeldi
Hannah Hoffland Blackburn
Matthew Brian Blake
Thomas Thatcher Canaday
Yuanzhen (Aurora) Cao
Sarah Holyoke Champ
Nathaniel Crockett Cleveland
Aliza Laurel Cohen
Nathaniel James Levy Crenner
Kyle Burditt Dickey
Thomas Christopher Dils
Gabriel Z. Doble
Sarah Bridget Dohan
Kaitlin Elizabeth Fink
Kelsey Nelson Follansbee
Lindsay Thompson Grigg
Madelaine Allen Hack
Jamie Christine Hand
Jing He
Waleed Helweh
August Cole Hutchinson
SeiYeon Ji
India Annik Rose Kerz
Alexander Elan Khan
Rachel Elisabeth Kinney
Sarah Huang Koenigsberg
Jana Olivia Kumar
Samantha Takahashi Lamont
Eleanor Gray Lorton
Lauren Elizabeth McLean
Caius Jordan Mergy
Elleanna C. Meyer
Ariana Christina Mills
Jules Gordon Nickerson
Hasher Mohammad Nisar
Joshua Henry Nislick
Emma Elizabeth Office
Jiya S. Pandya
Cordelia Willow Prouvost
Ellen Katherine Sartorelli
Mark Robert Sinks
Andrew Peter Smith
Matthew Brooks Spitzer
Leo Z. Trotz-Liboff
Kit Sum Tse
Emily Kathryn Vicks
Stuart A. Warren
Celia Sherry Watson
Emma Skye Wilkinson
Erin Elise Winseman
Jingyi Wu