Middlebury Senior Selected as Finalist for International Speech Contest in Japan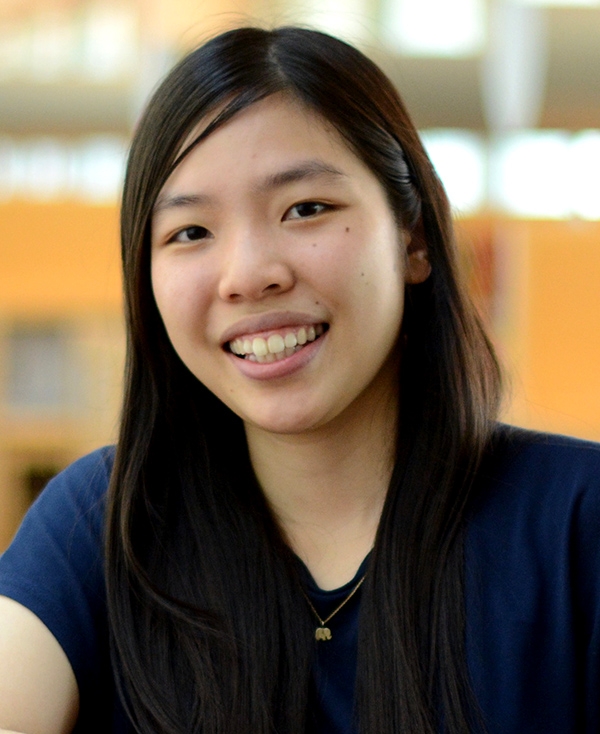 Eirene Chow '17 will compete in the International Speech Competition in Japanese in June.
MIDDLEBURY, Vt. – Eirene Chow '17 has been selected as a finalist in the 58th International Speech Contest in Japanese. Chow, a Japanese and economics major, will travel to the University of Tsukuba in Japan in June to compete in the final contest–for non-native speakers–sponsored by the Japanese Foreign Ministry, the Japan Foundation, and NHK, Japan's national broadcasting organization. She will be accompanied by Masahiro Takahashi, visiting lecturer in Japanese, as her coach.
Chow, a native of Petaling Jaya, in the state of Selangor in Malaysia, will need to give a nearly perfect rendering of the six-minute speech she has written in order to stay in the running. She wrote the speech for the application round, then delivered it on a video recording. She was one of 12 selected from 87 submissions worldwide.
"I am incredibly excited but nervous about this opportunity," said Chow, an economics and Japanese studies major. "I am currently working hard at practicing the speech with my professor [Takahashi], and I am learning that perfecting a speech in a foreign language is a tricky business. It is incredibly tedious to ensure my pronunciation of words is perfect. My English speech-style instincts to stress certain words for emphasis do not have the same effect in Japanese–I ended up uttering completely different words that changed my speech."
Chow's talk is themed around the idea of "omotenashi," which she describes as a form of Japanese hospitality. She says Japan has used this notion of a Japanese hospitality to promote Tokyo as a worthy host of the 2020 Olympics, and the government is encouraging people to embrace the spirit of "omotenashi" when greeting foreigners in the run up to the Olympics.
"My speech explores the true meaning of this ideology, as well as the nuances of how calling the masses to embrace this mentality erodes the original intention of 'omotenashi,'" said Chow. "In short, while travelers would benefit greatly from this spirit of hospitality, the foreigners who continuously receive this hospitality despite living there for a long time might end up feeling alienated instead of accepted into the larger society."
The International Speech Contest in Japanese will take place on Saturday, June 17.