Trustees Grant Tenure to Three Faculty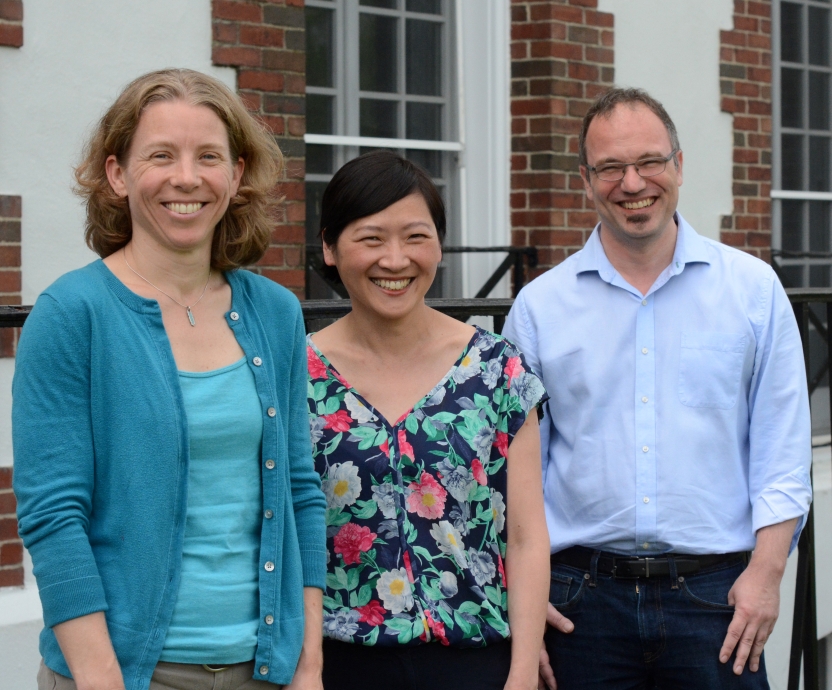 MIDDLEBURY, Vt. – Three members of the Middlebury College faculty were promoted on May 13, 2017, to the rank of associate professor without limit of tenure. In accepting the recommendations of President Laurie L. Patton and the College Board of Overseers, the Middlebury Board of Trustees promoted Anne Goodsell (physics), Rachael Joo (American studies), and Julien Weber (French).
The promotions from assistant professor to associate professor will take effect July 1, 2017.
Anne Goodsell is a physicist whose research focuses on the cooling of atoms with laser light and the interaction between highly excited atoms and electric fields. In granting tenure to Goodsell, Professor Andrea Lloyd, the vice president of academic administration, said, "Your approach to research is guided by your belief in the power of engaging research and teaching as facets of the same enterprise, rather than distinct aspects of your work." Goodsell and her students constructed a lab at Middlebury capable of trapping clouds of atoms, a project that demonstrated "the problem-solving skills necessary to master the technological and theoretical complexities of your work, and thus into the very essence of scientific research." The first results from Goodsell's lab were recently published in the Journal of the Optical Society of America B in an article co-authored with three Middlebury undergraduates.
Goodsell's teaching is "nothing short of inspiring," Lloyd said. "She uses the classroom space deliberately and effectively, [and] the progression of academic material feels alive and responsive to the needs of individual students." A graduate of Bryn Mawr College, Goodsell completed her master's and doctoral work in physics at Harvard University before joining the Middlebury faculty in 2010. She won the College's Gladstone Award for Excellence in Teaching in 2016.
Rachael Miyung Joo is an innovative and broad-ranging scholar whose work lies at the intersection of American studies, Asian-American studies, gender studies, media studies, and sports studies, said Lloyd. Faculty colleagues and students alike salute Joo for placing a premium on "independent, critical thinking," and for creating an inclusive classroom environment in which "students are able to find their own ways to enter challenging conversations." She teaches classes on race and ethnicity, cultural and social theory, immigration, globalization, and critical studies of sports.
Joo's research focuses on the transnational circulation of mass media, specifically how sporting media connects South Korean and Korean American communities. Her book, Transnational Sport: Gender, Media, and Global Korea (Duke University Press, 2012), explains how sports shape experiences of global Koreanness, and how those experiences are affected by national cultures. The vice president commended Joo as a "driving force" behind the launch of the on-campus storytelling series "It's Not What You Think," and for her service to the committee that established the Center for the Comparative Study of Race and Ethnicity. Joo earned her bachelor's degree in sociology at Pomona College, and both master's and doctoral degrees in cultural and social anthropology from Stanford University.
Julien Weber is a scholar of 19th century French literature and poetry who holds master's and doctoral degrees in French from the University of California, Irvine. Originally from Switzerland, Weber also has a bachelor's degree in French literature and a master's degree in English literature from the University of Geneva. Weber joined the Middlebury faculty in 2011 after teaching at UC-Irvine and Clarmont-McKenna for three years.
Lloyd said Weber is a source of calm encouragement to his students who creates an open, inviting classroom environment so undergraduates will feel free to push their own limits. A versatile professor, he teaches at all levels in the department, from first-year seminars and introductory language classes, to upper-level courses in French literature. His forthcoming book, Donner sa langue aux bêtes – poétique et animalité de Baudelaire à Valéry, has received praise, Lloyd explained, "for its close reading of texts and interesting insights into important figures of modern French poetry. The interdisciplinary scope of his work, encompassing eco-critical approaches, literary analysis, and philosophy, is an impressive feature of a cohesive and remarkably insightful body of work."
In addition to granting associate professorships with tenure to Goodsell, Joo, and Weber, the board of trustees promoted six associate professors to the rank of professor. They are Laurie Essig (gender, sexuality, and feminist studies), Christian Keathley (film and media culture), John Maluccio (economics), Nicholas Muller (economics), John Schmitt (mathematics), and Christopher Star (classics and classical studies). Their appointments to full professor will take effect July 1, 2017.