Center for Social Entrepreneurship Presents Vision Award to Education Innovator Michael Sorrell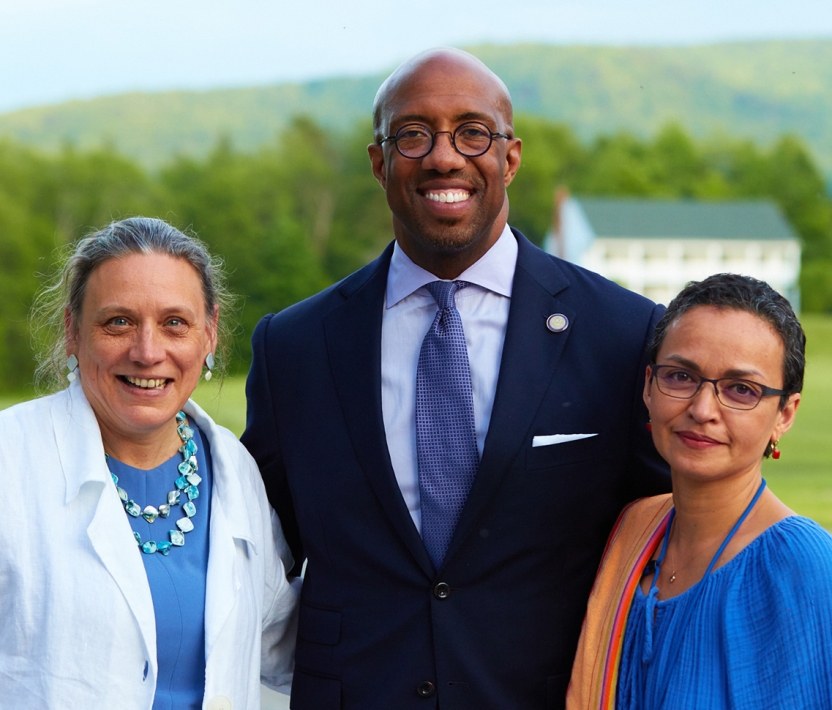 MIDDLEBURY, Vt. – Michael Sorrell, the president of Paul Quinn College, who The Atlantic once called a "one-in-a-million leader," gave the keynote address and received the Vision Award at the Middlebury Center for Social Entrepreneurship's annual June Forum at the Bread Loaf campus last week. Professor Nadia Horning, academic director of social entrepreneurship, welcomed the roughly 60 forum participants to the Bread Loaf Barn and introduced the conversation between President Laurie Patton and Sorrell.
Sorrell mused over his unlikely path to the presidency at Paul Quinn, a historically black college in Dallas. Although becoming a college president was on his list of life goals (along with owning an NBA team, which he nearly did), he professed naiveté as to what that really meant.
Having earned his bachelor's degree from Oberlin College, followed by a law degree from Duke, Sorrell was working at a Dallas law firm when he struck up a friendship with some Paul Quinn alumni and decided to learn more about the tiny college with a struggling reputation.
As chance would have it, Paul Quinn, which is affiliated with the African Methodist Episcopal Church, was searching for a new president, and Sorrell told the search firm he wanted the job. Initially, he says, they ignored him, but later college officials offered him a position on the board of trustees. When he was eventually hired for the presidency, the college was on the verge of financial collapse, and he had to make dramatic changes quickly to save the 145-year-old institution.
Sorrell began a long, entrepreneurial quest to rebuild the once-distinguished college that he believed could serve a valuable role in the community.
"We wanted to solve great big issues and we wanted to empower people who never thought they were capable of solving great big issues," said Sorrell.
Viewing Paul Quinn as a "liberal arts-inspired" institution, Sorrell told his students and board members, "We're going to turn the institution outward and we're going to address the issues of the day. We are going to tackle the concerns of the students we educate and the communities we serve."
"Why shouldn't people from these communities be the ones to solve the issues of these communities?" he asked his students. "People are going to get rich figuring this out. Why shouldn't it be you?"
Sorrell said 85 percent of his students are Pell Grant-eligible, and he was deeply concerned about the amount of money they were borrowing to attend Paul Quinn–many graduating with more than $35,000 in loans.
During an admissions recruitment trip in Detroit, he found himself in discussions with high school educators about the "work-college" model—an idea that had succeeded in rural communities but had never been tried in an urban setting.
Sorrell saw an opportunity. If all Paul Quinn students could work in off-campus pre-professional jobs, it could help cut their tuition, give them work experience, and instill a sense of investment in their surrounding neighborhoods. He developed the idea further in his dissertation research at the University of Pennsylvania.
"Our competitive advantage was to be nimble, to be socially conscious, to be entrepreneurial, and to take the entire student body on a journey to changing the things that they didn't like," he said.
Sorrell's bold experiment paid off. The college was able to cut tuition by $10,000 and reduce student loans from nearly $40,000 to less than $10,000. "We created a different business model," he said.
Now in its sixth year, the forum draws educators from colleges and universities across the country to the Bread Loaf campus for an exchange of ideas about the meaning of social entrepreneurship and its relation to higher education.
This year's conference, "From Local to Global: the Changemaking Continuum," featured workshops on intercultural competency, a teacher's toolkit for social entrepreneurship, facilitating dialogue across difference, and social entrepreneurship for K–12. The program also included panel discussions on community-based learning and social innovation and international development.
Reporting by Stephen Diehl, Photo by Todd Balfour.