Grant Helps Conserve College's Large Antique Costume Collection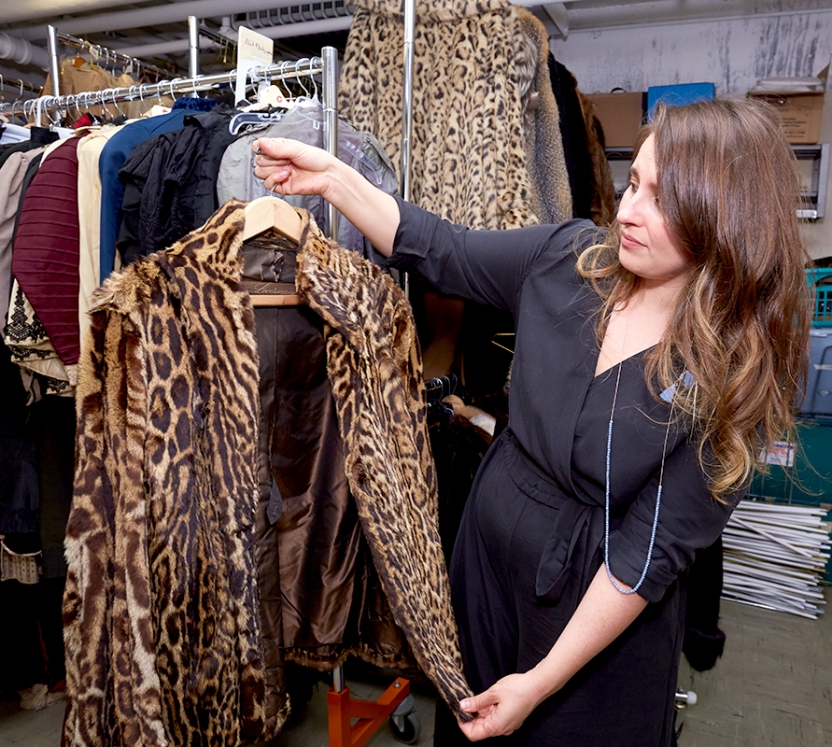 [view:embed_content==548396]
MIDDLEBURY, Vt. – At the end of a long basement room in Wright Memorial Theatre, Mira Veikley reaches into a costume rack and pulls out a jacket. "This is actual leopard," she says with notes of awe and distaste in her voice. The timeworn garment, most likely from the 1930s, lives among a large rack of vintage furs, which, in turn, represent a fraction of the College's large antique costume collection.
"The number one thing when you're designing period clothing is understanding what they're wearing underneath," says Veikley. "A corset, for example, is different in every time period, changing as ideals of beauty and body type changed. Having students see the corset construction that creates the look is invaluable."
Danielle Weindling, an art history major who graduated this spring, was an important partner in the costume conservation effort. As a student, her independent research, supported by the College's Undergraduate Collaborative Research Fund, focused on the history of western dress in the context of art history. After an internship at the Philadelphia Museum of Art's costume and textile department, Weindling brought her newly acquired expertise back to Middlebury where she went to work researching, sorting, and conserving costumes. Now she hopes her efforts will open the collection to a much broader Middlebury audience.
"There's absolutely no reason why a corset or a dress from 1885 couldn't be used in a gender studies course to talk about women and body politics," says Weindling. "That tangible experience is what makes art and theatre come to life!"
For More Information