Middlebury Announces First Winners of Virtue Family Exceptional Service Award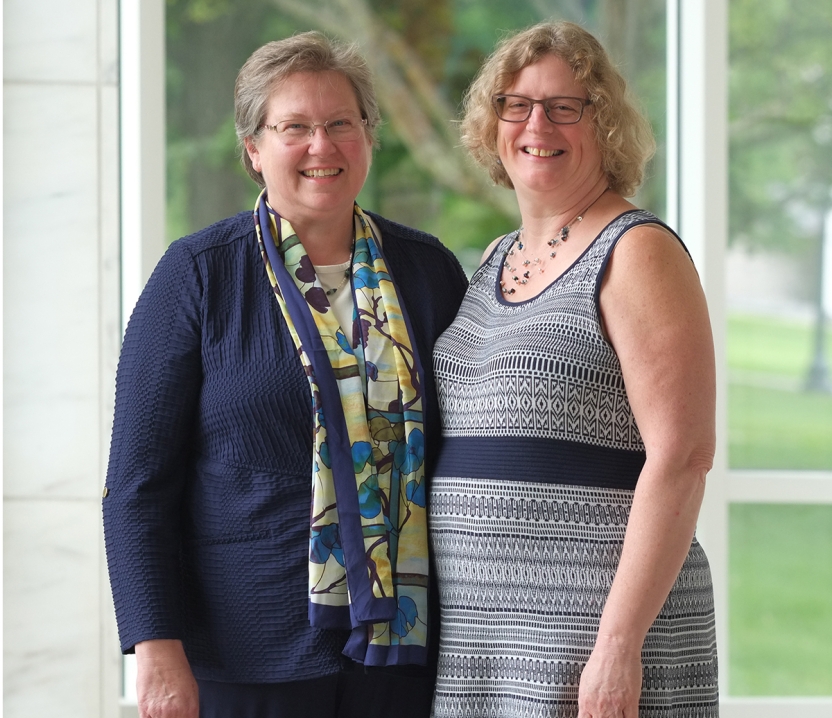 MIDDLEBURY, Vt. – Middlebury President Laurie Patton has announced that the first two recipients of the Virtue Family Exceptional Service Award are Amy Holbrook, coordinator for the Economics Department, and Tiffany Nourse Sargent '79, director of the Center for Community Engagement.
Established by a gift from Ted '82 and Dani Shaw Virtue '82, the two $25,000 cash awards recognize faculty and staff who have "gone above and beyond their normal professional responsibilities to support and connect with students in ways that build a more engaged and inclusive Middlebury community." The award honors long-term exceptional service to the community with deep and lasting impact.
Holbrook has served as the academic coordinator for the Department of Economics since 1993. Her nominators wrote that "although her official duties revolve around helping the Economics Department run smoothly and efficiently," she is "a mentor, supporter, and informal cultural facilitator for Middlebury students."
Students and faculty remarked on Holbrook's deep commitment to supporting students outside her administrative role. One nominator wrote, "As an international student, and in the absence of my family during important events in my life at Middlebury, she was my family; coming to ISO shows, accompanying me to my first Dolci dinner and joining me for Thanksgiving lunch at the College–even inviting me to her home one Thanksgiving. Her mere presence in Warner makes the building a more habitable place with a perpetually open door guiding lost first-years and welcoming familiar faces."
Another student nominator wrote, "Amy has always been there for me personally when times have been rough. I really do feel that there should be more people like her on this campus. It is hard coming to a place like Middlebury as a city-dweller, however I have seen Amy open her arms to many international students who have felt lost as well. I will miss Amy after my graduation, but I will be happy knowing that she will continue to be a positive force for other students coming to Middlebury."
Tiffany Sargent has worked at Middlebury since 1985 in various positions that support students engaged in community service. In her current role as director of the Center for Community Engagement, Sargent and her staff work with 1,500 students each year who provide 65,000 hours of service in the local community and beyond. And while her goal is to promote exceptional service in others, those who nominated Sargent say she herself "exemplifies what it means to unselfishly, consistently, and relentlessly give back to all who are around her in ways that build a more engaged and inclusive Middlebury community."
One of Sargent's nominators, a faculty member, remarked on her powerful impact on teaching at Middlebury. "Tiffany has taught me important lessons about the benefits of integrative learning," the nominator wrote. "She has helped me to see the transformative effect that community engagement can have on students' exposure to a social problem like poverty. She has helped my teaching evolve from an over-reliance on the lecture model to a pedagogical approach in which students think in and beyond the classroom simultaneously."
According to Patton, the selection committee reviewed 45 strong nominations of faculty and staff across Middlebury's programs whose work reflected a breadth of transformational service to the community.