Middlebury Names Nicole Curvin Director of Admissions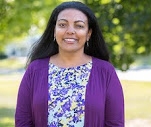 MIDDLEBURY, Vt. – Middlebury Dean of Admissions Greg Buckles has announced that Nicole Curvin has been appointed director of admissions for the undergraduate college, effective August 1. Curvin, who has served as associate director of admissions and coordinator of multicultural recruitment since 2014, will replace outgoing director Manuel Carballo, who was recently named vice president for admissions and financial aid at Oberlin College.
"Nicole established herself as a highly respected, professional colleague from the moment she joined us three years ago," said Greg Buckles, dean of admissions. "I can't think of a better person to step into this important role, and I'm looking forward to teaming up with her as we bring the best students from around the world to our community."
At Middlebury, Curvin will oversee the administrative operations of the Admissions Office, including supervising full- and part-time staff. Among many new responsibilities, she will manage the review and processing of all applications to College programs.
Curvin earned her bachelor's at Wesleyan University and her master's at Harvard Graduate School of Education. She brings a wealth of experience to the director's position, having served as an admissions advisor at Cornell University and dean of admissions at Marlboro College for four years. She has held admissions leadership roles at Eugene Lang College of The New School for Liberal Arts and at New York University's School of Continuing and Professional Studies. Earlier in her career, Curvin was coordinator of recruitment for African, Latino, Asian, and Native American students at the University of Vermont.
"I am honored to have been selected to serve as director of admissions and I look forward to embarking on this new role within this vibrant academic community," said Curvin. "It is a wonderful benefit that I come into this new role after having spent time in the office with colleagues who are deeply committed to our outreach efforts. We have the opportunity to build on our recent success in recruiting an increasingly more diverse entering class."
A native of Newark, New Jersey, Curvin has longtime personal and professional ties to Vermont. "Vermont has been a special place in my life," she said. "I feel grateful that my husband [Addison County State's Attorney Dennis Wygmans] and I can do meaningful and impactful work here in a place that has supported us so consistently throughout our lives."
Carballo moves on from Middlebury after 12 years in Admissions. "Manuel is uniquely suited to move into the top enrollment leadership position at Oberlin, an outstanding liberal arts college," said Buckles. "We'll miss his passion, his presence, and his personality tremendously."
For More Information