Biologist Grace Spatafora Awarded NIH Research Grant of $2.1 Million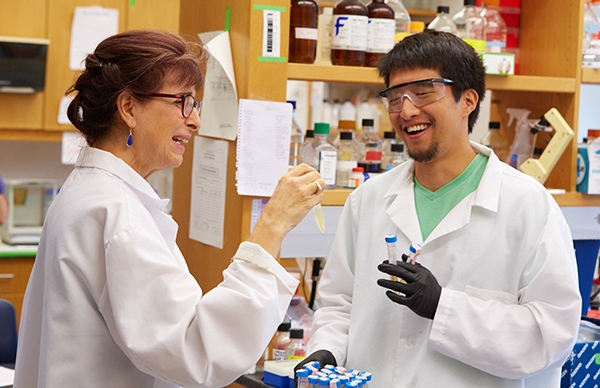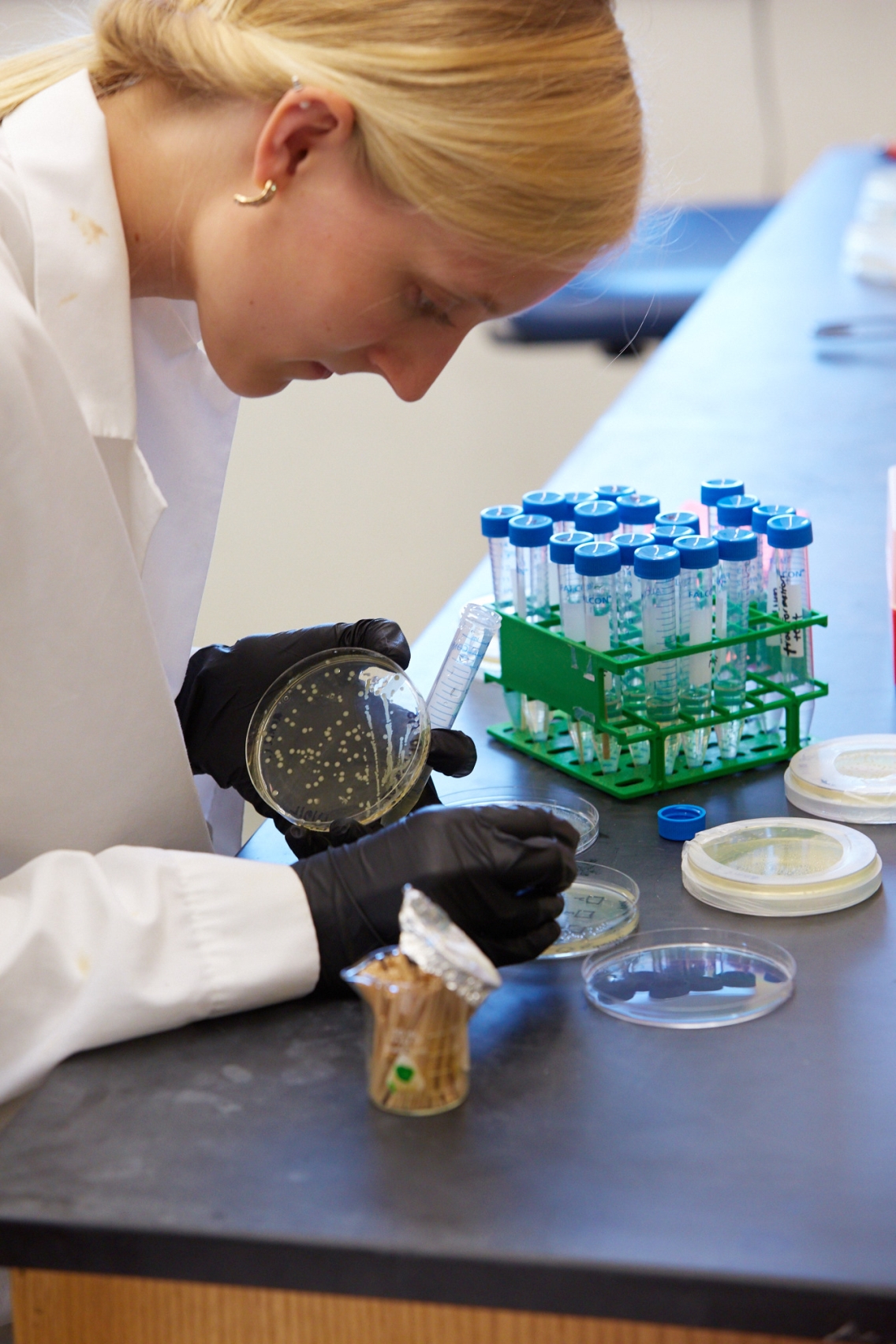 Annie Cowan '18 selects colonies of S. mutans for subsequent analysis in Grace Spatafora's lab.
Richard Brach '16.5, laboratory research
assistant, talks with Grace Spatafora.
Spatafora's goal is to better understand the interaction of an S. mutans protein with DNA, and how hindering that interaction might lead to the development of a compound that could block the formation of dental cavities. "We are getting closer to designing a small molecule that can essentially lock this protein onto the DNA, thereby reducing the potential to cause decay by S. mutans without disturbing the natural oral ecology of the mouth," she said.
Tooth decay continues to be a major problem in developed and developing nations. According to the World Health Organization (WHO), it impacts 60–90 percent of children worldwide. The WHO also found that nearly 100 percent of adult Americans have experienced tooth decay in their permanent teeth, contributing to the nation's estimated costs for dental treatment of more than $95.2 billion in 2012.
Spatafora is particularly excited about the research opportunities that the new grant provides for Middlebury students. Research projects pertaining to S. mutans will be available to undergraduates during both the summer and academic year through 2022. Students can also opt to travel to national and international conferences to present the results of their senior work, as well as coauthor manuscripts for publication in top-tier peer-reviewed journals. They will have access to high-end equipment and technologies as well.
Grace Spatafora and Alexander Pastora '18
freeze a strain of S. mutansin liquid nitrogen
for storage at –80 degrees centigrade.
"The students are committed to the research process and they're technically skilled," added Spatafora. "When they graduate, many of them are hired by my colleagues in industry, and in labs at large research institutions where they do very well. When they leave those labs to go on to graduate or medical school, my colleagues call to ask, 'Have you got anyone else?' They appreciate our students' abilities."
To obtain the grant, Spatafora wrote and submitted a 25-page research proposal which was part of a 134-page application to the NIH last summer. She made a point to showcase the work that was conducted by students under the second grant.
"Middlebury's outstanding reputation in the sciences and its commitment to undergraduate research combined with the cutting-edge technologies that are available to us here in McCardell Bicentennial Hall all make the College a strong contender for NIH R01 grants," said Spatafora.
This summer Spatafora is working in the lab with four members of the Class of 2018–Annie Cowan, Alexander Pastora, Sunho Park, and Zack Peters. Richard Brach, a 2016.5 graduate who is also part of her research team, is serving for one year as a laboratory research technician.
"While working with Dr. Spatafora this summer, I have learned how to think critically and creatively when designing and applying molecular genetics protocols and techniques," said Cowan. "I have also gained an increased patience and respect for science itself, an attitude I cannot imagine myself obtaining anywhere else. There is excitement about generating a flawless gel image after days of imperfect trials, and Dr. Spatafora's enthusiasm about the result is contagious."
"I often find myself living vicariously through my students," said Spatafora. "They have gone on to earn MDs, PhDs, or both, and many of them have published their research in prestigious scientific journals such as Cell, Nature, and Science, publications where my work has not appeared. Some of my students are on the faculty at colleges and universities, and I often meet up with them at scientific conferences. I love the combination of teaching and research, but ultimately what motivates me in the lab is my students, and witnessing their development as independent scientists while at Middlebury and beyond."
-Photos by Todd Balfour