Observatory Open for Night-Sky Viewing: July 19 and 26, and August 2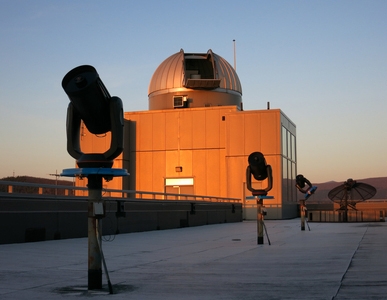 MIDDLEBURY, Vt. – If you missed the spectacular night sky from atop Middlebury's Mittelman Observatory earlier this month, take heart: you still have three more opportunities this summer – weather permitting – to see the heavens and learn more about the wonders of the night sky.
The Mittelman Observatory, which was just re-named by Middlebury College in memory of David Mittelman '76, will host free open house nights on the seventh floor of McCardell Bicentennial Hall on July 19 and 26, and August 2 – from 9 to 10:30 p.m.
Middlebury's Telescope Specialist Jonathan Kemp and a cadre of astronomy students will be on hand to talk about visible stars, star clusters, and nebulae, in addition to the planets Jupiter and Saturn that are glowing in the evening skies this summer.
The Observatory consists of a powerful 24-inch Ritchie-Chrétien reflecting telescope in the dome and a number of smaller telescopes on the roof. Everyone who attends an open house night at the Mittelman Observatory gets the opportunity to see objects in the night sky with a clarity that can be astounding.
Open house nights are always free and open to the public, but they take place only when the sky is expected to be mostly clear. Check the Observatory website or call the Observatory at (802) 443-2266 after 7 p.m. on the evening of the event for a weather update.