Bread Loaf School of English Celebrates Commencement and Connection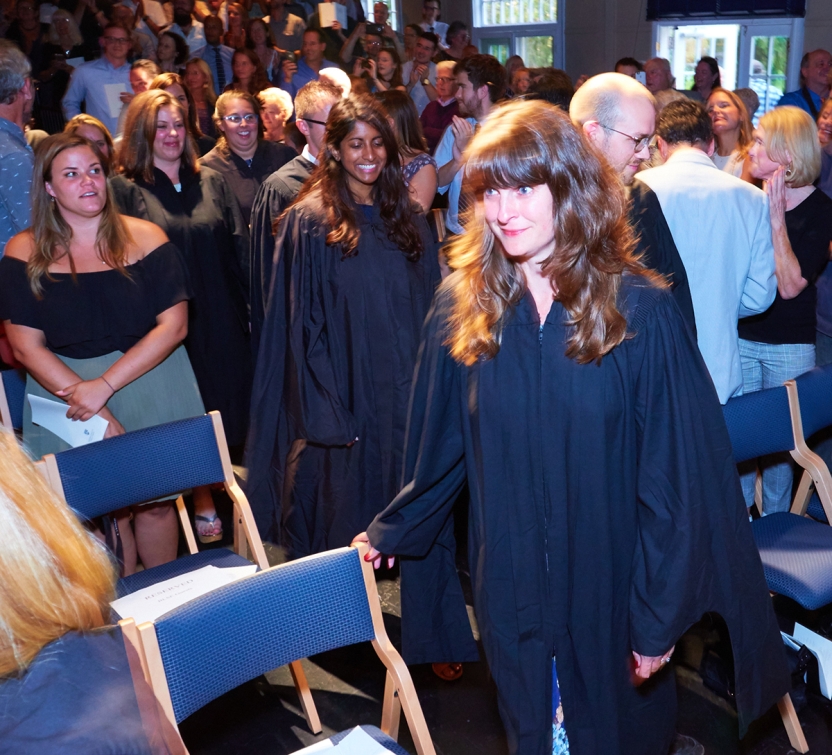 RIPTON, Vt. – The Burgess Meredith Little Theater at the Bread Loaf campus resonated with the energy of community and ideas on Saturday, August 12, when the Middlebury Bread Loaf School of English celebrated the achievements of 51 graduates at Commencement exercises.
Director Emily Bartels opened the ceremony by offering one word to ease and invigorate the farewells the Class of 2017 would make later that evening after five years of engagement in life- and mind-changing conversations and imaginative pursuits. That word: connection.
"You will be part of a constellation of people and institutions supported by and supporting the intellectual inventiveness and community fostered here," she counseled. "You will add one more set of stars to the Bread Loaf constellation, which will simultaneously light your way home."
Poet Martín Espada then read his poem "That We Will Sing," applauding teachers for the love and service they give to their communities.
Senior class copresident Emily Gooch shared the voices of her fellow graduates as she defined what they might remember most about Bread Loaf five, 10, or 20 years later, while copresident Michael Pappa explored the beauty of mastery at Bread Loaf as a matter of freedom, as an exercise that brings joy, as a plumbing of ever-deeper waters, and as learning that never ends.
The graduates selected writer Robert Sullivan, a Bread Loaf faculty member for the past four summers, as the Commencement speaker. Sullivan teaches creative nonfiction for the Bread Loaf School of English (BLSE) and at the City University of New York Macaulay Honors College. The author of Rats, The Meadowlands, The Thoreau You Don't Know, A Whale Hunt, and My American Revolution, he is also a contributing editor to Vogue and A Public Space. He writes regularly for the New Yorker, the New York Times Magazine, New York magazine and others.
In his remarks, Sullivan looked at the unlikely connection between William Steig's Sylvester and the Magic Pebble and French philosopher Maurice Merleau-Ponty's phenomenological ideas about perception. A body, Merleau-Ponty believed, senses outwardly as well as inwardly, "singing out into the world," Sullivan described. We are constantly involved, he said, in silent conversation with the world and each other. In a reference to the Steig book, Sullivan handed each of the graduates remarkable pebbles he had chosen from the Bread Loaf campus, asking the members of the Class of 2017 to hold them, to listen to them, to feel them, and to feel their resonance in the world.
After Sullivan's address, Middlebury President Laurie L. Patton examined the art of the essay. The act of trying, she impressed, is sacred. She praised graduates for the capacity they learned at Bread Loaf to persist in making meaning and in changing the world. She then conferred 47 Master of Arts and four Master of Letters degrees.
Slide Show [view:embed_content==551603]
The graduates chose former classmate David Wandera, who now serves as the Vermont campus writing center supervisor and coordinator for the Vermont summer activities of the Bread Loaf Teacher Network, as their hooder. Wandera, an assistant professor of special education, language, and literacy at the College of New Jersey, earned both his MA and MLitt from the School of English, in 2008 and 2013, respectively.
In the final exercise of the evening, graduates, faculty, and guests exalted the achievements of honorary Doctor of Letters recipients Richard Brodhead, president emeritus of Duke University, and poet Martín Espada.
Prior to his 2004 appointment at Duke, Brodhead was dean of Yale College, where he also won the DeVane Medal for outstanding teaching. He taught at Bread Loaf for eight summers between 1975 and 1992, and has written or edited more than a dozen books on 19th-century American literature and authors. An advocate for public education, social action, and social service, he received the Carnegie Corporation's Academic Leadership Award in 2013 for his vision and commitment to excellence and equity in education and the promotion of strong links between educational institutions and their local communities.
Martín Espada, revered as "the Latino poet of his generation," is also an essayist, translator, editor, activist, and professor of English at the University of Massachusetts Amherst. A finalist for the Pulitzer Prize in poetry in 2006 for The Republic of Poetry, he also earned the 1990 PEN/Revson Award and Paterson Poetry Prize for Rebellion Is the Circle of a Lover's Hands. Alabanza: New and Selected Poems 1982–2002 was named an American Library Association Notable Book of the Year and earned the Paterson Award for Sustained Literary Achievement, and Imagine the Angels of Bread received a 1996 National Book Award.
One week earlier, 15 graduates received their master's degrees at Bread Loaf's Oxford campus in England, and on July 27, three students earned their Master of Arts at BLSE's New Mexico campus. A total of 69 masters' degrees were awarded during the 2017 session across the School's three locations.
Established in 1920, the Bread Loaf School of English is one of Middlebury's summer residential graduate programs, offering courses in literature and the related fields of literacy and pedagogy, creative writing, and theater arts. Students, mostly K–12 English or language arts teachers, come from across the United States and beyond for one or more summers of intensive continuing education. Students may also elect to pursue an MA or MLitt degree in English. Faculty members come from eminent institutions in the U.S. and U.K. to teach and learn with the student body at sites in New Mexico, England, and Vermont.
- With reporting by Dana Olsen and photography by Todd Balfour