Chinese School Director Bai Is Stepping Down after Many Summers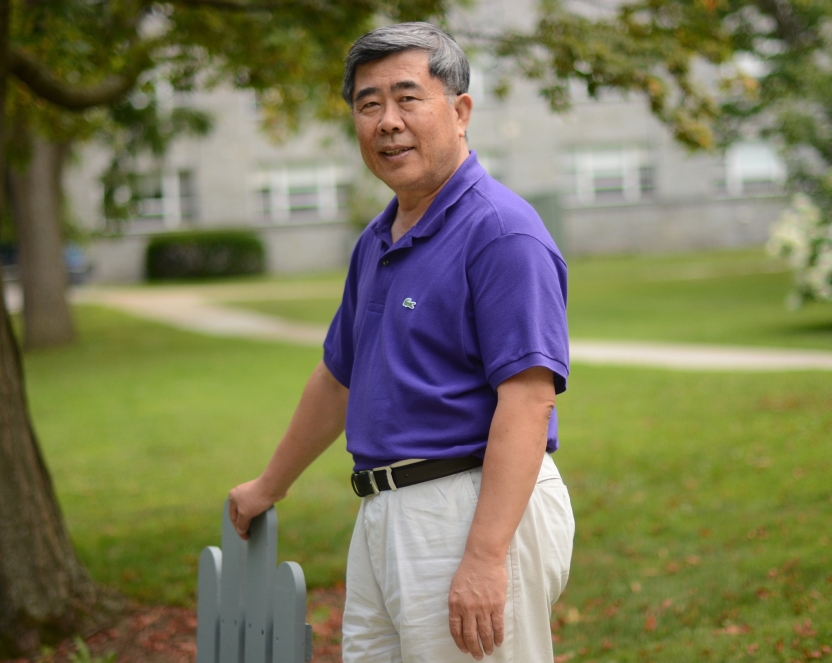 MIDDLEBURY, Vt. – Jianhua Bai, the director of the Chinese School who launched Middlebury's master's degree program in Chinese in 2007 and guided it to unqualified success, is retiring from his directorship after this summer.
The 61-year-old Bai, who is commonly referred to at Middlebury as Bai Laoshi, an honorific that means teacher but also conveys respect and endearment, has been associated with the Chinese School since 1992. He served as a lead instructor, trainer, and acting director before he was selected to succeed T. Richard Chi as director of the school in 2002.
In 2005–06 then-Middlebury President Ronald D. Liebowitz assessed a growing need for Chinese language instructors in the U.S., and directed the Language Schools to offer Chinese at the master's level in time for the summer of 2007. As a result, Bai proposed that the degree program would focus on Chinese language pedagogy and culminate with a teaching practicum in a classroom environment.
Bai not only designed the MA curriculum in Chinese; he has taught the required Language Teaching Practicum (CHNS 6690) every summer since the graduate program started. Now 10 years later, 75 students have graduated with master's degrees in Chinese from Middlebury, and Bai takes great satisfaction that "the majority of our MA graduates are doing what they trained for—teaching Chinese as a second language at all different levels."
Originally from the People's Republic of China, Bai earned a bachelor's degree in English at Hebei Teachers University before moving to the United States to study linguistics as a master's candidate at the University of Pittsburgh. In 1991, he earned a PhD in foreign language education at Pitt where he was also a teaching fellow in Chinese.
Bai joined the faculty at Kenyon College in 1991, earned tenure in 1997, and was promoted to full professor in 2004. At Kenyon, he has chaired the Department of Modern Languages and Literatures, and directed the college's Asian Studies Program.
His service to the field of Chinese language education includes six years on the executive board of the Chinese Language Teachers Association (CLTA), one term as president of the CLTA, academic director of Johns Hopkins's summer immersion program in Nanjing, director of the Associated Colleges in China (ACC) program in Beijing, and chair of the College Board's AP Chinese Language and Culture Development Committee.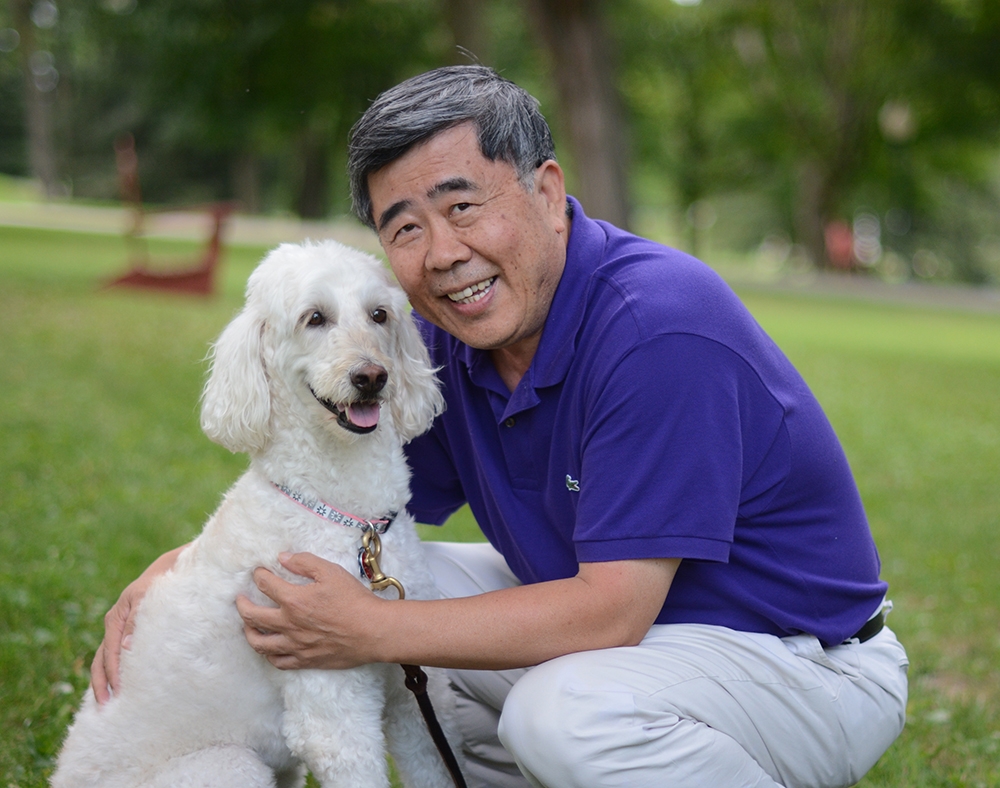 Bai with his beloved dog, Sadie, in front of Hepburn Hall, home to the Chinese School.
Strong enrollments have been a hallmark of the Chinese School during the Bai era. Whereas the number of students in the summer school was hovering between 100 and 110 when he was named director, the enrollment for the past eight years has fluctuated between approximately 140 and 170 students, with a record number of 173 students in 2013.
With his background in linguistics and his professed love for teaching, Bai has worked to integrate research in Chinese language pedagogy into the Chinese School. A firm believer that "teaching and research nourish each other," Bai and members of his summer school faculty produced the reference book Chinese Grammar Made Easy, A Practical and Effective Guide for Teachers (Yale University Press, 2008). The royalties from sales of this 336-page book go directly into a fund to benefit Middlebury College, he said.
"I am happy that the faculty of the Chinese School is committed to research in pedagogy, and that their research is, in turn, always strengthening the quality of our program," he added.
Mindful of the history of Chinese language education at Middlebury, Bai feels fortunate to have followed in the footsteps of such leaders as Stephen Freeman, James Armstrong, Nicholas Clifford, and John Berninghausen, to name a few.
"I thank Middlebury for giving me the platform to grow professionally. From day one of the Chinese School in 1966, our curriculum has been very innovative. I am honored and happy to have had the support of many fine administrators at Middlebury, and I feel very good about where the school is today."
Bai leaves the Chinese School in the capable hands of Director-designate Cecilia Chang, a professor of Chinese at Williams College who has experienced five summers of teaching at Middlebury. He also leaves two projects well underway: coordinating with the Vermont Agency of Education so MA graduates can also receive their teaching licensure, and developing a curriculum so Chinese can serve as either the primary or secondary language for Middlebury's Doctor of Modern Languages degree.
What does the future hold for Professor Bai? He plans to continue teaching Chinese language, literature, and linguistics at Kenyon College. In addition, he has accepted a new position as senior academic advisor to the American Councils for International Education. The D.C.-based nonprofit organization with its staffing in 34 countries is committed to creating "informed and empowered global citizens who can succeed in an increasingly interconnected world."
– With reporting and photography by Robert Keren