Language Schools Confer Master's, Doctoral Degrees at Commencement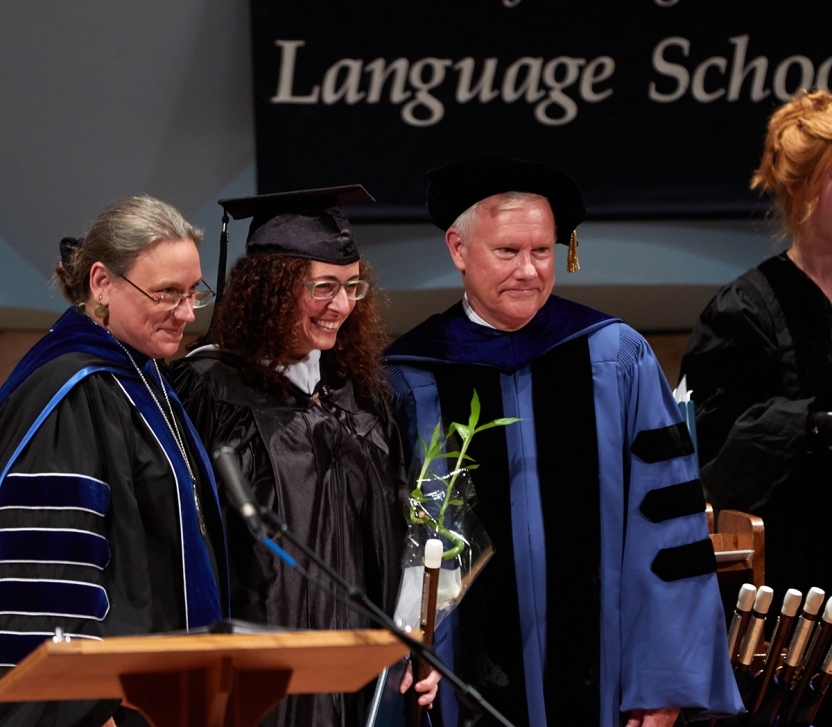 MIDDLEBURY, Vt. – Years of language study culminated for 100 master's and doctoral degree candidates of the Middlebury Language Schools at Commencement on August 18. President Laurie L. Patton and Elena Poniatowska Amor, the Mexican novelist and investigative journalist, offered inspiring messages to the graduates, and to the many friends and family members assembled in Robison Hall.
Patton, a scholar of South Asian history, culture, and religion, reminded the graduates of their vast accomplishments during their years of language study. "You have been thinking and dreaming and stumbling and joking and arguing and persuading and dancing and running and signing and writing and hoping in a language other than your own."
In mastering a foreign language, Patton continued, "you have succeeded in achieving what you might have, at times, feared was impossible when you first began this journey with your new nourishing mother [i.e., alma mater] and your fellow students in the Language Schools."
And what caused this transformation to occur? the president asked. "The Language Pledge and its power," she said. Throughout history, "the power of the well-spoken word guaranteed human flourishing and prosperity. Three thousand years later, through the power of your well-spoken word, you are contributing to human flourishing and prosperity."
The trilingual guest speaker, Poniatowska Amor, also invoked a connection between language and humanity when she reflected on recent events in Charleston, S.C., and Charlottesville, Va. "Hate of this kind would have never occurred if people used language as a way of communication, not only of ideas but of common beliefs, thoughts, and, above all, history – the history of humanity."
"You are not an island in a pond concealed in the bushes," she said. "You are a flowing intelligence, an ocean that embraces you and makes you cross the Atlantic or the Pacific and allows you to end up on the other shores greater than yourselves. If you listen to someone's voice and try to understand his or her words, you will become a better man or woman. If you learn another language, you will be able to keep up with what is happening in the world.
"At Middlebury, each of you can reach other dimensions not only of language but of your very own humanity. A pledge is always an appointment with honesty," the 85-year-old writer said, and "to keep a pledge is a challenge but it is also a way of life."
Poniatowska Amor's Commencement Address was but 10 minutes in duration, but her message was greeted with a standing ovation when she concluded. "You are living proof that Shakespeare was wrong when he wrote that life signified nothing. You are life, and you are just starting to love yourselves and your very extraordinary country in a world that needs you more than ever."
Attention then turned to the graduates as President Patton and Dean of the Language Schools Stephen Snyder conferred 96 Master of Arts degrees and four Doctor of Modern Languages degrees. A week earlier, Patton and Snyder had traveled to the California to confer 14 master's degrees at the Language Schools' satellite campus at Mills College in Oakland.
Middlebury conferred its highest honor, an Honorary Doctor of Letters, upon Poniatowska Amor in recognition of her contributions to literature and journalism, for her steadfast focus on issues faced by women and the poor, and for standing up as "an eloquent advocate for justice and equality."
The 2017 Commencement was punctuated by five musical selections performed by students, and concluded with the singing of (and tapping along with) the Middlebury traditional song "Gamaliel Painter's Cane," led by tenor François Clemmons, Middlebury's Alexander Twilight Artist in Residence Emeritus.
Reporting by Robert Keren; Photo by Todd Balfour