Service Learning Trip Takes Students to Urban and Rural Japan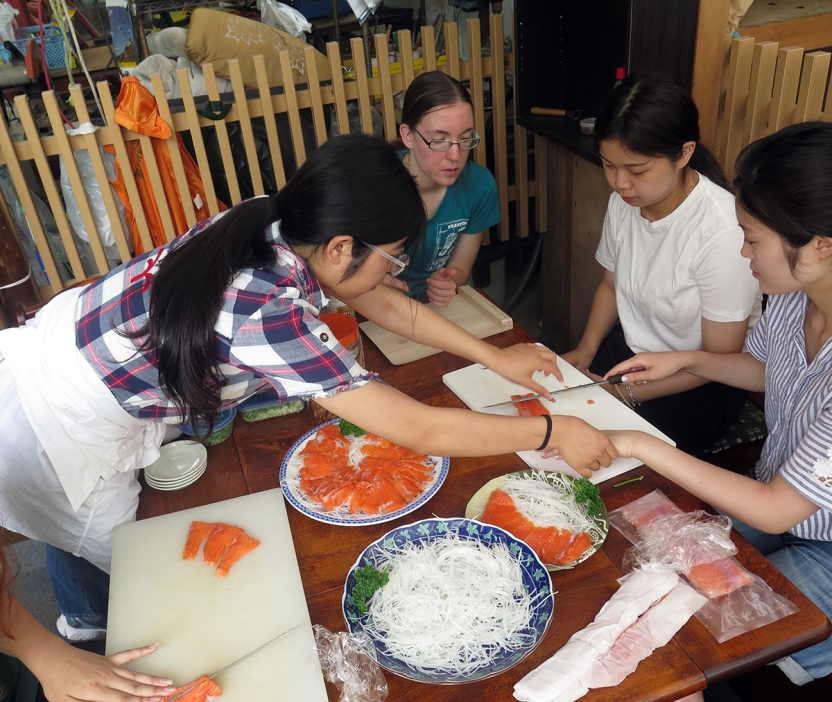 MIDDLEBURY, Vt. – In rural Tenryu-mura—home to Japan's third most elderly population—Middlebury College students and peers from throughout Asia sat down for a conversation with longtime village residents. They'd come to the rural outpost in Nagano Prefecture to record the stories of the town's aging population—to ask questions of the elders, learn their histories, and celebrate the place they call home.
The oral history project was one of many volunteer activities that four Middlebury students, along with peers from colleges and universities throughout Asia, undertook last month in Japan as part of a four-week service-learning program. The students visited local schools, helped young students with their English, and assisted local farmers with their harvests, among other projects.
Service learning is a form of experiential learning that sends students out into a community, often to work in collaboration on projects or needs the community itself has identified. "It's a way of taking learning out of the classroom, and also complementing the classroom," said Kristen Mullins, the Language in Motion coordinator at Middlebury College's Center for Community Engagement.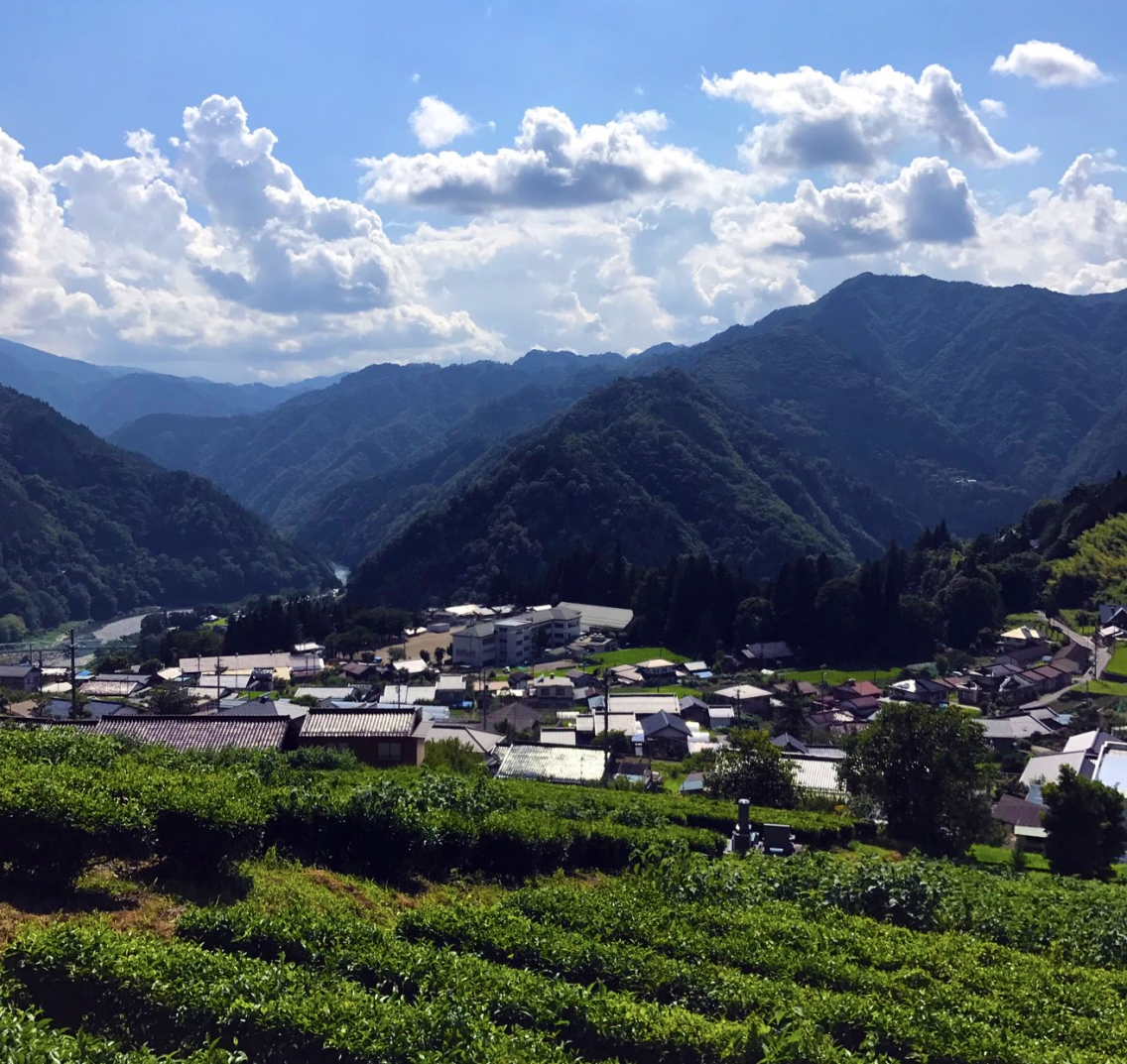 During a four-week service learning trip to Japan, students visited rural Tenryu-mura, where they met with and collected stories from community elders.
Stepping beyond the classroom was one of the reasons Jackie O'Connell, a rising sophomore at Middlebury, was drawn to the trip. "This program is a chance to actually interact with the community, which is not something you necessarily get to do when visiting a country, or even when studying abroad," said O'Connell. "It's really rewarding to see that your study has allowed you to do this, and to connect with people."
This summer marks the second year Middlebury College and International Christian University have joined forces to offer a service-learning program. ICU hosts the School in Japan, Middlebury's study abroad program 30 minutes west of Tokyo. In addition to providing students with a chance to serve in the community, the program celebrates intercultural connections within its ranks, said Sanae Eda, the director of the Middlebury School in Japan.
This year, the service-learning project included students from Korea, Thailand, the Philippines, Japan, and Middlebury College.
"I feel that one of the benefits for our students is the opportunity to work shoulder-to-shoulder with students who come from countries that have very different cultures and backgrounds," said Eda. "We built great friendship, despite the limitations in linguistic abilities, because we were focused on our mission of serving the community together," said Eda, "and the development of love and appreciation for each other came naturally as a consequence of that process."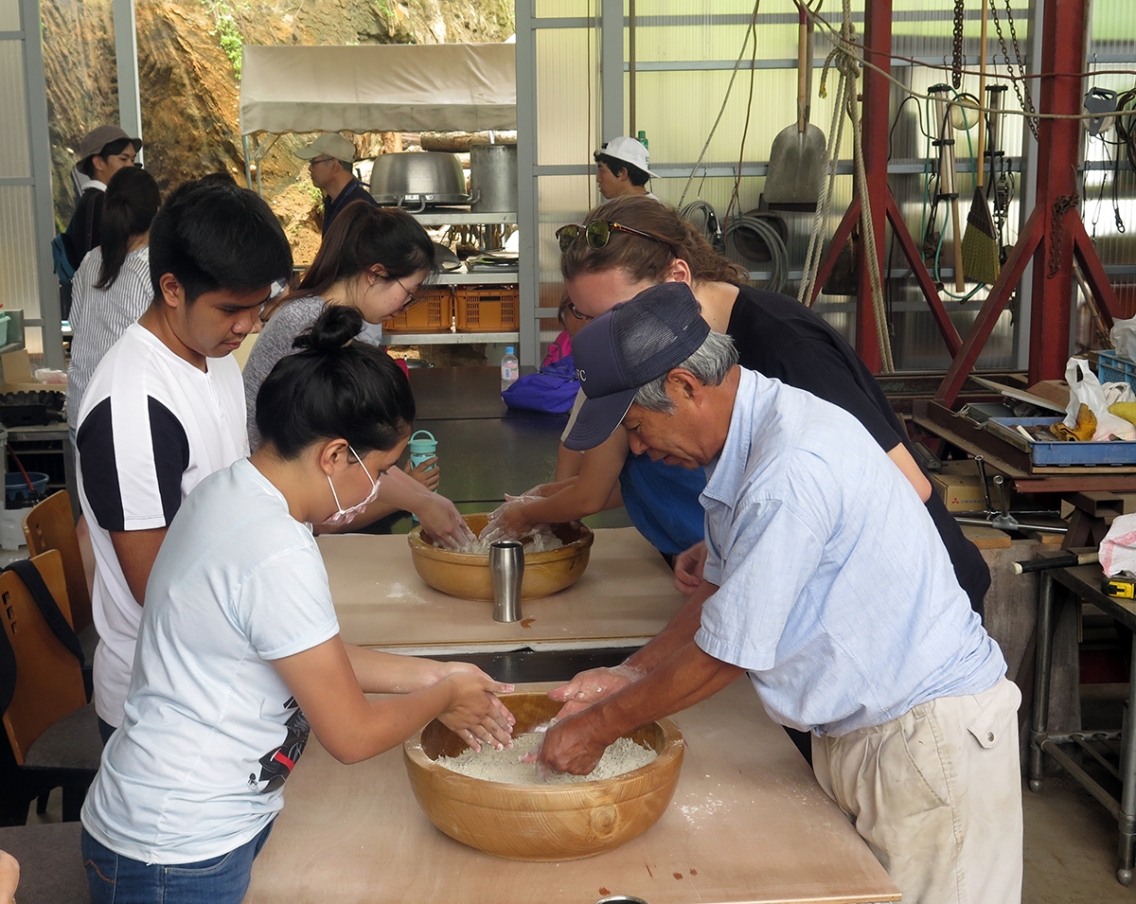 Students learned to make soba noodles, which they ate with fresh, raw salmon from a local farm during their service-learning trip to Tenry-mura, Japan this summer.
For the Middlebury students, the program also provided an opportunity to experience Japanese culture well beyond the walls of a classroom. In Tenryu-mura, that meant hearing the stories of elders who grew up in the wake of World War II, who grappled with the village's history as the site of a labor camp during the war, and who worry about rural depopulation and the future of their village.
"There are a lot of people who don't think that what they have in their village is special," said Shane Healy '18, who spent the last year studying abroad in Japan. Recording these individuals' stories, he said, "hopefully shows them that this is a very interesting place, and there is a lot of worth to their own personal story." Listening fully, the students agreed, is a form of service in its own right.
"I'm definitely more motivated to learn Japanese," said Tel Aviv Degolacion '19. "Being in Tenryu-mura really gave me a sense of motivation and a purpose to keep going with my studies." Improving her Japanese means that, the next time she visits, "I can be of better use to the community."