Undergraduate Researchers Share Their Work at Summer Symposium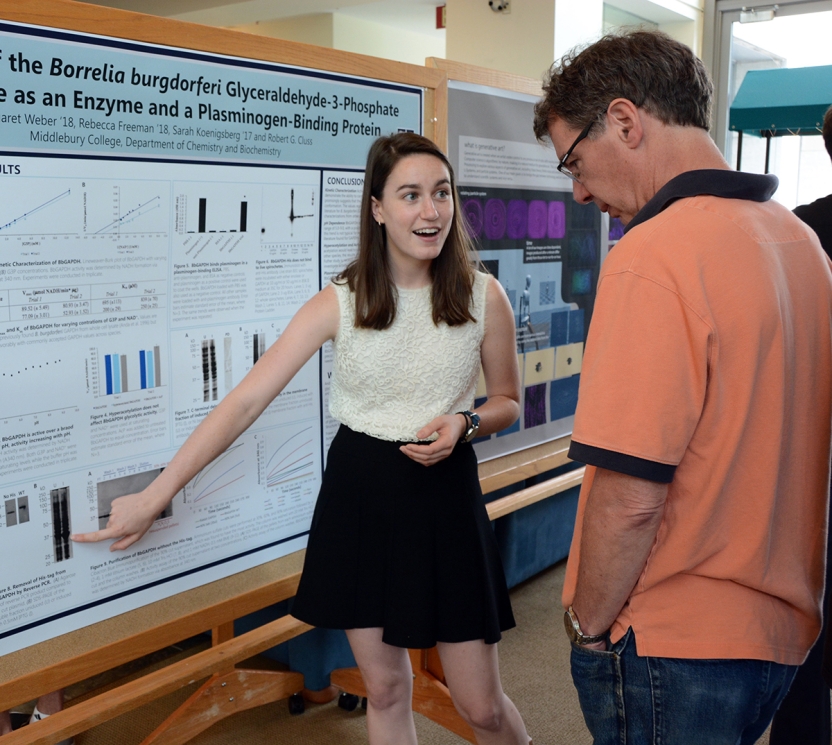 Slide Show
[view:embed_content==551004]
MIDDLEBURY, Vt. – Nearly 140 Middlebury undergraduate researchers gave the campus community a look at what they had been working on for the last eight weeks during the annual Summer Research Symposium on July 27 at McCardell Bicentennial Hall. All told, the students put in more than 42,000 hours of research this summer on topics representing 22 academic disciplines as well as STEM and Digital Liberal Arts projects.
Students in the undergraduate research program work closely with faculty mentors during the summer. Their work is funded by multiple sources, including faculty and institutional grants and gifts to the College.
"Faculty benefit from quality research assistance supporting their scholarship," said Lisa Gates, associate dean for fellowships and research, "and students benefit from the in-depth learning and mentoring possible over the summer weeks."
Forty posters created a sprawling exhibition that filled Tormondsen Great Hall. Students from each research team stood by their posters, answering visitors' questions and helping interpret the results.
One research project by student Gabrielle Davis '19, who worked with Associate Professor Molly Costanza Robinson (chemistry, biochemistry, and environmental Studies), researched lead levels in drinking water at Middlebury Union High School. Using EPA protocol, the team tested water from numerous sources throughout the school, concluding that the building did not have widespread lead contamination in its water.
Other students had worked on myriad diverse projects over the past eight weeks, including tracking the Addison County tick population, building a mobile app to improve student safety on campus, using a motion capture lab to create "generative art," and looking at prenatal exposure to endocrine-disrupting chemicals.
The annual summer research symposium is sponsored by the Middlebury College Undergraduate Research Office. It's one of two major events held annually to celebrate the intellectual and creative work of undergraduate students.
Photography by Robert Keren
For More Information