College Garden Celebrates 15 Years and a New Name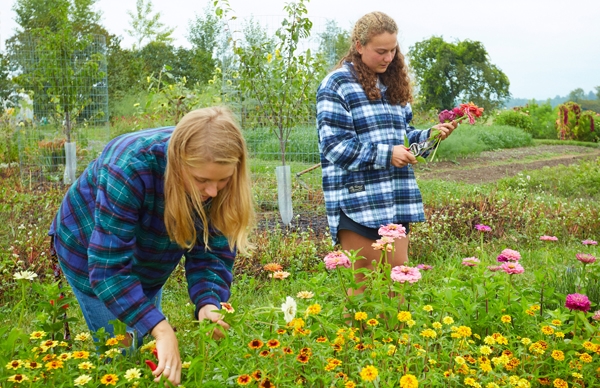 MIDDLEBURY, Vt. – For 15 years, students and members of the wider Middlebury College community have sought refuge on a grassy knoll on the western edge of Middlebury's campus. They nurtured seedlings and tended bees and harvested red, ripe tomatoes. Professors led seminars, and students wielded hammer and nail to build outdoor classrooms and garden sheds.
This weekend the College celebrates that 15-year legacy. Coinciding with the milestone comes the decision to formally rename a place that's gone by many monikers over the years: What various generations have known as the Middlebury College Organic Garden or the Middlebury College Farm will now be called The Knoll.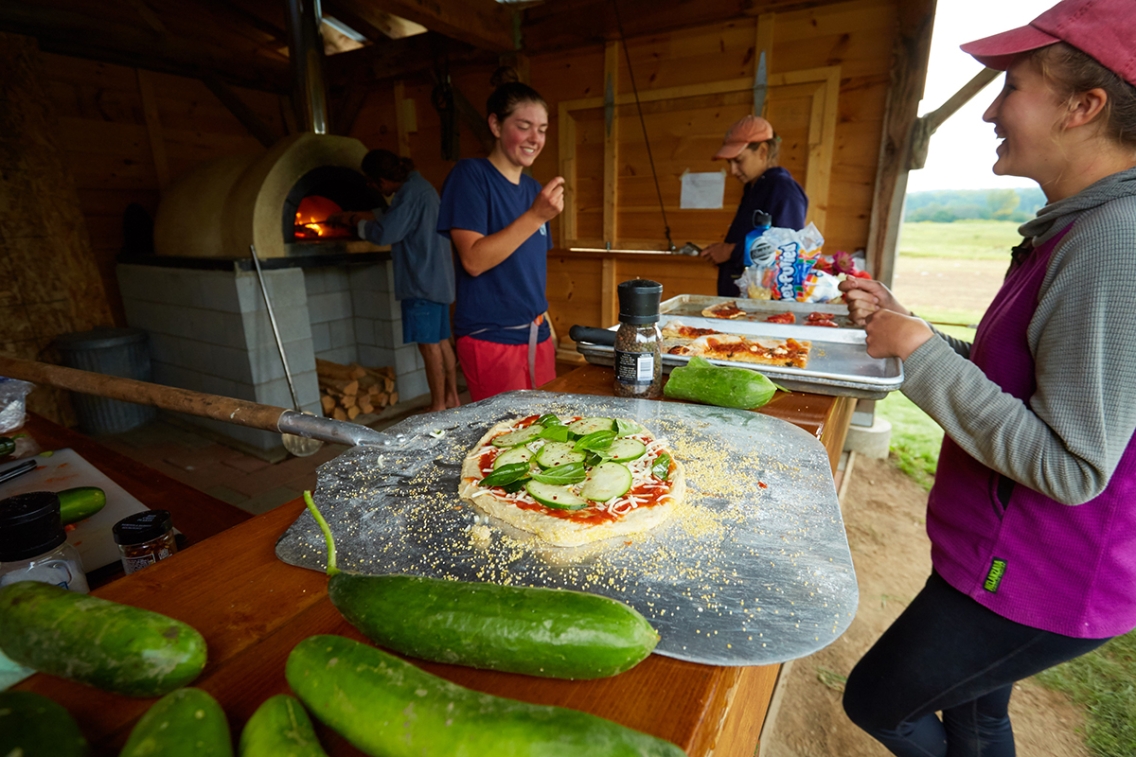 Students enjoy the new pizza kitchen at The Knoll.
The celebration of The Knoll kicks off with an artist's talk on Sept. 14 from master labyrinth designer and builder Lars Howlett, who will be on site through the weekend constructing a labyrinth from Vermont field stone. On Saturday, community members can join in the completion of the labyrinth from 10 a.m. to noon, and stay for lunch at The Knoll. The event is sponsored by the Franklin Environmental Center Global Food and Farm Program and the Scott Center for Spiritual and Religious Life.
Founded in 2003 by Jean Hamilton '04.5 and Bennett Konesni '04.5, the garden began a place for students to get their hands dirty, work in the earth, and connect with food production outside of the confines of a classroom.
"When I got to Middlebury, I was amazed at the richness of the agricultural landscape and surprised how disconnected our campus was from the farming people, economy, traditions, and knowledge that surrounded us," said Hamilton. In starting the garden, she "hoped to create a space where Middlebury students could literally embody their education and explore their identity and ideas within the physical reality of living plants and community partnership."
Fifteen years on, what began as an eighth of an acre and a small garden shed is now a bustling complex of buildings and projects, including:
Educational gardens, designed to serve as a place for students to learn about growing food. The gardens are staffed in part by paid interns in the spring, summer, and fall, as well as volunteers.Story by Kathryn Flagg '08; Photos by Todd Balfour