Emory Fanning Celebrates 50 Years at Middlebury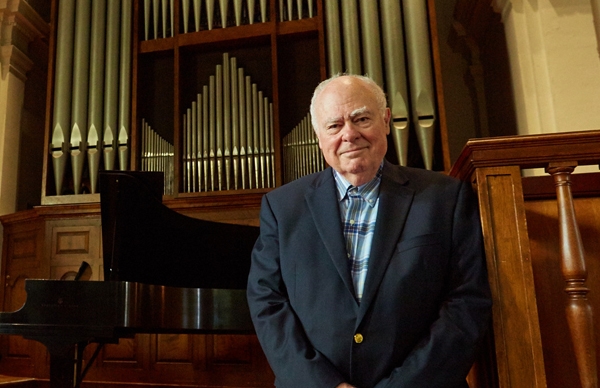 On October 1, 2017, at 4 p.m., Professor Emeritus of Music Emory Fanning will give an organ recital in celebration of his 50 years at Middlebury. For much of that time, Fanning was a fixture at the College's Gress-Miles organ for countless choral concerts and official College events, teaching many students who would go on to distinguised performance careers. In advance of his recital, and a reception that will follow at Crossroads Café, we asked Fanning to reflect on some of the high points of his time at Middlebury.

What are some of your strongest memories from your time teaching and performing at Middlebury over the last 50 years?
First and foremost are the strong choirs I had the privilege of conducting throughout my years here, and all the wonderful young musicians I worked closely with. We made so much terrific music on tours, in weekly chapel services, in collaborations with the Vermont Symphony Orchestra, and in the "Lessons and Carols" services, which I started in the late 1960's with the whole-hearted support of Chaplain Charles Scott. It was especially memorable to return from a choir tour and perform for the enthusiastic "home" audience–in those days, Mead Chapel was packed for these concerts. Our performances at Lincoln Center's Alice Tully Hall and at Disney World were high points, as well as the tour in California. Finally, producing our two programs for PBS–"Christmas in Vermont" and "A Vermont Christmas" was a tremendous experience. "Christmas in Vermont" really caught on and was broadcast nationally for many years. We received fan mail from all over the country.
As chair of the Music Department and of the Concert Series, I brought the distinguished Haydn scholar H. C. Robbins Landon to Middlebury for four years, with concurrent residencies by the young Emerson String Quartet. They collaborated in lecture/concerts exploring chamber music from Haydn to premieres of works commissioned by the Quartet. The Emerson's performances of the complete Beethoven String Quartet cycle, with lectures by Dr. Landon, were taped for National Public Radio. Those were magical days for College and community.
What are some highlights of your work as College organist?
Playing the dedicatory recital in 1971 of our magnificent Gress-Miles organ and teaching dozens of our students to play on that instrument was a real privilege, and it gives me great pride to say that some of these students went on to professional careers as musicians. I was also blessed to accompany the recitals of splendidly talented young singers at Middlebury who went on to distinguished careers in opera and musical theatre.
Do you stay in touch with alumni?
Like all our faculty, I stay in close touch with many alumni. In teaching my choral and organ students, I worked closely with them week in and week out throughout their entire four years at Middlebury, so we got to know each other very well. In addition, choir tours and performances were real bonding experiences for all of us. It has been the greatest joy for me to conduct the Alumni Choir, when former students come back to campus for Reunion Weekend and join me for rehearsals and a performance at the Sunday service in Mead Chapel.
What can we look forward to at your 50th anniversary recital?
Quite a number of former students will be back for the concert on October 1. For the program, I have selected favorite compositions by J. S. Bach and César Franck, plus smaller works for variety and contrast that showcase the incredible tonal resources of our mighty Gress-Miles organ.
Photo: Todd Balfour
For More Information