Jonathan Miller-Lane Discusses 'A Way Forward' in Rifelj Lecture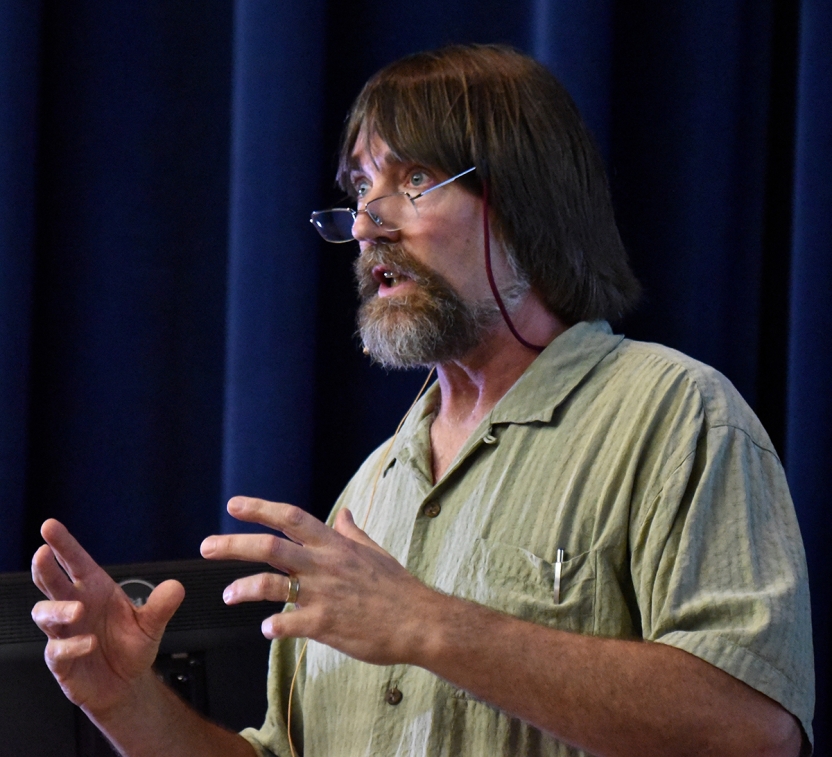 MIDDLEBURY, Vt. – Dana Auditorium was filled to near capacity with students, faculty, staff, and community members on September 20 to hear Jonathan Miller-Lane's lecture on "Discourse and Discord at Middlebury: A Way Forward" as the academic year's first talk in the Carol Rifelj Faculty Lecture Series.
The associate professor of education studies considered last spring's much-publicized campus protest and, in response, offered three claims and two proposals as a way to advance "the important dialogues and discussions" that Miller-Lane believes Middlebury needs to have.
But first the speaker opened his talk by offering critical theorist bell hooks' idea of engaged pedagogy as a framework to talk about issues of race, inequality, and inclusivity on a liberal arts college campus.
"For hooks, teaching meant teaching that experiences students as whole beings," Miller-Lane said. "It emphasizes the importance of well-being understood as something that takes place between and among people, rather than something that one works on one's own."
Miller-Lane paraphrased works by hooks – the pseudonym of Gloria Jean Watkins – in saying that engaged pedagogy "connects the will to know with the will to become," and it "infuses critical inquiry with concerns for the welfare of the whole student."
Engaged pedagogy "becomes riskier for different folks depending on the body they might occupy, and how that body is perceived by others. I am placing engaged pedagogy in this space because I believe in this historic moment and this historical moment that we need to disrupt our norms and interactions by explicitly connecting our will to know with our will to become," he said.
Before getting to his claims and proposals, Miller-Lane also said that for Middlebury to become "what it needs to be," it needs to "expand our too-often-rigid distinctions" and "honor engaged pedagogy as a form of scholarship."
Miller-Lane's first claim is that Middlebury needs to embrace its complexity and move away from its "current state of atomization" of issues. By accepting its complexity, the campus can "pause the impulse to find a cause," "increase mutual learning," and have "previously unseen possibilities" emerge, he said.
The education professor's second claim is to accept the limits of critical theory and "consciously foster an emergent, mindful capacity in ourselves and within Middlebury so that we can become the midwives of our own evolution." A way to support this effort would be "to replace the question, 'What are you passionate about?' and ask, 'What are you curious about?' There is more suppleness to that [question], more humility, more wonder, more openness, and at this moment when we are polarized…asking what students, staff, faculty members, and coaches are curious about invites an avenue of conversation that is different from asking somebody what they are passionate about."
His third claim is, "We must initiate a deep and relentless inquiry into the impact of whiteness on all aspects of life at Middlebury. We have to do this thing and it has been years and years and years and years in coming."
Added Miller-Lane, "Whiteness refers to specific dimensions of racism that serve to elevate white people over people of color." Further, "whiteness is best understood as a location of white privilege; as a standpoint from which white people look at themselves, at others, and at society; and as a set of cultural practices that are usually unmarked and unnamed."
The speaker discussed concepts of whiteness and racism as set forth by scholars, and handed out a draft of two proposals he is considering. He then asked audience members to engage in conversation with each other for 10 minutes, before coming back together for closing remarks.
Miller-Lane's first proposal is a series of questions that all faculty members would be expected to consider when developing a syllabus or inviting a speaker to campus. The purpose is to introduce "a shared framework within Middlebury that might give us a way to engage in discussion about our work." Correspondingly he asks: "Are we capable of developing shared, public criteria that might foster deep learning without all of us undermining it because 'cynical realism' is such an easier stance to take?'
His second proposal is a workshop on whiteness for all entering first-year students who self-identify as white. The purpose of the workshop is "to unpack, interrogate, and critique the meaning and place of whiteness in white students' lives at Middlebury," and to gain "an enlarged understanding of [the] ideas, issues, and values" related to being a white person on a diverse college campus.
The workshops, as proposed, would be facilitated by members of the College community who have completed a two-week training course in which contemplative pedagogy plays a central role.