Middlebury Welcomes New Faculty Members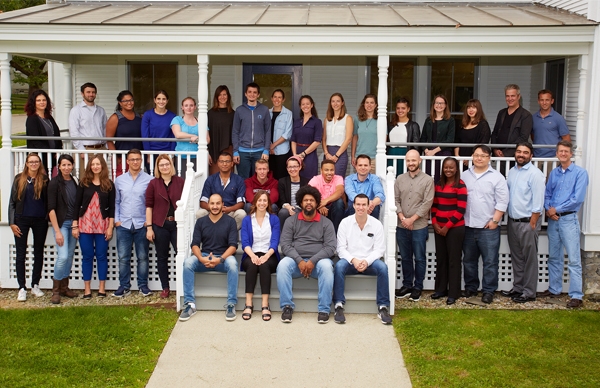 MIDDLEBURY, Vt. – Middlebury College welcomes 13 new tenure-track faculty members this fall in economics, theatre, biology, physics, dance, studio art, chemistry, writing, sociology/anthropology, computer science, and environmental studies. Another 18 will join this fall in non-tenure-track positions in linguistics, political science, Spanish and Portuguese, physics, German, history of art, computer science, mathematics, Arabic, music, psychology, Modern Hebrew, and Chinese. Two departments—Film & Media Culture and Geography—have appointed new assistants in instruction.
The new faculty arrived on campus August 28 to begin a two-day orientation in advance of the start of classes on September 11. During their introduction to Middlebury they covered a wide range of topics, including teaching at Middlebury, the honor code, safety and security, and technology services, among others.
"This is an extraordinarily talented group, and we are thrilled to welcome them—and their enthusiasm for and creative ideas about the liberal arts," said Andrea Lloyd, vice president for academic affairs and dean of the faculty.
The following faculty members have joined Middlebury on tenure-track positions this fall:
Biology
Erin Eggleston, assistant professor of biology, comes to Middlebury from St. Lawrence University, where she served as visiting assistant professor of biology. Eggleston earned her PhD in microbiology from Cornell University and her BA in environmental microbiology from Hampshire College.
Chemistry/Biochemistry
Lindsay Repka, assistant professor of chemistry and biochemistry, comes to Middlebury from the University of Illinois at Urbana-Champaign, where she was a postdoctoral fellow in chemical biology. She earned her PhD in synthetic organic chemistry from the California Institute of Technology and her BA in chemistry from Barnard College.
Dance
Laurel Jenkins, assistant professor of dance, has worked with several companies, including, most recently, Trisha Brown Dance Company, Vicky Shick and Dancers, Sara Rudner/Heart Dance, and Liz Lerman Dance Exchange. She earned her MFA in world arts and cultures/dance from the University of Los Angeles and her BA with a dance concentration from Sarah Lawrence College.
Economics
Martin Abel, assistant professor of economics, joins the faculty with research interests in developmental economics, labor economics, and behavioral economics. Abel earned his PhD in public policy from Harvard where he was also a teaching fellow at the Kennedy School. Abel also earned his MPA at the Kennedy School, and holds a Diplom in economics from Friedrich-Schiller University of Jena, Germany.
Kristina Sargent, assistant professor of economics, is particularly interested in the fields of macroeconomics, international economics and migration, and search and matching. She earned her PhD and MA in economics from the University of Colorado, Boulder, and her BA in political science and international affairs, also at Colorado.
Erin Wolcott, assistant professor of economics and Jones Fellow, earned her PhD and MA in economics from the University of California, San Diego, and her BA in economics from Cornell University. Her teaching and research interests include macroeconomics, labor economics, and international finance.
Language Schools
Per Urlaub, associate college professor and associate dean of Language Schools, comes to Middlebury from the University of Texas at Austin, where he served as associate professor of Germanic studies. Urlaub earned his PhD in German from Stanford University, his MA in German studies from the University of Utah, and his undergraduate degree in German and English from Christian-Albrechts-Universität, Kiel, Germany.
Physics
Christopher Herdman, assistant professor of physics, earned his PhD and MA in physics from the University of California, Berkeley, and his BSE in engineering physics from Cornell University. His research interests include computational condensed matter physics, quantum information and computation, quantum fluids, quantum simulation, ultracold atom physics, and many-body entanglement.
Sociology/Anthropology
Trinh Tran, assistant professor of sociology/anthropology, is interested in urban sociology, education, social networks, immigration, violence, and qualitative methods. Tran earned a PhD and MA in sociology from the University of California, Berkeley, and a BA in sociology from the University of Chicago.
Studio Art
Michelle Leftheris, assistant professor of studio art, earned her MFA in digital media from the Rhode Island School of Design and her BFA in photography from the University of Cincinnati. Leftheris has taught for several institutions, most recently at School of Visual Arts, Adelphi University, and Ramapo College.
Theatre
Michole Biancosino '98, assistant professor of theatre, earned her MFA in directing from Rutgers University, Mason Gross School of the Arts and her BA in theatre and English from Middlebury College. She brings an extensive list of professional directing credits with her and served as visiting assistant professor of theatre at Middlebury in fall 2016.
Writing
James Sanchez, assistant professor of writing, earned his PhD in rhetoric and composition from Texas Christian University and his MA and BA in English from University of Texas at Tyler. He most recently served as a graduate research assistant in the John V. Roach Honors College and as a graduate instructor at TCU.
Additional non-tenure-track faculty for the coming academic year include the following visiting faculty: Steven Fesmire, philosophy; Toni Cook, linguistics; Felicia Grey, political science; Marissel Hernández-Romero, Spanish/Portuguese; Paul Hess, physics; Maria Hofmann, German; Deniz Karakas, history of art; Shelby Kimmel, computer science; Alexander Lyford, mathematics; Elizabeth Saylor, Arabic; Matthew Taylor, music; and Zu Wei Zhai, psychology.
Four new faculty have joined as instructors, including Jason Grant, computer science; John Harpham, political science; George Melvin, mathematics; and Daniel Suarez, environmental studies.