Summer Play Lab Preps Students for Careers in Theatre and Film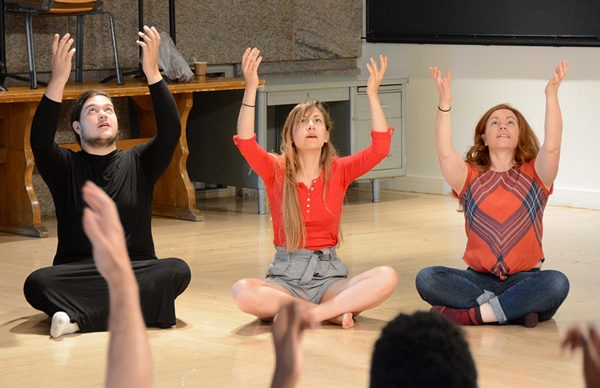 MIDDLEBURY, Vt. – It's one week before the start of the fall semester and 17 Middlebury students are seated in a circle on the floor learning how to ignite their creative processes.
"Here is a plateful of grapes," says composer and storyteller John McGrew, placing it in the center of the circle. "What does a grape feel like when you hold it in your hands? What is the taste, the smell, the color, the texture?"
McGrew then asks the group to go through the slow, mindful exercise of eating just one grape, and "to stay in that moment with the experience you are having." For McGrew, this deliberate process "roots me in the current moment, gives me a clean slate, and allows my creative process to be as honest as possible."
McGrew is one of six master class teachers participating in the 2017 MIDDSummer Play Lab – a weeklong internship that connects students with rising film and theatre professionals. The lab, founded in 2013, serves two purposes: it teaches valuable career skills to students, and it gives artists, many of whom are alumni, time, space, and support to advance their own projects.
Playwright Naomi Shafer '11.5 has brought a work-in-progress to MIDDSummer Play Lab. It's a play titled "A Fast Nickel Is Better Than a Slow Dime," and, as she hands out a few pages of the script and assigns parts to students, Shafer explains how she gets in the right frame of mind for creative work.
"My spell against self-doubt is to do 50 pushups," Shafer exclaims demonstrating a few exercises. "Or I paint a painting. Or I just write a couple of pages of something." The guest artist, who is affiliated with Clowns Without Borders, also uses a technique she calls "popcorn" to elicit quick reactions. She goes around the circle employing the method with the students and says, "We are workshopping right now. We are being creative without creating a thing, and there is always great value in that."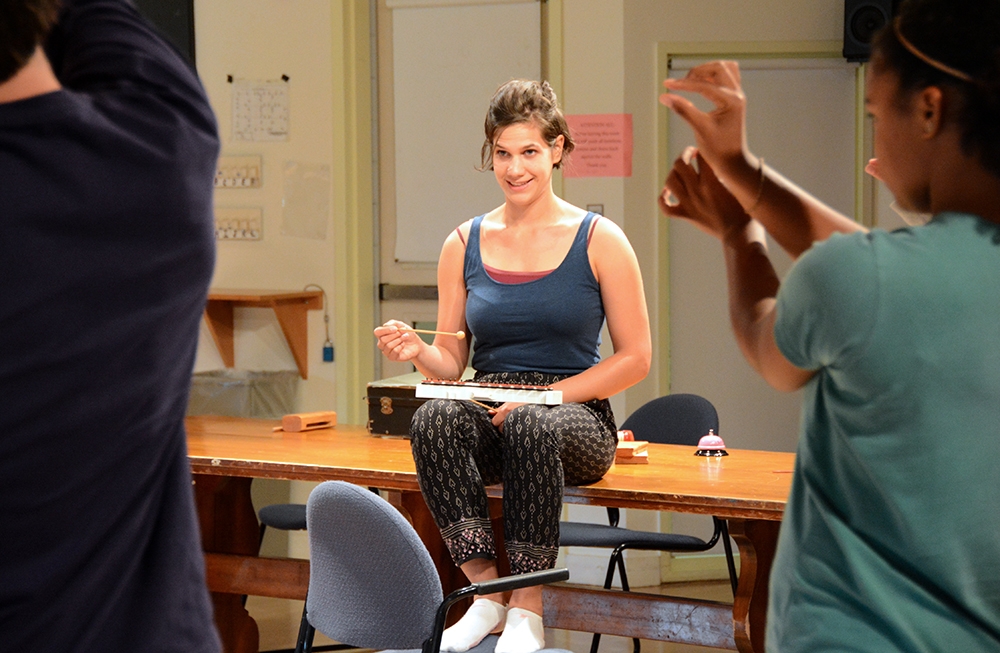 The master class led by Naomi Shafer '11.5 was called "Find Your Funny." (Click to enlarge photos.)

No two days in at the MIDDSummer Play Lab are ever alike. The agenda is jammed with workshops, ensemble projects, master classes, in-process sharing, read-throughs, rehearsals, shared meals, and reflections. The interns and artists-in-residence may change from year to year, but the process is always the same.
"It is a genuine exchange between the students and the professional artists," explains Tara Giordano '02, Play Lab's cofounder and artistic director. "It is a week that benefits everyone. Writers get to workshop their new material in a beautiful setting​ with game and intelligent students jumping in to read roles and provide feedback.
"Students get to experience a professional playwright's development process and work alongside skilled actors. They also get to learn from professionals during master classes and career conversations [while] acquiring skills that are relevant to both their current work at Middlebury and to a life in the arts beyond Middlebury."
Giordano says the 2017 Play Lab offered the summer program's most ambitious week of activities yet.
"For the first time, we had a mix of professional artists who went to Middlebury and artists who did not go to Middlebury. We worked with two plays, two pilots, and one musical in development, and we also had the full company of students participating as actors in script read-throughs and rehearsals.
"We also had a stronger emphasis on design this year, with the presence of Alan Petherick, an art director and production designer. And our students were given prompts to begin creating their own work, which was quite new as well."
At its core, MIDDSummer Play Lab is a collaborative experience between artists and students. "Something the Department of Theatre does really well is stay connected with its alumni," said Giordano, a 2010 Helen Hayes Award nominee.
"I have built a professional life in the arts based on many of the connections I've made through my Middlebury network. The show I'm doing now at Lincoln Center [called The Village of Vale] is an example of it. I've also been back to Middlebury to teach and direct, and I have performed in over 10 productions with PTP. I think of MIDDSummer Play Lab as a natural continuation of bridging these connections between students and alumni/professional artists."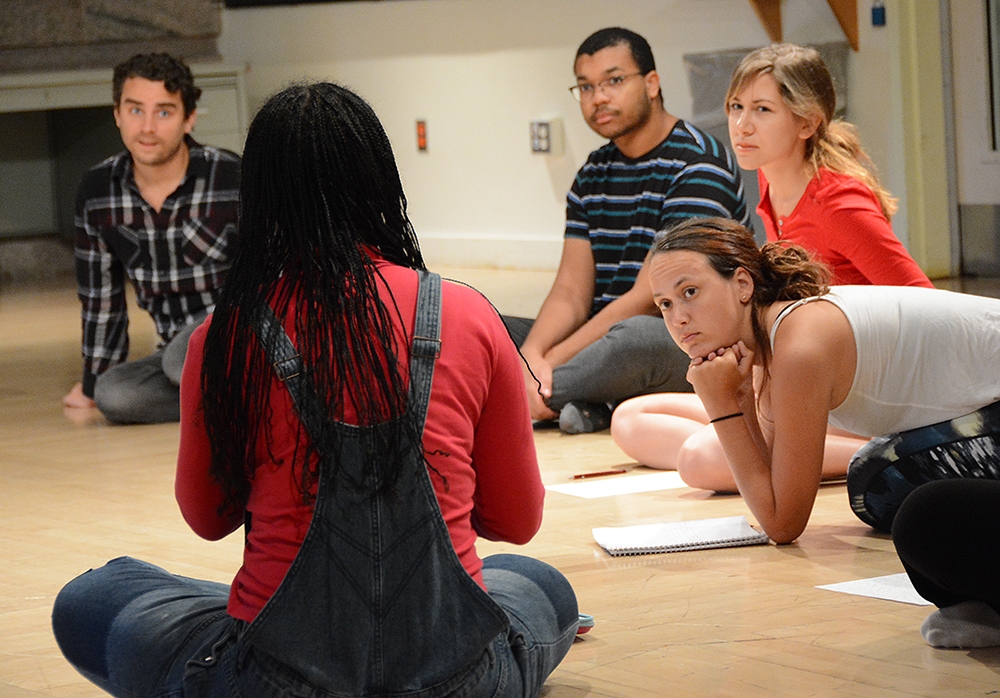 Workshopping with John McGrew (in plaid shirt at left).
In addition to composer McGrew, playwright Shafer, and designer Petherick, the 2017 session included master classes conducted by actor Keith Randolph Smith ("Preparation Is the Work"), filmmaker Megan Ketch ("Self-Generated Shorts"), and actor Ro Boddie ("Character Building through Energy Centers'). Guest artists Kristen Connolly '02, Jeremy Holm, and Joseph Varca '02 also contributed to the breadth of this year's Play Lab.
The cost of operating the summer program for students and artists – including housing, food, and honoraria – is supported by the Middlebury Center for Careers and Internships, Department of Theatre, Middlebury Arts, Office of Alumni and Parent Programs, the Freeman Family Foundation, and members of the Middlebury community.
Back inside the Mahaney Center for the Arts, the Play Lab interns are igniting their creativity for the day using a bunch of grapes and John McGrew's method of mindfulness, imagination, and chatter, or "M-I-C" for short.
After everyone has eaten a grape, he tells the students: "Now it's time for chatter. Chatter is that voice inside your head that goes from silent to loud to silent to loud… Now grab a pen and paper and write down the inner magic of your chatter. Don't think too much about it; just write it down."
And as the students rush to jot down their thoughts, it's evident that McGrew's M-I-C method has ignited their creative processes.
– Story and photos by Robert Keren
For More Information