Fall Family Weekend, October 13–15, Offers Class Visits, Museum Tours, Music, and Sports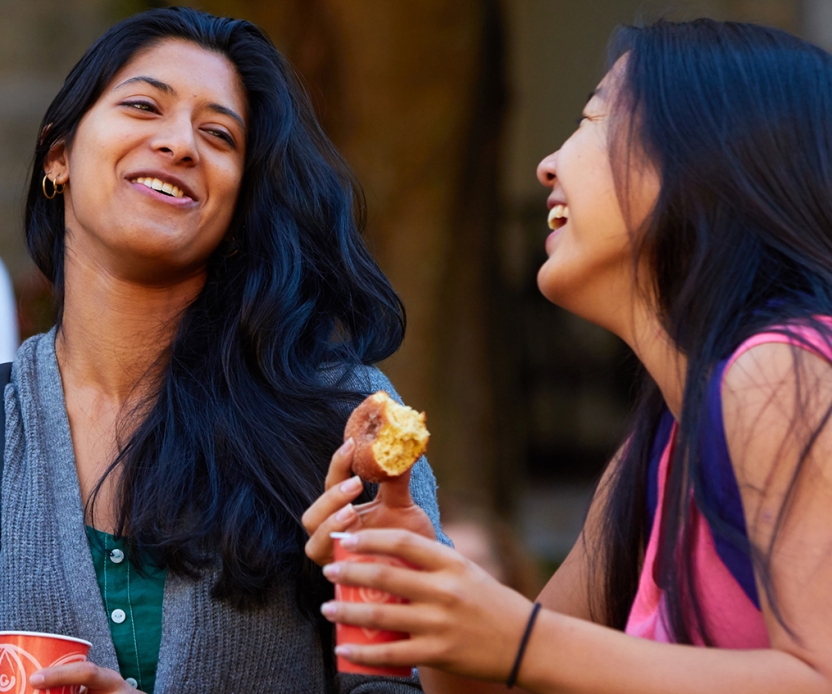 MIDDLEBURY, Vt. – Hundreds of Middlebury families will gather on campus for Fall Family Weekend, October 13–15, to enjoy conversation, exploration, and colorful Vermont foliage. The Office of Alumni and Parent Programs has planned a full schedule of panel discussions, performances, exhibits, meals, and events so everyone will have plenty to do and see all weekend long.
New this year is the Fall Faculty Forum on Friday afternoon, October 13, in the Axinn Center. Forty faculty members will participate in panel discussions ranging from Religion and Rhetoric to Questions of Race, Gender, and Nation. There will be 12 panels in all, including: Global Policy Interventions, Queer Politics, the Technologies of Seeing, and the Art and Science of the Environment.
Friday's other events include open classes, a pop-up bookmaking workshop in the Special Collections Reading Room, a campus tree tour, and open houses at the Center for Community Engagement, the Knoll, and the Innovation Hub. There also will be a violin concert, an a capella jamboree, stargazing at the Mittelman Observatory, and lectures about the music of the Romani community of Ukraine and Russia, and about the latest acquisition by the Museum of Art.
Fall Family Weekend shifts into high gear on Saturday, October 14, starting with a conversation with Vice President Jeff Cason about study-abroad opportunities, a fall foliage walking tour with Middlebury horticulturalist Tim Parsons, and a conversation for parents hosted by Provost Susan Baldridge. The Snow Bowl once again will be raising money for the Ski Patrol and local nonprofits by offering foliage rides on the Worth Mountain chairlift plus live music and a barbeque lunch. The Center for Careers and Internships (CCI) will host a panel discussion about careers in finance, followed by an open house. There also will be an informal gathering of parents and students interested in advancing the common good via social change, public service, community development, and advocacy.
Saturday will feature field hockey and men's and women's soccer against Trinity College, and football vs. arch rival Williams College. The Museum of Art will be open all day for browsing or, if you prefer, guided tours, and Saturday evening will offer opera, film, theatre, or Middlebury's popular storytelling event (based on The Moth) called Cocoon.
Janet Halstead Franklin '72 and Churchill Franklin '71 will host a Vermont pancake breakfast at their Bread Loaf View Farm on Cider Mill Road in Cornwall on Sunday morning, October 15. Also, the Relay for Life 5K Color Run to support cancer research will loop around campus on Sunday morning, along with the new Ecumenical Christian Double Bonus Coffee Hour at the Charles P. Scott Center and the traditional Hillel Bagel Brunch at Freeman International Center.
The field hockey team will take to Kohn Field for a Sunday 1 p.m. contest with Husson College as family members prepare to say goodbye and head for home.