Middlebury Honors First-Year Writing with Ward Memorial Prize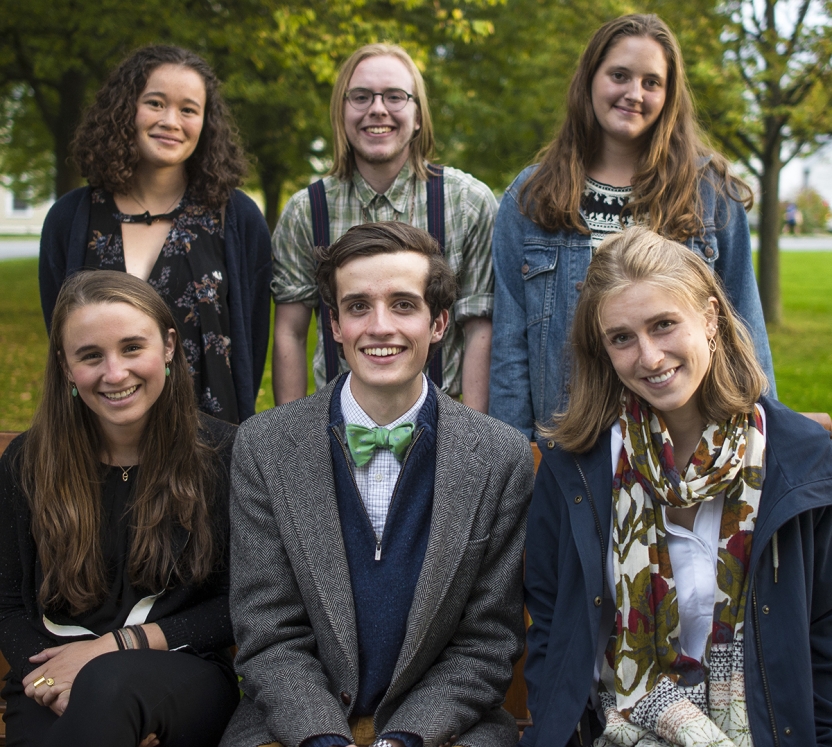 MIDDLEBURY, Vt – The Middlebury Center for Teaching, Learning, and Research and the Writing Program honored 57 up-and-coming student writers with the presentation of the 40th annual Paul W. Ward '25 Prize in Writing at a ceremony in Twilight Hall on Friday, October 13. The $500 cash prize recognizes outstanding essay writing by first-year students.
This year's winners and honorees, all members of the Class of 2020, were nominated from many academic disciplines and were judged by a faculty committee for writing completed during the 2016–17 academic year.
"We are impressed at the range of interests and styles that all your writing represents," said Writing Center Director and Senior Lecturer Mary Ellen Bertolini. "The judges read personal narratives, critical arguments, and research papers from many departments and across many divisions."
That range is especially gratifying, said Bertolini, because "when Middlebury College committed itself to requiring writing in courses throughout the curriculum, we committed ourselves to an idea about the place of writing in a liberal arts education."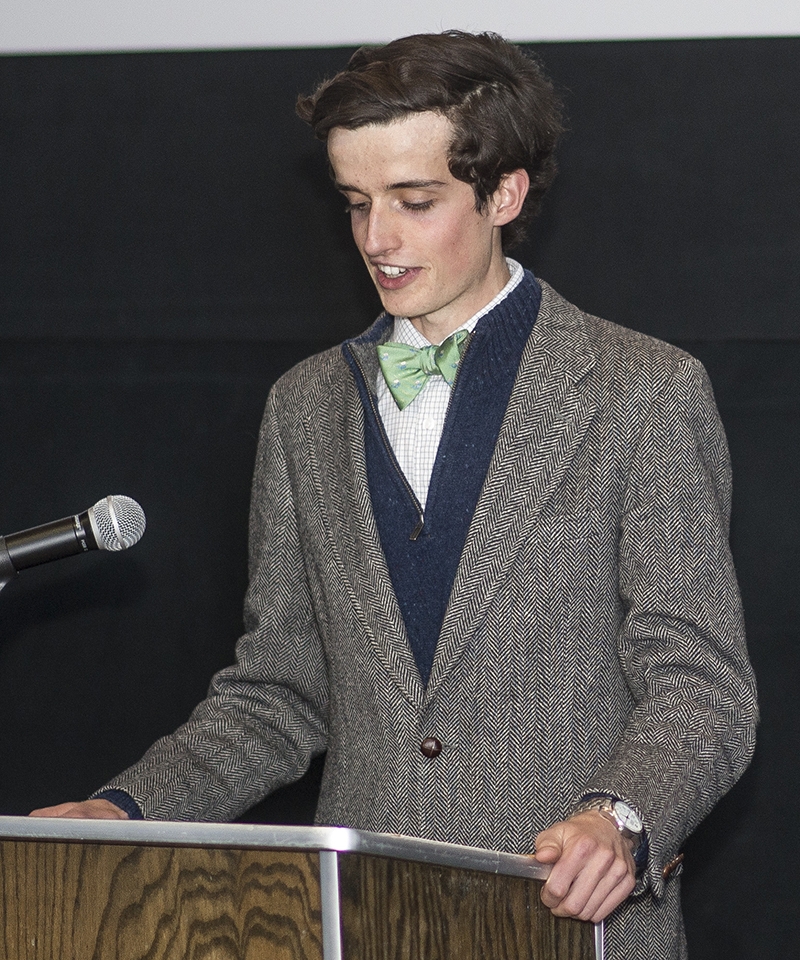 Angus Warren reads from his winning essay at the Ward Memorial Prize ceremony in Twilight Hall auditorium on October 13. Photo: Rafael Hernandez '19
The winning submission, "I Have Finally Found a Way to Live in the Presence of the Lord," was written by Angus Warren, who read a short excerpt from his paper to the Twilight Hall audience. Warren wrote the essay, which drew comparisons between the book of Job and Moby Dick, for his first-year seminar, "Reading the Book of Job."
Professor Robert Schine, who taught the seminar and nominated Warren, was unable to be at the awards ceremony but asked Bertolini to share some remarks with the audience.
"One of the conclusions we reached in the seminar is that the book of Job is less about the problem of God's injustice toward human beings, and more about the sincerity of Job's unrelenting quest for meaning," wrote Schine. "Angus highlights the parallel structures in the two books: Ahab corresponds to Job, the great whale to God. For both Job and Ahab, the quest is anguished and protracted. Angus also highlights the difference: Job is humbled but affirmed, Ahab is defeated and drowns. Each finds his own way 'to live'—or not—'in the presence of the Lord.'"
Two students, Ellie Eberlee and Abigail Okin, were named runners-up, which comes with a $250 prize. Eberlee's paper, "The Problem of 'Parent,'" was nominated by Professor Brett Millier. Okin's work, "Missing," was nominated by Mary Ellen Bertolini. Each of the runners-up also read excerpts from their papers.
Three students received honorable mention. Zoe Harris was nominated by Professor Brett Millier for her paper, "Gendered Taking and Giving in Carolyn Forché's 'Reunion,' 'Taking Off My Clothes,' and 'Poem for Maya'"; Miyo McGinn was nominated by Professor Hector Vila for "It Is Impossible to Talk about the Single Story without Talking about Power"; and Leif Taranta was nominated by Professor Michael Sheridan for "Two Spirit People and the Political Ecology of Gender Identity."
This year's judges included Jeanne Albert, director of quantitative skills support, Center for Teaching, Learning, and Research; Jon Isham, professor of economics; and James Chase Sanchez, assistant professor of writing.
"Middlebury prides itself on attracting and nurturing thoughtful, verbal young men and women," said Bertolini. "You are looking at some of the best 19-year-old writers in the country!"
The prize is offered in memory of Paul W. Ward '25, whose lifelong career as a journalist and diplomatic reporter brought him both the Pulitzer Prize and the French Legion of Honor. During his long career he emphasized the use of basic English as a writer's most necessary tool. Precise and exact usage of words, exact meanings, and phrases expressed lucidly and gracefully seemed to him the most direct and understandable means of communicating with his readers.
Photography by Rafael Hernandez '19