Museum Acquires Daguerreotype of 1842 Alumnus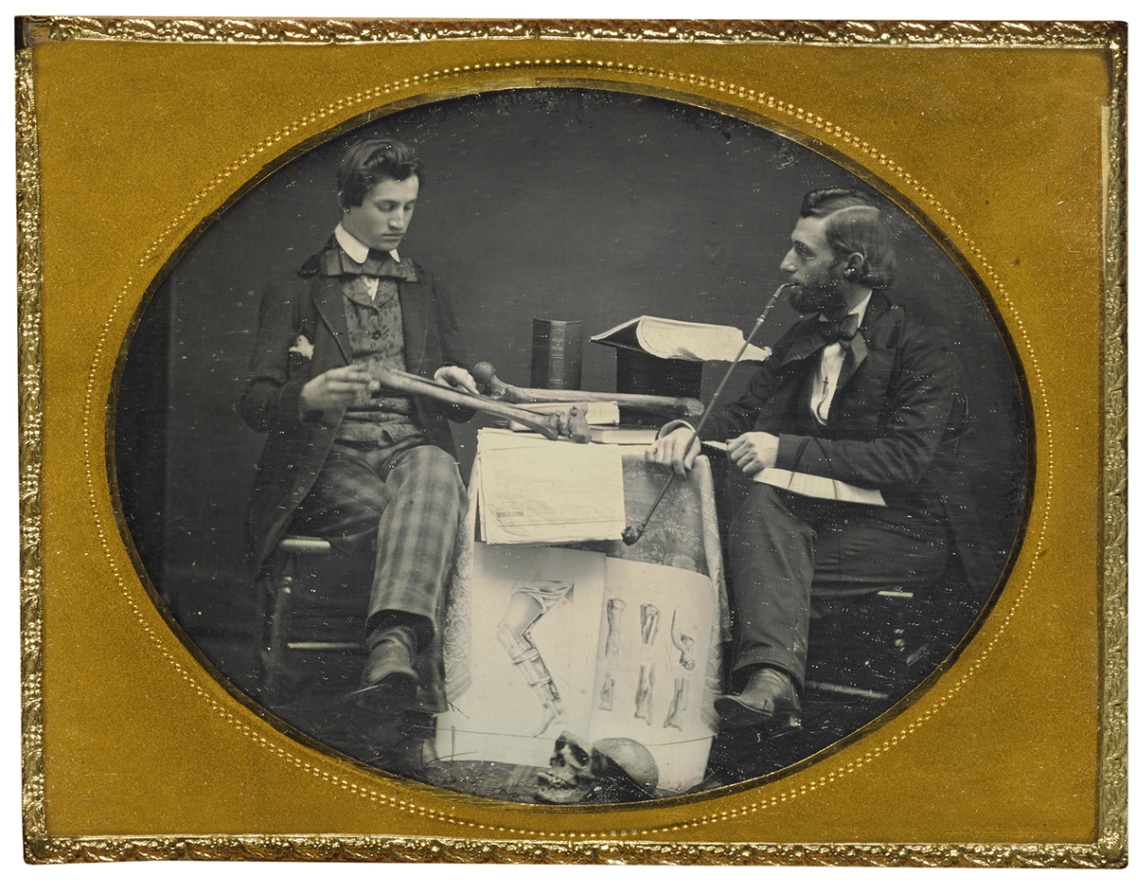 In September, 2017, the Middlebury College Museum of Art acquired this daguerreotype, which features Dr. Charles Allen, right, with a student. Allen graduated from Middlebury in 1842 and this is one of the oldest known images of a physician in a teaching session.
MIDDLEBURY, Vt. – The Middlebury College Museum of Art recently acquired at auction a daguerreotype of Dr. Charles Linnaeus Allen and a student. The image, which has been described as "the earliest known surviving photograph of a physician in a teaching session," depicts Allen, on the right and smoking a long pipe, surrounded by bones, diagrams and anatomical texts.
"While the image is in and of itself a marvelous composition, it has particular importance for us as Dr. Allen graduated from Middlebury College in 1842," said Richard Saunders, director of the Museum.
Allen, who was born in Brattleboro, practiced medicine and surgery in Middlebury and Rutland for over forty years. He received his degree of Doctor of Medicine from Castleton Medical College in 1846. Subsequently, he lectured in chemistry at Middlebury College and in 1855 at Castleton Medical College, where this image may have been made.
In 1860 Allen became Dean of Castleton Medical College. In 1862 he delivered lectures in the Medical Department of the University of Vermont on civil and military hygiene–the first lectures on that subject ever delivered in the United States. He later was appointed a surgeon of the United States Volunteers, Ninth Vermont Infantry, and continued to serve in the military until 1864. After the Civil War, Allen had a long and distinguished career in Vermont and became a prominent member of the Addison County Medical Society.
Saunders says the details of Allen's life survive in the form of a handwritten autobiography he left with the National Archives. The daguerreotype, along with others of Allen and Charles Robbins (the person identified as a student), as well as extensive documentation were acquired in the 1980s by Dr. Stanley Burns, the foremost collector of historical medical imagery, who placed this work up for auction.
"Now that we have been successful in acquiring this work, we will seek to acquire additional related materials from Dr. Burns," said Saunders.