Middlebury Honors Four Citizens for Exemplary Service to the Community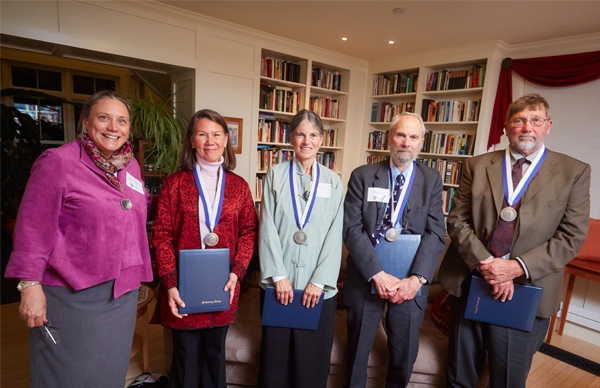 MIDDLEBURY, Vt. – Middlebury President Laurie L. Patton presented the 2017 Bonnie and John McCardell Citizen's Awards to four area residents—Johana Brakeley, Barry King, Warren King, and Richard Thodal—for their remarkable contributions to the community.
Middlebury College honors local citizens for exemplary volunteerism and service in a tradition that dates to the College's bicentennial year in 2000. Nominations come from members of the community, and a committee of faculty and staff makes the final selections. All recipients of the Citizen's Award receive a pewter medallion struck at Danforth Pewterers of Middlebury.
The presentations were made at a celebratory dinner for the current and prior recipients of the award on October 30, 2017, at the President's House at 3 South Street.
Johana Kashiwa Brakeley, a 1973 graduate of Middlebury College, earned her MD at SUNY Upstate Medical Center and completed residencies in pediatrics at the Upstate Medical Center in Syracuse, N.Y., and Fletcher Allen Health Care in Burlington, Vt. From 1980 through 2005, she practiced pediatrics in Middlebury and touched the lives of hundreds upon hundreds of Addison County children and families. Since 2005, "Jody" Brakeley has served as staff developmental-behavioral physician in the Child Development Clinic of the Vermont Department of Health, as developmental-behavioral pediatrician in her own private practice based in Middlebury, and as clinical associate professor of pediatrics at UVM College of Medicine.
Saluted by Patton as "the first woman to practice medicine in Middlebury," Brakeley continues to serve others "with hope, compassion, and care" by "helping us understand how complex childhood trauma impacts the mental, physical, social, emotional, behavioral, and spiritual health of both young people and adults," the president said.
Barry Schultz King is a teacher, naturalist, and community organizer who worked for 21 years as an environmental educator with Keewaydin Camps on Lake Dunmore in Salisbury, Vt. The Ripton resident started at Keewaydin in 1976 as an instructor/naturalist for summer programs, and later served 10 years as the director of the Keewaydin Environmental Education Center. Together with her husband, Warren, Barry King cofounded the Keewaydin Winter Environmental Education Program.
A 1974 graduate of Middlebury College, King soon realized that combining her affinity for teaching with her love of the outdoors was vitally important to her. "Your work in our community has impacted the lives of the young, the old, and the natural world that surrounds and sustains us," said Patton. King has also been active with the Otter Creek Natural Resources Conservation District, Ripton Ridge Run, Vermont Envirothon, Ripton Conservation Commission, Addison Central Education Endowment Fund, and Middlebury Natural Foods Cooperative.
Warren B. King is a conservationist who has demonstrated exemplary service to the Vermont Nature Conservancy, Audubon Vermont, and the Otter Creek Audubon Society. In 2005, he received the National Audubon Society's highest honor: the Charles H. Callison Award in recognition of his creativity, cooperation, persuasion, patience and perseverance in promoting the Audubon mission. A graduate of Williams College and longtime resident of Ripton, Warren King has served on his town's planning, zoning, historic district, and conservation commissions, in addition to its recycling and energy committees.
"Addison County's birds, fish, waterways, plants, flowers, and trees, as well as its human residents, have Warren King to thank for his considerable conservation efforts over the past 28 years," said Patton. Before moving to Vermont, the naturalist completed two tours with the Smithsonian Institution, first from 1963 to 1968 on the Pacific Ocean Biological Survey Project, and again from 1971 to 1985 with the International Council for Bird Preservation.
Richard F. Thodal, who recently retired as executive director of Middlebury Community Television, or MCTV, was the primary videographer, editor, producer, and administrator of Middlebury's only nonprofit television outlet for nearly three decades. From the early days of cable television, "Dick" Thodal was there with his video camera at town meetings, school meetings, board hearings, and community events. He also provided opportunities for community members to learn about video production and to produce their own programming on MCTV.
"Dick Thodal has changed the way that we, the citizens of Middlebury, engage with our community," Patton said. "He also oversaw the upgrade that made MCTV programming available online and on demand so everyone can view community events, regardless of their access to cable television." A graduate of Middlebury Union High School and the University of Vermont, Thodal was active with the UD#3 school board, Patricia Hannaford Career Center board, Addison County Relocalization Network (ACORN), and Vermont Coverts.
This year's recipients of the McCardell Citizen's Awards join the 64 other area residents who have been so honored by Middlebury presidents since the College's bicentennial.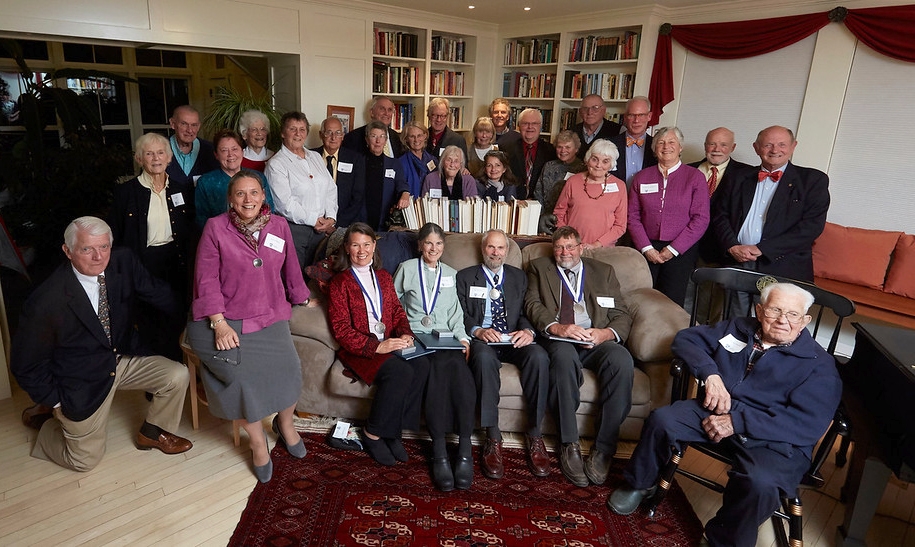 The four newest recipients (on couch) and many of the prior recipients of the McCardell Citizen's Awards gathered with President Patton following the celebratory dinner.