Middlebury Student Wins National Award for Voter Engagement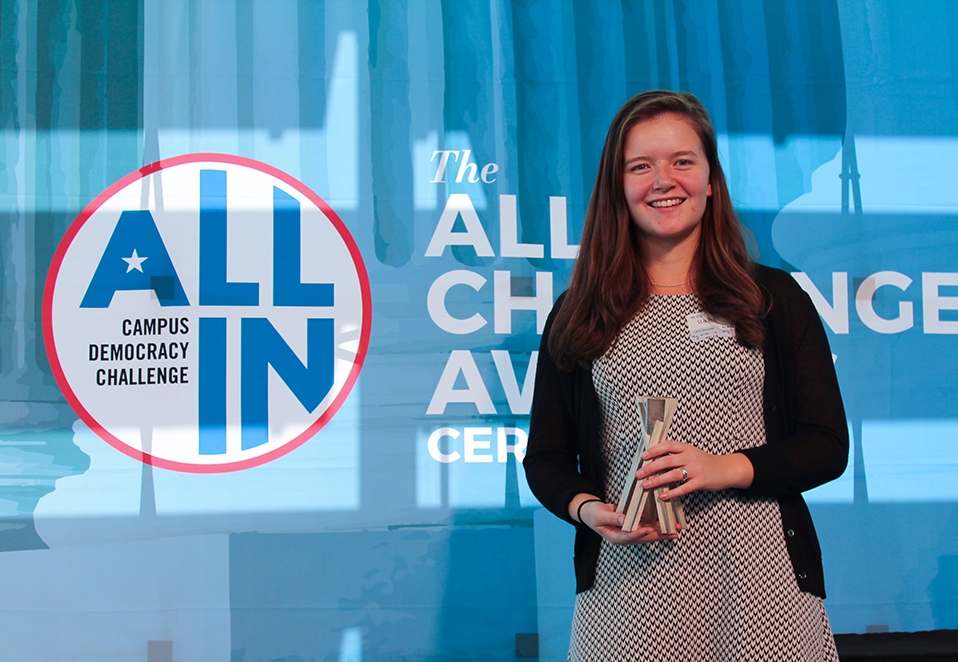 Hazel Millard '18 accepts the All In Challenge Standout Student award at the Newseum in Washington, D.C.
MIDDLEBURY, Vt. – Hazel Millard '18 was one of two national winners of the All In Challenge Standout Student Award. The honor, presented by All In Campus Democracy Challenge, recognizes college students working to promote citizenship and democracy and increase voting rates. The political science major received her award on October 19 at the Newseum in Washington, D.C.
During the 2016 presidential primaries, Millard was one of four students, supervised by Professor of Political Science Burt Johnson, who designed a research project and spent winter term traveling through New Hampshire, attending rallies by every major campaign. The group wrote a summary of their findings, which was published in the Washington Post.
"Hazel's commitment to democracy and fair play for all has led to political work and organizing that has changed the lives of those around her," said Johnson.
Not long after arriving on the Middlebury campus, Millard revived a moribund College Democrats organization and, together with another student, transformed it into a vibrant group with regular gatherings.
"Hazel is seen on campus as a fierce advocate for voting rights and has worked with students from across the political spectrum to raise awareness around the importance of voting," said Ashley Laux, program director at the College's Center for Community Engagement.
In 2016, the ALL IN Campus Democracy Challenge became a part of the nonprofit organization Civic Nation and its first staff members were hired. In the summer of 2016 the initiative was soft launched at the Civic Learning & Democratic Engagement Meeting, organized by the American Democracy Project, The Democracy Commitment, and NASPA-Student Affairs Administrators in Higher Education, and in July it was officially launched. Today, nearly 300 campuses have joined the organization.