Middlebury Acquires Iraq War Veteran Jon Turner's Art and Poetry Collection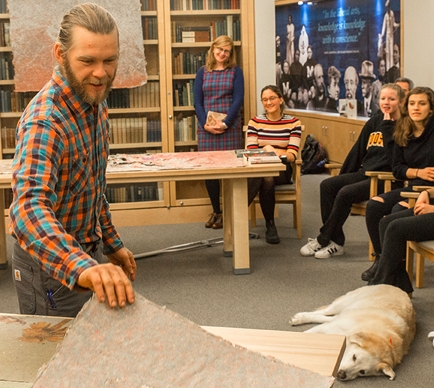 Slide Show
[view:embed_content==560807]
MIDDLEBURY, Vt. – Middlebury College's Special Collections and Archives has acquired a collection of poetry and artwork from Iraq War veteran Jon Turner. Turner served with the United States Marine Corps from 2003–2006, including a tour in Haiti, followed by two combat tours in Iraq as an infantryman in Fallujah and Ramadi. He received the Purple Heart and an honorable discharge from the military when he was hit in the jaw by shrapnel during battle, returning to the U.S. in 2007.
Turner, who has lived in Vermont since his discharge, recently spoke with a class in the Special Collections room at Davis Family Library about coming to terms with effects of posttraumatic stress disorder, including anxiety, depression, and substance abuse. He returned from war not only injured—the shrapnel in his face came within an eighth of an inch from his carotid artery—but also angry at the senselessness of war and the cruelty he witnessed and, in some cases, inflicted.
Back home, he participated for a time in anti-war activism, which felt like the right thing to do, but came at the cost of losing friendships with some of his fellow Marines. Ten years after his return, he still deals with the effects of traumatic brain injury (TBI), including memory loss, headaches, and ringing in his ears from being in the vicinity of multiple explosions.
As he struggled to find meaning in civilian life, Turner found his voice as a poet with Warrior Writers and learned the art of papermaking at the Green Door Studio in Burlington, Vermont, with other veterans, using their shredded combat uniforms to form pulp for paper. He says the physical process of making paper—pulping, pulling, straining, couching—created a "rhythmic state of mind" which proved to be very helpful.
"You just get into this flow," said Turner, "and for me that was one of the best ways to get out of my head … there's an amazing sense of calm and peace."
Eventually, Turner brought his art on the road, traveling extensively throughout the country with his dog Sadie, who lay quietly at his feet during his Middlebury talk. He met fellow veterans, told his story, and helped others learn the craft of papermaking that had been so therapeutic for him.
Turner said he was a bit overwhelmed at seeing so much of his artwork from years ago on display at Middlebury. Walking around the room, he explained the process and meaning behind several of the handmade-paper works, which range in size from approximately letter-size to oversized posters.
Each piece of paper tells a story, Turner told the students in Assistant Professor Ellery Foutch's course on World War I and the Commemoration of War. The artwork helped him find expression for his anger when he returned to the U.S. One piece, for example, approximates the shape of a military uniform and includes fiber from his own Marine dress blue uniform. On the front of the shirt, the tip of an AK-47 bayonet pierces a purple heart.
"I think, had I not had the opportunity to make art and just spend countless hours in the studio until three or four o'clock every morning, I don't know where I'd be today," Turner told the class.
The collection, which Middlebury acquired in November 2017, includes about 50 individual pieces of handcrafted paper made from military uniforms, American flags, U.S. currency, and natural fibers, along with Turner's "Prayer Boots" art installation, about 40 handmade and other journals containing prose and poetry, and multiple handwritten, typed, and published editions of Eat the Apple, his published book of poetry.
"Jon's work, to me, blends the very ancient craft of making and using writing surfaces with a very current sense of our own lived experiences," said Rebekah Irwin, director and curator of Middlebury Special Collections and Archives. "Quite often I share with students how the history of books and making books tells the story of human aspiration and achievement: history, science, politics, romance. Jon's work, his poetry, and his life experiences do that and also bring a perspective that most Middlebury students know only in the abstract—the war veteran experience of someone very close to their age."
In recent years, Turner has discovered a new passion, turning his attention to regenerative agriculture in Bristol, Vermont, where he regularly welcomes veterans, students, and the public to workshops at his Wild Roots Farm.
Reporting by Stephen Diehl, Photos by Chris Spencer
For More Information