SGA's 'Taste of the World' Aims to Improve Cultural Understanding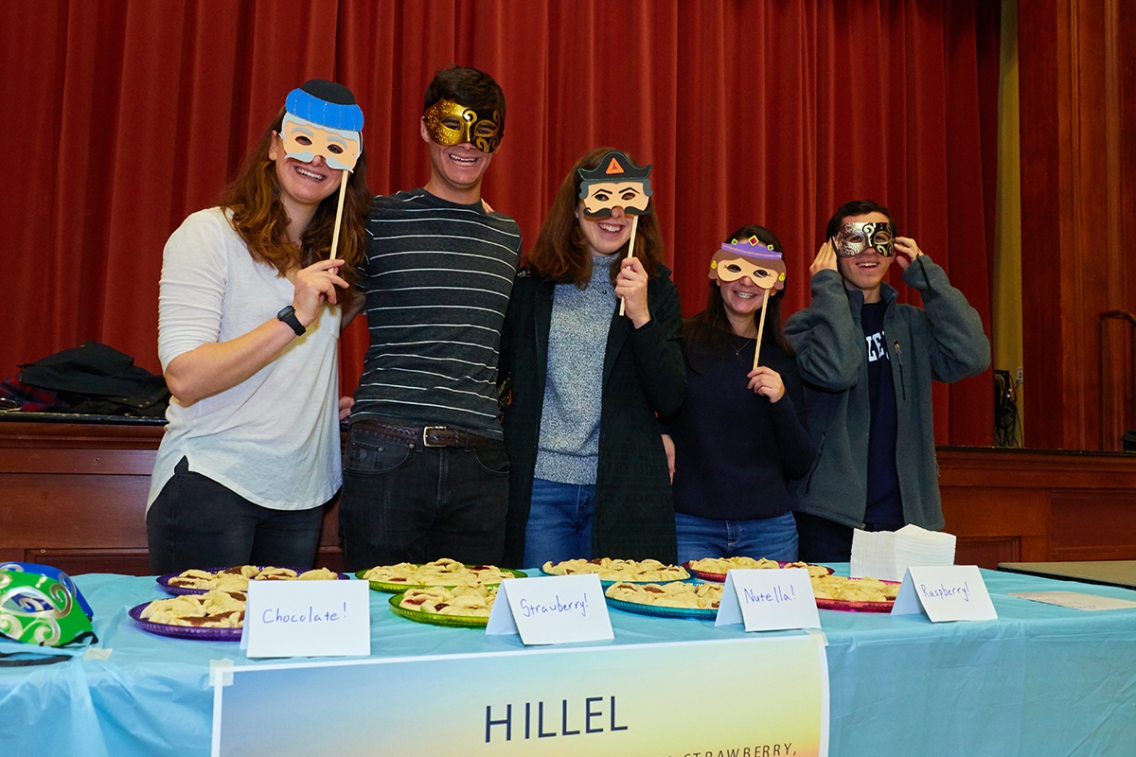 Middlebury Hillel is one of several student cultural groups sharing food and traditions with the campus community during Taste of the World week. Hillel made hamantaschen, the traditional pastries associated with the Jewish holiday of Purim.
By Roxana Rivera '18
MIDDLEBURY, Vt. –Middlebury's Student Government Association (SGA) rolled out a delicious new antidote to the January chill this week. "Taste of the World" offers a week filled with food, music, discussion, cultural events, and a culminating performance this Friday evening. SGA organizers see it as a fun way for Middlebury students to learn more about each other's cultures.
The idea for Taste of the World came from SGA Social Committee member Madu Udeogaranya '21, following a tense town hall meeting last semester at Mead Chapel. Udeogaranya says that during the meeting, a first-year student commented that most students on campus listen to hip hop and rap music but are not familiar with its cultural significance. Another student said she was eager to learn about certain cultures but didn't know how to interact with other cultural organizations on campus.
Udeogaranya took those thoughts to heart and came up with Taste of the World week. With the help of the SGA Social Committee, especially committee chair Adiza Mohammed '18, the event launched earlier this week and continues through Friday. Udeogaranya believes this event may be the first of its kind at Middlebury. "There were no guidelines to follow and it definitely felt like we were groping around in the dark a lot of the time." He said the SGA hopes Taste of the World will spur more events for, by, and about students of color on campus on a much larger scale.
Each day of the week brings students to a different part of the world. Student cultural organizations, including the Korean American Student Organization (KASA), Midd Masti, Alianza, UMOJA, and many others, will offer a literal taste of their world through food-centered events and cultural experiences.
On Wednesday evening, January 24, students are invited to Crossroads Café to enjoy free Grille food at a 7 p.m. screening of the acclaimed drama Fruitvale Station, which is based on the events leading to the death of Oscar Grant, a young black man who was killed in 2009 by Oakland, California, transit police.
On Thursday, January 25 the student club Alianza will share a taste of Latin America with food samples at Wilson Hall from 2-4 p.m. Later that night, a salsa workshop will take place at Proctor basement from 8:30-9:30 p.m. A $10 donation will benefit the Food Justice in Urban Environments MALT trip. Visit go/salsanight to sign up!
On Friday, January 26 Professors Damascus Kafumbe (music) and Christal Brown (dance), along with Visiting Assistant Professor Marissel Hernández-Romero (Spanish/Portuguese) present a panel discussion on "Music, Dance & Storytelling" at 12:30 in Dana Auditorium. Later that day, UMOJA will be providing treats at Mitchell Green Lounge upstairs in McCullough from 2-4 p.m. The week's festivities will wrap up with an open mic. night featuring Evolution, Riddim, INGOMA, K-Pop group and BSU among many others in Wilson Hall from 8-9:30 p.m. To sign up, visit go/micnight.
"This is hopefully just the beginning of many events that help foster diversity on Middlebury's campus," said Udeogaranya.
Photo: Todd Balfour