TIME's First Woman Editor-in-Chief Notes Surge in Women Running for Office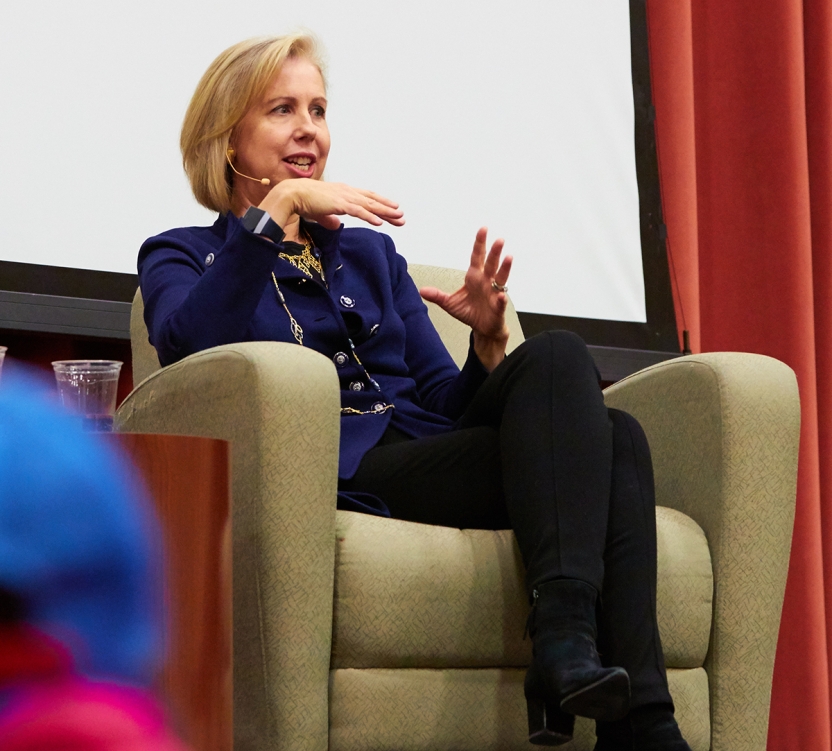 MIDDLEBURY, Vt. – Nancy Gibbs took a job at TIME magazine in 1985 as a fact-checker—after "pounding on the door" for about a year, she said. She wasn't dreaming of the top office at the storied organization; Gibbs felt that the best job was among the writers and reporters, with a front-row seat to the most interesting people and stories of her time.
She held that job for years, going on to write more TIME cover stories than any other reporter in the magazine's history; that front row seat was every bit what she'd dreamed it would be. But in 2013, Gibbs left that role behind, and in doing so made headlines of her own: She became the first woman to lead the magazine as editor-in-chief.
At the time of her appointment, Gibbs thought enough glass ceilings had been broken that her new role wouldn't merit much attention. She thought wrong.
"It moved me and genuinely surprised me, in the weeks after the announcement, how many women I heard from about what it meant to them to see what was still seen as a very male institution … being run by a woman, and that did have a kind of symbolic importance," said Gibbs.
Gibbs, who stepped down from that post last fall, spoke at Middlebury College on Friday, Jan. 19. Her conversation was the keynote event in the student-organized Women's Leadership Symposium, sponsored by the Middlebury Women Leaders club and scheduled to coincide with the anniversary of the 2017 Women's March.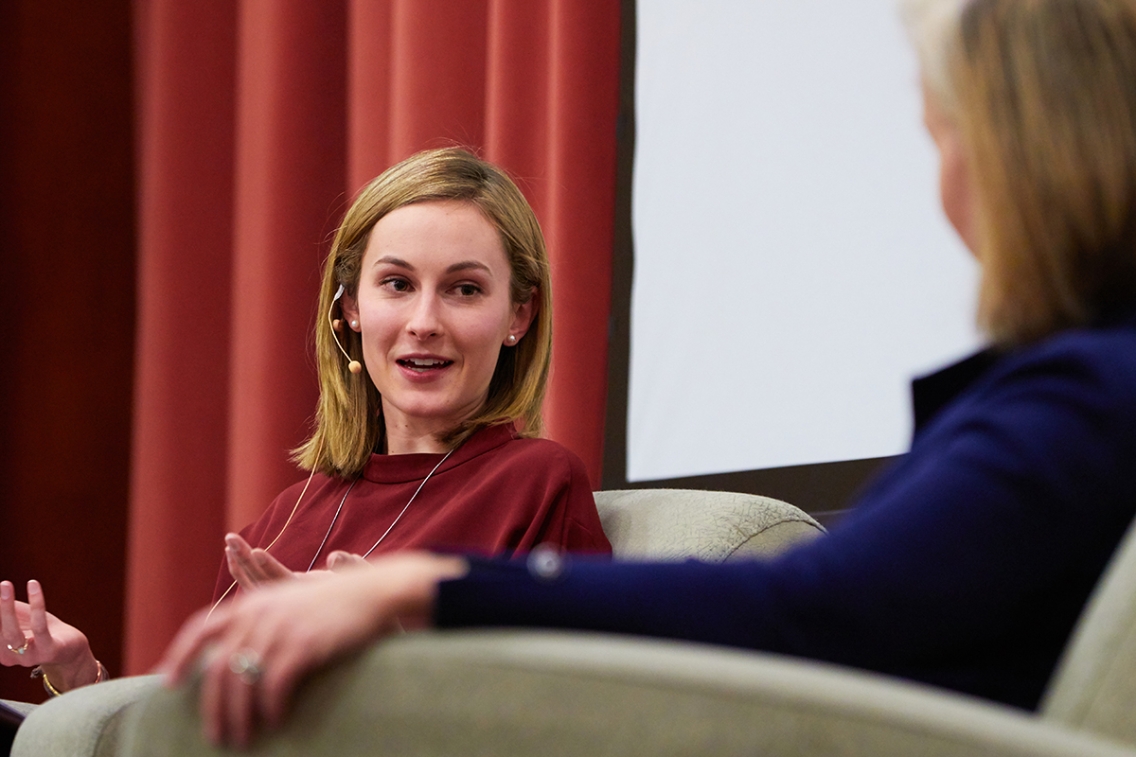 Erin Van Gessel '17.5, president of the Middlebury Women Leaders club, interviews Nancy Gibbs in Wilson Hall.
"I didn't want to have that momentum for women's rights die or burn out after a year," said Erin Van Gessel '17.5, president of Middlebury Women Leaders and the symposium's lead organizer. "I thought that having our own local Middlebury reminder of that energy would be great."
In addition to her stories at TIME, Gibbs is the coauthor, with Middlebury parent Michael Duffy, of two books on presidential politics: The Preacher and the Presidents: Billy Graham in the White House, and The Presidents Club: Inside the World's Most Exclusive Fraternity.
In her keynote conversation with Van Gessel, Gibbs spoke about politics and journalism—reflecting on what it meant to be the first woman to lead TIME, the reasons galvanizing women to run for office in the wake of Donald Trump's election, and the marks of a successful leader.
Gibbs noted that her visit to the College coincided with an apropos cover story from TIME, in which writer Charlotte Alter chronicled the record-setting number of women now running for local, state, and national office. Between 2015 and 2016, roughly 900 women reached out to Emily's List, the organization that recruits Democratic women to run for office, about the possibility of running; that number swelled to more than 26,000 in the year following President Trump's election.
Part of that was in direct response to the president's policies and actions, said Gibbs. And part, she said, was because he'd proven that someone with no more experience than a real estate developer could ascend to the presidency.
"That opens the door to anyone at any level to be able to wake up in the morning and look in the mirror, and say, 'Yes, I could run for city council.' Or, 'I could be in the state legislature.' Or, 'I can be president of the United States,'" said Gibbs.
Asked about her advice for college students leaving school and entering the working world, Gibbs recommended that students set out to talk to as many people as possible about their careers and how they spend their days. Be open to changing direction and living in uncertainty, she said, urging students to devote themselves to finding their way in the world in the same way they'd devoted themselves to their studies.
"It is a kind of scholarship," she said, "except you are the subject."
Later, asked about the state of journalism today, Gibbs spoke with concern about the striking divide along political lines in how many Americans believe the press should function as a watchdog of our government. What's more, she pointed out that the industry's "business model problem" means fewer journalists, particularly at the local and state levels, are on the ground to hold government accountable.
And yet she shared words of optimism. "I hear from people all the time about how much more news they're consuming," said Gibbs. Even in the midst of huge upheaval and uncertainty in the news industry, she said, "I think the arc of the journalistic universe bends toward quality."
As the conversation wound to a close, a student asked Gibbs if, after making the transition from reporter to editor-in-chief, she had one piece of advice about leadership.
"Be sure to surround yourself with people who are better and smarter and more talented than you are, and then you will succeed," said Gibbs, who noted that the job of leaders is not to do everything, but rather to recognize that one can't, and find the people who can and empower them to succeed.
In addition to Gibbs's keynote conversation, the Women Leadership Symposium included a conflict mediation workshop with Middlebury President Laurie Patton; a "lean in" lunch discussion about women in the classroom and workplace; a conversation with women from the local Nulhegan Abenaki Native American tribe; and a fashion show fundraiser to benefit She Should Run, a nonpartisan group devoted to expanding the pool of women running for office in the United States.
Unlike many symposiums on campus, the event was entirely student organized and run. In addition to Van Gessel, the symposium was organized by Maryam Mahboob '18, Rae Aaron '19.5, Aly Slater '18, Annie Blalock '20.5, Courtenay Roche '20.5, and Maggie Joseph '20.
Van Gessel hopes that for the women who planned and attended the symposium, the "ripple effects of female empowerment" will carry through into the rest of their lives—whether they're advocating for a job or respect in their personal relationships.
"I think that they just feel a little bit more supported at Middlebury now, and that there's a little bit more of a women's community," she said. "That goes a long way."
By Kathryn Flagg, photos by Todd Balfour