Interns Look at Transforming Middlebury's Energy Systems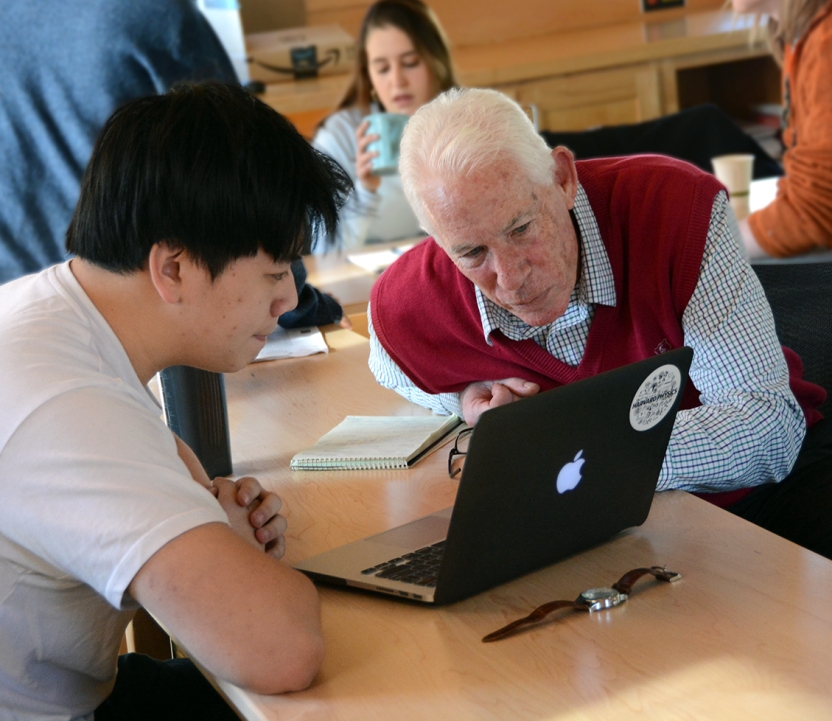 MIDDLEBURY, Vt. – Twelve students in January took a significant step toward transitioning Middlebury's energy system to a more efficient, equitable, and renewable energy future. The undergrads served four weeks as interns working under the umbrella of the Office of Sustainability Integration and its new Sustainability Solutions Lab.
They looked at electrifying transportation. They considered expanding solar, wind, and hydro power. They explored the potential for geothermal heating and cooling. They studied what other colleges and universities are doing to reduce their carbon footprints. They pondered ways to make Middlebury's buildings more efficient, and they inspected new, emerging technologies.
"The Winter Term internships were part of a bigger new program we are calling the Sustainability Solutions Lab," explained Jack Byrne, Middlebury's director of sustainability integration. "The mission is to take on the sustainability challenges facing the campus and work with students to come up with ways that we can solve them."
Byrne is keeping the momentum going, even after the January term ends. "This spring and summer we will host new internships for students who want to continue working on projects that have emerged from this J-term. We have also defined some other challenges facing the campus – like reducing our waste, in dorms in particular – that we would like to have interns working on."
Several of the J-term interns are planning to follow through on their proposals. Caroline Wolfe, a junior from Chappaqua, N.Y., hopes to continue working with senior Vir Chachra on ways to increase transparency about energy usage and incentivize students to decrease their carbon footprint on campus.
"We are looking to collaborate with a professor of psychology and with a professor in the Studio Art Department to display our energy usage to students and engender a new culture about reducing energy consumption on campus," said Wolfe. "The best part about this internship has been that nothing was decided for us. We were granted the agency to pursue our own ideas and interests while, at the same time, looking for ways to transform Middlebury's energy system."
To increase transparency around how much energy gets consumed, Wolfe and Chachra have proposed installing energy dashboards in the residence halls. The duo adhere to the credo, "If you can't measure, you can't manage," and believe that the cost of the displays would be offset by the savings. They also think that big art installations, more information sharing, and new outreach and education programs could be effective, along with holding events and competitions to see which buildings can reduce their usage the most.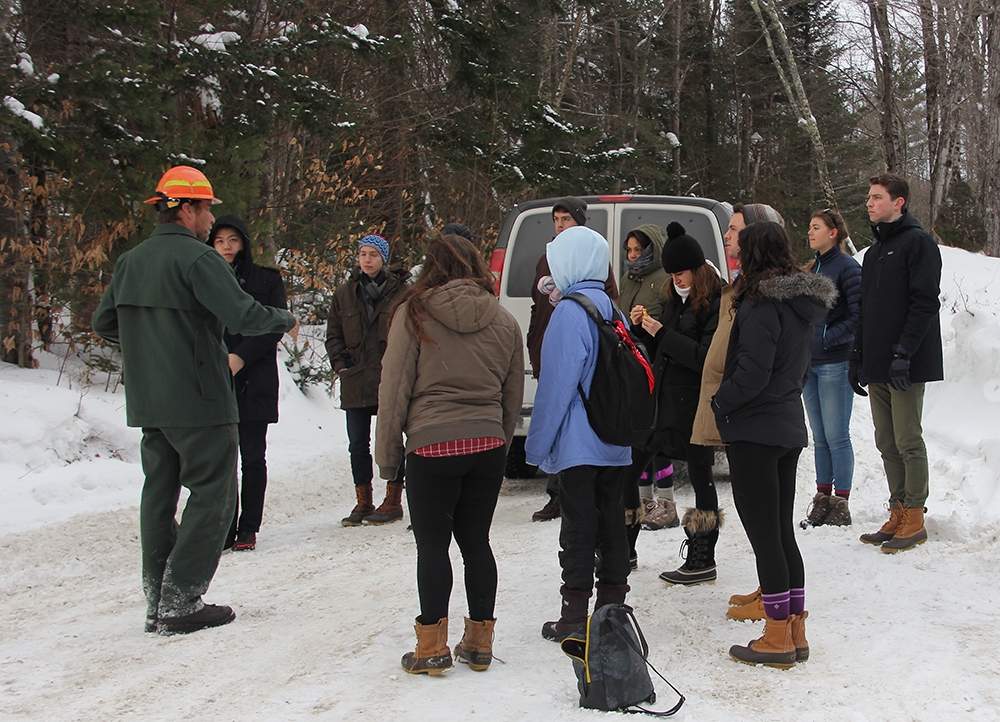 All 12 interns gathered around forester Jeff Tilley in the Green Mountain National Forest in Granville, Vt. (Click to enlarge photo by Eva Fillion.)
Jonah Simon '18 from Needham, Mass., examined the energy efficiency of Middlebury's major buildings during his January internship, and he concluded that the College needs to improve efficiency and decrease consumption in the structures that consume the most energy.
"I believe the most effective way to increase the energy efficiency of the College is to create a new accounting process that tracks the economic value resulting from our energy-efficiency initiatives. By keeping track in detail of energy consumption before and after the installation of new technologies, Facilities Services will be able to more accurately attribute the cost savings to energy efficiency projects.
"Although this requires an upfront cost of installing more meters around campus, it could produce greater energy efficiency and more cost savings because the College will be better informed where and how to invest in energy savings," he said. But Simon also realizes there is competition for limited resources. For example, where does energy efficiency fit in with competing demands for Facilities Services' labor and money? he asks.
To broaden his interns' understanding of the challenges at hand, Director Byrne scheduled field trips to a dairy farm that is developing an anaerobic digester and to a timber-cutting operation in the Green Mountain National Forest. The interns also met with Rick Weston '79 of the Regulatory Assistance Project's China Program; Karen Glitman, director of Efficiency Vermont; Darren Springer, COO and director of innovation for the City of Burlington's Electric Department; and Christa Shute, a global energy fellow at the Vermont Law School.
The field trips and speakers "expanded my understanding" and "offered new opportunities and challenges to advancing Middlebury's current energy system," said Simon, the junior interested in the efficiency of the College's buildings. Meanwhile Wolfe, the intern who delved into ways to encourage students to be better stewards, said she gained perspective by "being exposed to the larger energy realm and through meeting professionals in the field."
For one of the interns' final gatherings of the term, Byrne assembled a panel of community experts to hear the students' findings and evaluate the strength of their proposals. For 90 minutes, the guests listened to the interns, studied their conclusions, asked questions, and offered feedback. The January internships resulted in a final report that will be shared with the campus community in the spring and, hopefully, with the Board of Trustees too, said Byrne.
Story and photo by Robert Keren