Middlebury Welcomes Class of 2021.5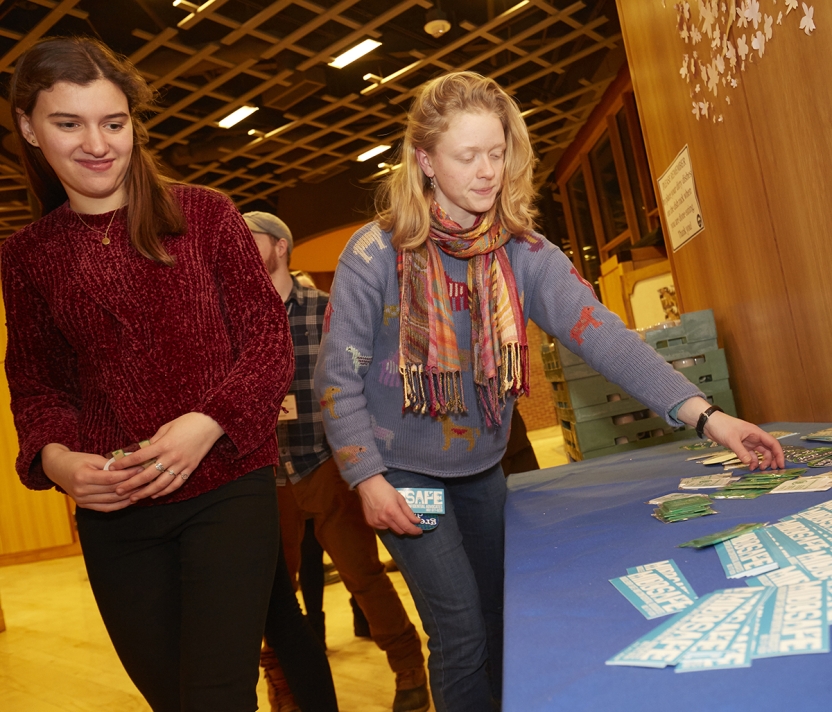 MIDDLEBURY, Vt. – Arriving in the midst of a storm that dumped more than a foot of snow on parts of Vermont, 115 members of the incoming 'Feb' class launched their Middlebury careers on Wednesday, February 7. Middlebury welcomed the Class of 2021.5 with a rigorous, 5-day orientation program that began as soon as they arrived.
The campus was relatively quiet—most students were away for the weeklong break between winter and spring terms—as the new arrivals moved into their residence halls. Day one featured campus tours, Commons meetings, a welcome dinner and convocation. The day ended with square dancing, a popular tradition among new Middlebury students.
At Convocation, President Laurie Patton welcomed the new Feb class, giving them some background on Middlebury traditions and symbols, including Gamaliel Painter's cane, the historic object bequeathed to Middlebury by one of its founders in the early 1800's. At each convocation, the president passes the original cane among incoming students. Four years later, at commencement, each graduate receives a replica of the cane, along with their diploma, as they cross the stage.
Patton urged students to think about how they will develop wisdom, not just intellect, over the next four years.
"At Middlebury we will challenge you to take the next step after being smart, which is to understand the role of that knowledge in the world, how it has shaped human hearts and minds over centuries, and how it continues to do so," said Patton.
Dean of Admissions Greg Buckles told the students that their most popular intended majors were environmental studies, international and global studies, economics, biology, and chemistry.
Buckles shared a few more interesting facts with the new students, who come from 5 countries and 29 states. "Forty of you were editors-in-chief of a major publication, director of a major organization, or the class president," he said. "Twenty of you were captains of a varsity athletic team, 23 of you were highly rated artists and actors by the Middlebury faculty, and seven of you received notations for having written exceptional admissions essays."
On their second day of orientation, students dove into academics, meeting with their first-year seminar groups, taking placement exams, attending academic forum, and meeting with advisors.
Over the course of the week, students also learned about important non-academic programs, such as Green Dot, an innovative bystander intervention program that gives participants the tools and resources they need to reduce interpersonal violence in a community. They also learned about the College's honor code and emergency preparedness, and participated in Midd Uncensored, a series of activities aimed at helping students get to know one another in a deeper way than they might otherwise at this early stage of their time at Middlebury.
MiddView orientation also included plenty of opportunities for pure fun, including trivia night, Grille night, a winter warm-up dance party, and a day of outdoor recreation and relaxing at the Snow Bowl and Rikert Touring Center.
Classes for the spring semester began on Monday, February 12.
Photo by Yeager Anderson.