Students Study Social Justice and Intercultural Communication on MAlt Trips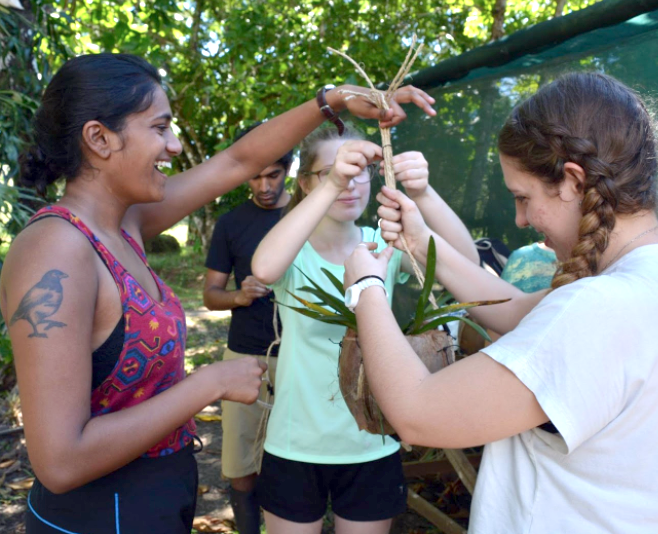 MIDDLEBURY, Vt. – The 63 students who participated in the February alternative break program shared their experiences – from repairing a roof in Appalachia to protecting sea turtles in Costa Rica – at a buffet dinner on February 21 in Atwater Dining Hall.
Since the mid-1990s, participants in Middlebury's Alternate Break Program, or MAlt, make the commitment to serve others by strengthening communities other than their own, contributing to the public good, and learning about social justice.
"MAlt trips represent the best of Middlebury – an opportunity for students with different academic interests and life experiences to immerse themselves in a week of volunteer service, deep learning, and dialogue with each other and community members," said Ashley Laux '06, program director for the Center for Community Engagement.
The trips also offer rigorous leadership opportunities for undergraduates. "Starting one full year in advance of the trips, student leaders step forward with a theme and location for each proposed trip. Once approved, they design a curriculum for their participants so everyone will have the knowledge and skills needed to effectively carry out the goals of the trip," Laux explained. "MAlt challenges students to lead their peers while engaging deeply in a community different than their own. This real-world experience can help students hone their interests and reflect about whether this is the type of work they want to do after graduation."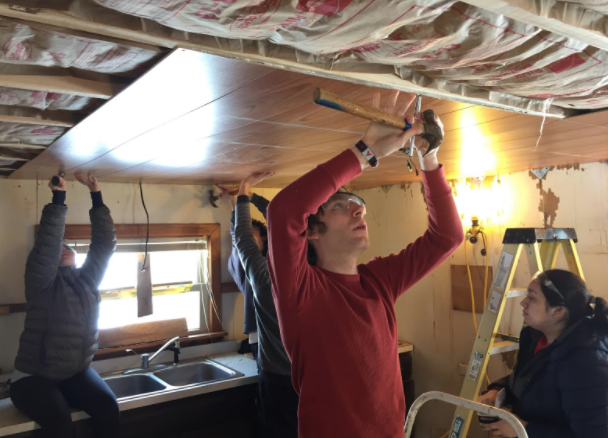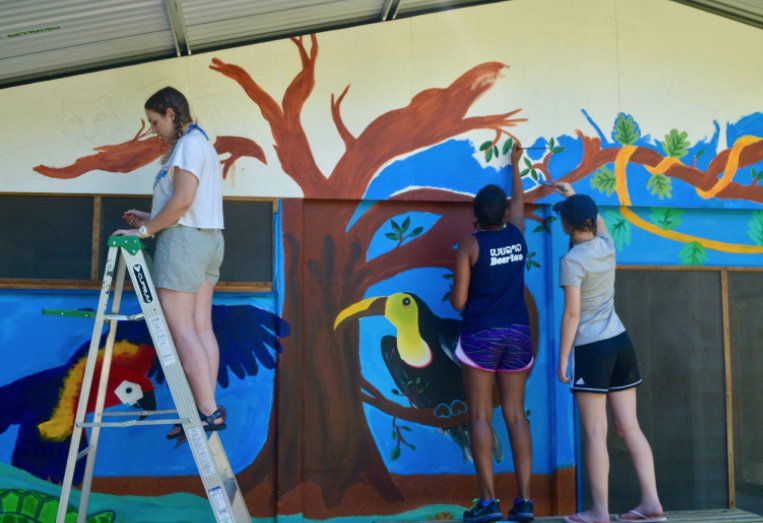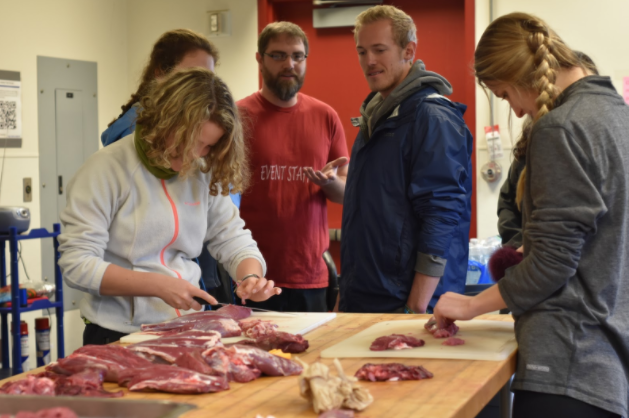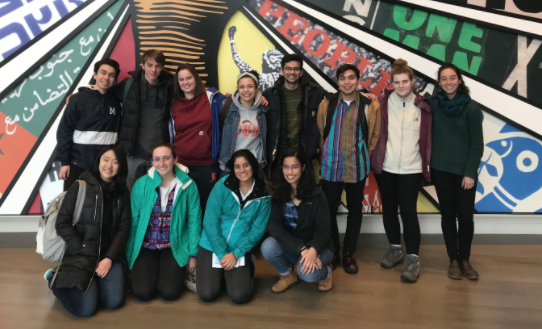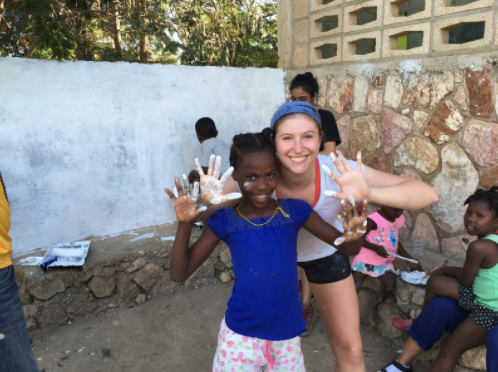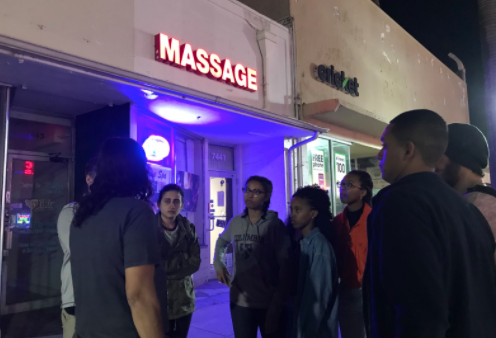 From top, students 1) repaired a damaged mobile home in West Virginia; 2) painted a mural for school children in Costa Rica; 3) processed elk meat with a native community in Washington state; 4) visited the Center for Civil and Human Rights in Atlanta; 5) forged bonds with children in Haiti; and 6) observed sex trafficking at night in Miami. Click on photos to enlarge.
During the dinner, each of the six groups had the floor for about 10 minutes to talk about their experiences, show photos and video clips, and take questions from the audience.
The students who embarked on MAlt Appalachia: Exploring the Mechanisms of Rural Poverty traveled to West Virginia where they collaborated with the Appalachian South Folklife Center. They learned basic construction skills by repairing a resident's mobile home, worked at a food bank, and engaged community members through musical gatherings, conversation, and shared meals. They also discussed the coal industry and health care with residents of the Bluefield-Princeton area where they were based, and toured the State Capitol in Charleston.
Partnering in Costa Rica with Osa Conservation, MAlt participants were absorbed in reforestation, sustainable agriculture, and animal conservation projects in one of the hemisphere's most biodiverse regions. The students learned how to gauge the health of an environment by studying plants, trees, birds, insects, and other organisms. One particularly memorable project saw the students getting up before dawn, checking the beach for sea turtle nests, and cautiously carrying newly laid eggs to a hatchery where they would be protected from predators.
Students lived and worked with members of the Quileute tribe in northwestern Washington on the trip called MAlt La Push: Intercultural Learning and Women's Issues in Native Communities. Connecting with the organization Xperitas, the Middlebury students volunteered at a teen center, spoke with tribal people about their lives, performed service projects, participated in a drum circle, cooked meals for the community, and were welcomed at a sacred elk processing ceremony. As one student remarked at the dinner back on campus, "It was an honor to participate in a tradition that was really special to the Quileute community."
Working with members of Metro Atlanta Urban Farm, students on the MAlt project titled Food Justice in Urban Environments rolled up their sleeves for four days of raking leaves, clearing brush, tilling soil, and preparing vegetable beds on a five-acre farm located in an Atlanta neighborhood considered to be a "food desert" because there are no food markets nearby. The farm gives residents access to affordable produce and provides training so families can learn to grow their own food. The students also partnered with a community food bank in Atlanta and visited the Center for Civil and Human Rights and the Martin Luther King, Jr. Center for Nonviolent Social Change.
To grasp the challenges of education in a rural community, students partnered with Amurtel for a trip to the southern coast of Haiti where they volunteered at a day school and orphanage called Ecole Anandamarga. They participated in school activities with Haitian children, went swimming with them in the Caribbean Sea, and painted three large murals to leave a piece of themselves behind. The students explored the connection between education, accessibility, and poverty; gained insight into the contrast between Haiti and the Dominican Republic (by flying into the D.R. and crossing the border); and took note of the Canadian government's involvement in the economic development of the region.
The MAlt trip to Miami, facilitated by the Life of Freedom Center, was designed to give students the tools to understand, respond to, and serve individuals who are victims of sex trafficking in America. There were workshops conducted by counselors, visits to areas of the city where sex trafficking is commonplace, and in-depth conversations with a survivor of the illegal trade. The students also went to Kristi House Child Advocacy Center where they engaged with young victims of abuse and sex trafficking. On a van tour of parts of the city, the Middlebury students witnessed how local residents seem to ignore the sex trafficking in their neighborhoods. A key takeaway from the trip: the average age of entry into the commercial sex industry is 12 years old.
Students on all six of the 2018 MAlt trips returned to Middlebury with insight and enthusiasm they would have never gained by staying home or going on vacation because, as Ashley Laux explained, "MAlt gives students an opportunity to practice intercultural communication and develop the skills needed to be effective global citizens both now and in the future."
Twenty years ago, Middlebury's alternate break trips were originally designed as service projects during the annual spring break in March, but the Center for Community Engagement shifted the activity to the February intercession so undergrads could immerse themselves without the pressure of mid-semester academics. Three-day trips are offered in Vermont during spring break; this year's project in March will focus on racial equality by partnering with two nonprofit organizations in the Green Mountain State.