Faculty Collaborate on Canadian Premiere of Opera 'Lotus Lives'
MIDDLEBURY, Vt. – On a late afternoon at Robison Concert Hall, Professor Claudio Medeiros stands at center stage, demonstrating a way of gesturing to Stéphanie Pothier, a mezzo soprano with Opéra de Montréal. The two are working through a scene in Lotus Lives, Professor Su Lian Tan's multimedia chamber opera, which debuted in Middlebury in 2011 and is soon headed to Montréal for its Canadian premiere at Amphithéâtre le Gesù April 6–7.
The stage is empty as director and singer work through the moves. Eventually Pothier, who plays Lily, the lead character, will have a large projection screen behind her. She must develop a complex relationship between herself, the audience, and various characters and scenes that unfold on the screen.
The challenges of this scene are the norm in Tan's richly textured exploration of personal and cultural identity. Lily, the granddaughter of Chinese immigrants, is trying to learn more about herself through real and imagined interactions with the influential women in her life—her grandmother, her mother, an aunt, a friend—some of whom appear on the screen; others of whom she embodies herself. All of this takes place to a genre-blending orchestration of brass quintet and percussion, fusing sounds of traditional Chinese music, pop, tango, and rap—yet treated in a lyrical and operatic style.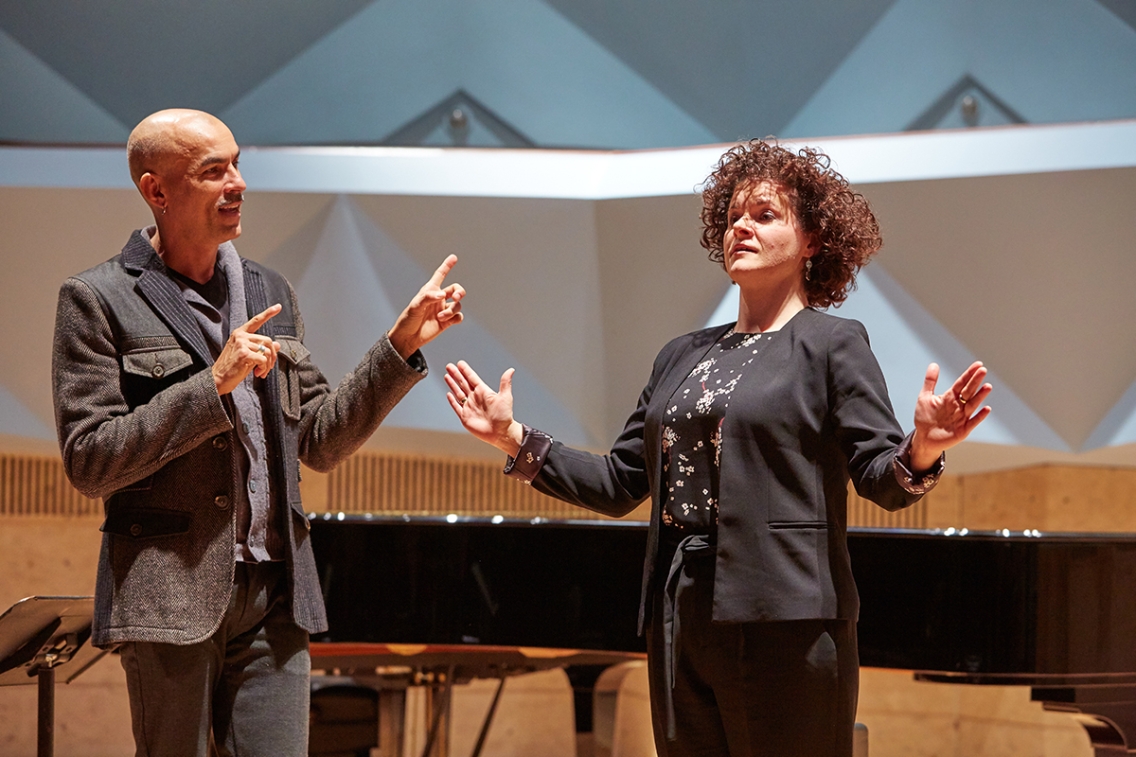 Associate Professor of Theatre Claudio Medeiros works with mezzo soprano Stéphanie Pothier on a scene from the opera Lotus Lives, in which Pothier plays the lead.
"What I really like in the challenge of this opera is that I have to sing many different roles," said Pothier, who spent a two-day residency in Middlebury, rehearsing and leading an opera master class for Middlebury students. Her typical roles with Opéra de Montréal are more traditional, but she has embraced the complexity of Lily. "It's almost the same person at different times in history—there's Lily today, there's Lily in the '80s, there's Lily's mother and Lily's grandmother."
Medeiros, a member of the theatre department, has collaborated on Lotus Lives since its Middlebury debut. He wants to make sure the audience understands the story in this often-abstract work and says his role as director is to "sculpt the arias."
"There's a flexibility in Asian classical theatre—an extreme kind of flexibility," said Medeiros. "Su plays with that a lot—where Lily all of a sudden is her grandma, all of a sudden is her aunt, and those changes happen without explanation. And so a lot of the work we have done has been to clarify as much as possible that story."
Unlike past performances of Lotus Lives, for this production Medeiros has had the luxury of time to work with the lead character and tease out details that bring the story to life. He and Pothier will be working with a tango specialist, a fight choreographer, and a Chinese opera expert, among others, to help ensure that the movement is authentic and believable.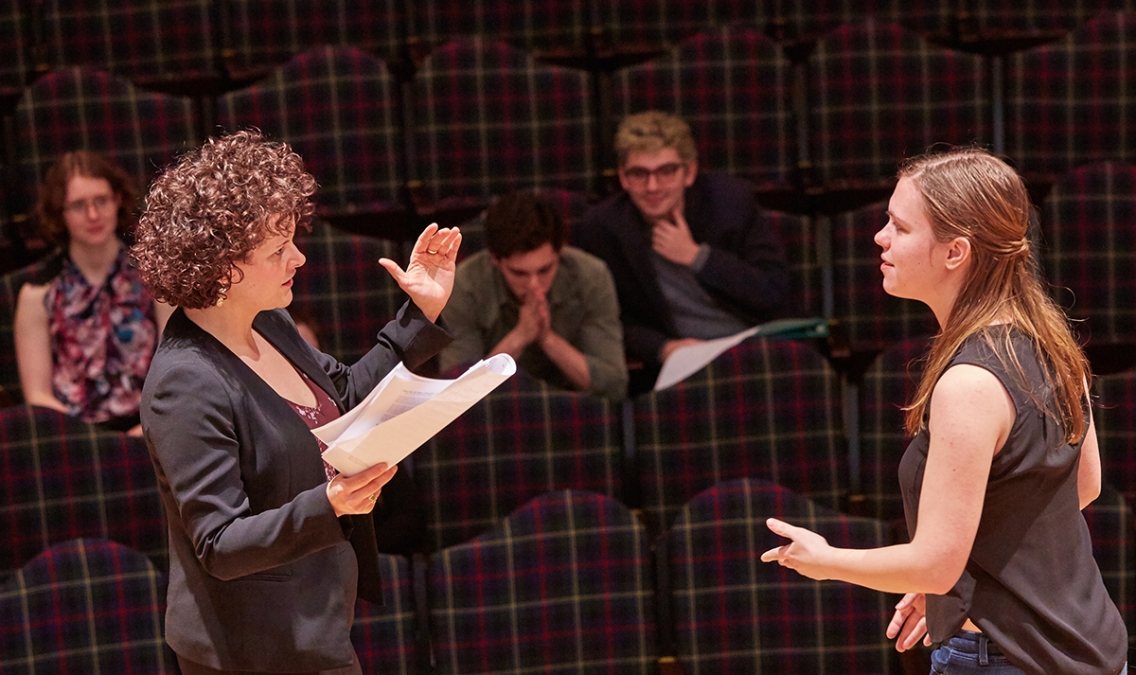 Stéphanie Pothier works with Middlebury student Paige Guarino '18.5 during a master class on March 13. Pothier was on campus for two days, rehearsing for the upcoming Canadian premiere of Lotus Lives in Montreal.
And despite its complexities, the opera is relatable. Tan smiles, recalling the first performance in Middlebury when a male colleague approached her afterward and said, "You keep saying this is about women, but this is about my life!" While the opera is about all women, says Tan, there's something more universal.
"It's about people coming into their own," said Tan. "My reason and my purpose, actually, is to say that we all go through this, we find our own voices, we find who we will become."
For Tan, who is originally from Malaysia, the story is somewhat autobiographical. She traces her ancestry to the Peranakan culture, which emerged when Chinese traders and Mandarins arrived at the Malay archipelago between the 15th and 17th centuries. That cultural detail plays an important role in the music, characters, and imagery of the opera, she says.
Like Lily, Tan sought to learn more about her own personal history when she reached young adulthood. She discovered that her grandmother had been a suffragette, a fact she never unearthed during her straitlaced traditional childhood. Tan was deeply impressed that her grandmother, who by all appearances was a "classic Chinese lady," was also an important and persuasive feminist.
"I thought, 'Well, this explains all the stuff that's been welling up in my body over the years,'" said Tan.
Composer Su Lian Tan discuss Lotus Lives, as presented at Tufts University in February 2016.
The opera's feminist theme also struck a timely note with Pothier, who is singing the part for the first time. "I'm very happy to be involved in a production that is mixing all these ideas of feminism," she said. "I feel that we are in a revolution about women, about the place of women in society, and I think this couldn't be at a better moment than right now."
The Montréal performances of Lotus Lives will feature Pothier and soprano Deborah Lifton, the brass ensemble Magnitude6, and multimedia artwork and video designed by Middlebury alumnus Tim Bartlett '98. The libretto is by Anne Babson. The Canadian premiere will be the third presentation of the opera, following productions at Middlebury and Tufts. More information on the Canadian premiere April 6–7 is available online.
Reporting by Stephen Diehl; Photos by Todd Balfour