Filmmakers Ken Burns and Lynn Novick Discuss their PBS Series 'The Vietnam War'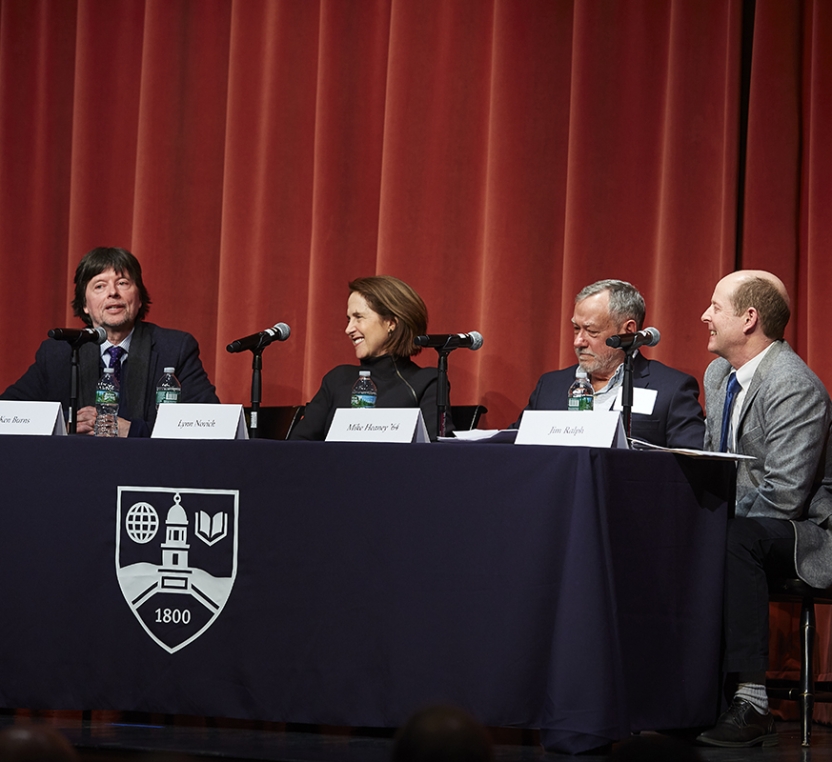 MIDDLEBURY, Vt. – The Emmy Award–winning filmmakers Ken Burns and Lynn Novick decided more than a decade ago to make the 2017 PBS documentary The Vietnam War because "it was unfinished business, a festering wound, a national trauma," Novick said, "that needed to be explored anew, with an open mind."
Burns told an audience at Middlebury College on March 21, "It was time to expand our horizons. When Americans talk about the Vietnam War, they usually just talk about themselves. We felt it was hugely important to bring our allies, the South Vietnamese, who often get short shrift, into the conversation. [We interviewed] South Vietnamese military and civilians, as well as Viet Cong guerrillas and North Vietnamese soldiers and civilians, in addition to the full range of American civilians you see in the film."
Codirectors Burns and Novick appeared on stage at Wilson Hall with combat veteran Mike Heaney, Class of 1964, in a two-hour conversation called "The Many Sides of History: Reflections on The Vietnam War" sponsored by the Robert P. Youngman '64 Roundtable Fund.
Novick, a director and producer who has been a creative partner and principal collaborator of Burns since the early 1990s, said the Vietnam War was "enormously difficult to understand without letting go of our preconceptions. And making a film about this epic catastrophe was enormously painful for me personally. It's simply devastating to speak with people like Mike Heaney, who carries the burden of the loss of his men and friends, or to talk with a mother who has lost her son. Trying to bear the weight of this tragedy was … a lot."
Both Novick and Burns alluded to the war, the United States' response to it, and the making of a documentary about it as both "complicated" and "controversial." Americans and Vietnamese, Novick said, "are still deeply divided about the war and find it difficult to talk about. It was hugely traumatic for our entire country and raised questions about what it means to be a citizen and a patriot that we are still arguing about."
"In our editing room," Burns told the overflow audience, "we literally put up a neon sign that said 'it's complicated,' because for almost every scene in the film, we would learn something new and have to change it. After a while, there was something exhilarating about having to figure out how many conflicting truths could actually be obtained at the same time."
Thus, the tagline to their 18-hour, 10-part documentary reads: "There Is No Single Truth in War."
Burns and Novick explained that they hoped the film would spark conversations that we have never had about the war. They screened 40 minutes of excerpts from The Vietnam War and took questions from the audience for another half hour. Mike Heaney's recollections resonated deeply with the audience of students, faculty, staff, and community members.
Heaney, who studied Russian at Middlebury and cocaptained the men's soccer team, said he was wounded in Vietnam and experienced "a lot of adjustment problems" after he returned home from the war. He suppressed his experiences for nearly 20 years until he was in an alcohol rehabilitation program and met a fellow Vietnam vet. "He and I for the first time started to share some of our stories," Heaney explained. After that, Heaney, who had earned a law degree from Harvard, began working with troubled vets and opening up about his own horrific experiences of war.
As Heaney describes in the documentary, the second lieutenant's platoon was ambushed, several of his men were killed, and he was wounded by enemy mortar fire.
Some 40 years later, Heaney learned that Burns and Novick's production company, Florentine Films, was making a documentary about the Vietnam War, and a friend encouraged him to get in touch with the producers. Heaney called them on the phone and, after an extensive vetting process, was invited to Walpole, New Hampshire, where Burns lives and works, less than an hour's drive from Heaney's home in Hartland, Vermont.
Heaney was motivated to speak out in the film by a desire to "talk to Americans, especially young Americans, about the horror of war." He also felt an obligation to "lift the voices of all the men I served with who didn't make it back. I promised that I would tell their story, that I would go back and visit them, which I did, and that I would never forget them."
Burns, who has produced documentaries for PBS about the Civil War and World War II with Lynn Novick, said, "War reflects the worst of us, but it also clearly reflects the best of us, too. What happens time and time again is that we are drawn to it, obviously because of the sheer intensity of the drama, but we are also obligated to describe the quicksand that war represents." War reveals us to be a "horrible species," he said, but it also demonstrates "pockets of compassion and fellowship and love."
One thing that has changed since the post–Vietnam War era is "we are probably not going to blame the warriors anymore," Burns said. And yet the filmmaker finds himself wondering how invading another country is ever going to bring about peace in our world. "Americans, it seems, are always destined to learn from those lessons and forget them again."
Reporting by Robert Keren; Photos by Yeager Anderson