Hundreds of Middlebury Students Join High Schoolers for National 'Walkout'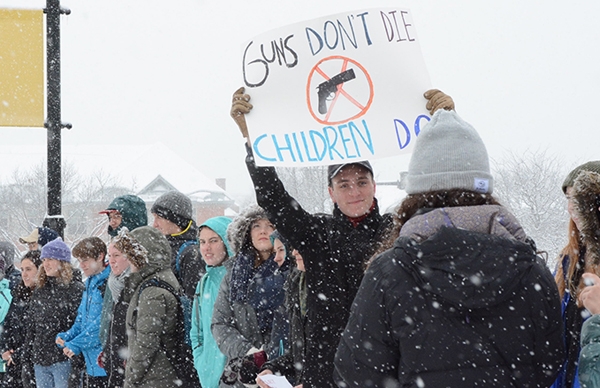 [view:embed_content==568035]
MIDDLEBURY, Vt. – Heavy snow forced the cancellation of Addison County schools, but it did not keep several hundred people from turning out at the Cross Street Bridge at 10 a.m. Wednesday to join a national protest against gun violence. A large group of Middlebury College students met up with the high schoolers at the bridge, as did President Laurie Patton, faculty, staff, and many community members.
The demonstration was part of the national #Enough! National School Walkout, organized by Women's March Youth Empower. The event was scheduled for exactly one month after a gunman killed 17 students and staff at Marjory Stoneman Douglas High School in Parkland, Florida.
Middlebury students, led by Annie Cowan '18 and Julian Gerson '18, gathered at Twilight Hall at 9:30, then proceeded in a large group across Main Street to the bridge. The goal of the event was to unite with the high schoolers and "raise awareness for the effects of gun violence in our schools and our communities," the Student Government Association wrote in an email.
Prior to the snow day, Middlebury Union High School's student senate had planned a number of events related to the walkout, including a gathering at the circle in front of the school to read the Florida victims' names, gathering at the bridge for moments of silence, and a letter-writing campaign for school safety to elected officials. In a letter to parents, high school principal Bill Lawson offered his support to the students. "It is important for students to be empowered by using their voices to promote a civil discussion and concrete steps toward positive change," wrote Lawson.
For More Information