Public Speaking Meets Phys Ed
MIDDLEBURY, Vt. – On a recent Tuesday evening at 5:30 p.m. at Middlebury's Virtue Field House, 11 students are in an open room overlooking the indoor track. Senior Emma Bliska approaches a screen and reads aloud: "We assume the listener cares about what we want to say. They don't." Other classmates follow, each reading their own tips on public speaking as the words change on the screen. Among them: "To release tension, breathe" and "It's not about you, it's all about them."
Professor of Theatre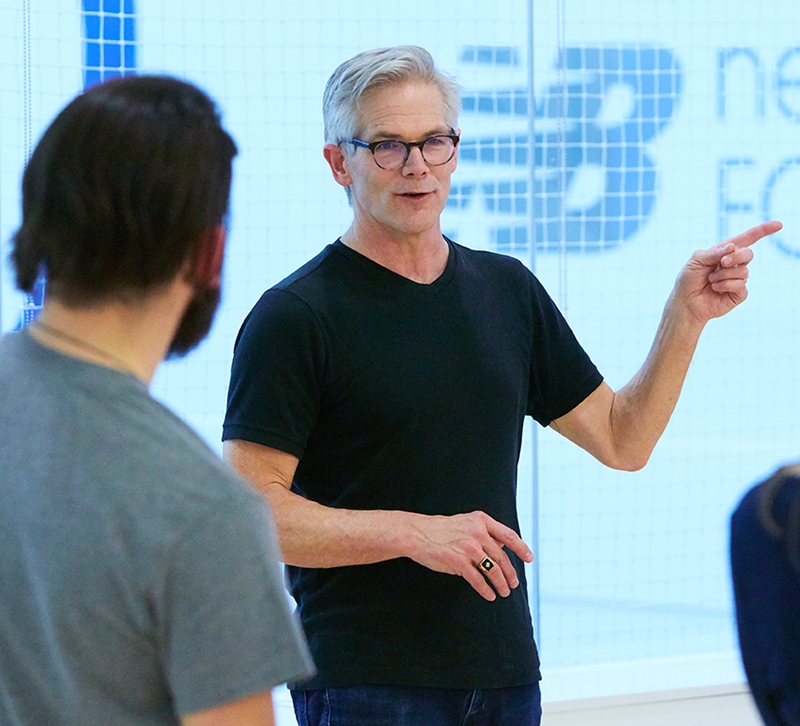 Professor of Theatre Dana Yeaton offers instructions to the OratoryX class.
"The body is key to getting people to give their best performance as speakers," says Yeaton. "Rather than working on a number of separate technical problems, such as eye contact and arm waving, the class concentrates on one well-targeted exercise that focuses on the body as a whole. If the body is calm, the mind can focus on speaking."
"We're apt to borrow from theater and dance training, but also get students out on the track 'power-speaking,' or maybe walking backwards, delivering a speech 'campus tour guide–style,'" says Yeaton.
OratoryX is one of many public speaking initiatives developed by the organizers of Oratory Now, Middlebury's student public-speaking organization founded by Yeaton in 2014. Yeaton started the group after a 2013 survey of alumni showed that many were happy with their Middlebury education but wished they'd been required to do more public speaking, a skill they often used after graduation. With Oratory Now, Yeaton discovered a pent-up demand among students, and the PE class is a reflection of how public speaking has permeated campus life at Middlebury within the last few years.
OratoryX was first offered in the fall of 2015 with the support of Erin Quinn, Middlebury's athletic director. Yeaton describes it as "a series of high-energy oratory workouts—kind of a spin class for speakers."
Three of the students at the class—all trained as Oratory Now student coaches—are there to participate and assist Yeaton. Students who want to develop their public speaking skills, and help others do so as well, undergo nine hours of training from Oratory Now to become coaches.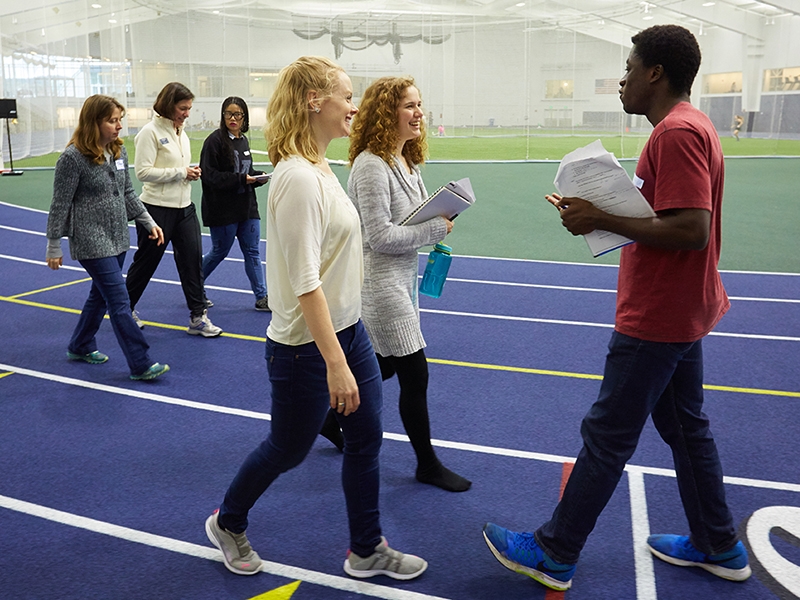 Oratory Now student coach Dominick Tanoh '18 helps lead a workshop for fundraisers from College Advancement.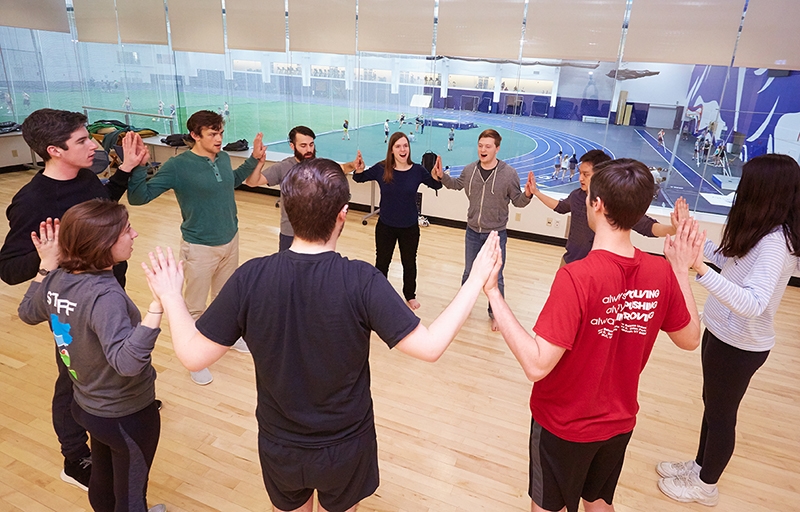 Students in the OratoryX class participate in a group exercise.
"I enjoy helping with this class because I've seen and experienced the impact of good speaking and communication skills in different settings," said Paige Guarino '18. "In the classroom or amongst friends, being able to communicate your thoughts and feelings clearly and concisely can hugely enhance your experiences and relationships."
"I like this class because I'm a senior, and throughout my years at Middlebury I've done a lot of reading and writing but haven't really done a ton of speaking," said Dan Adamek '18. "I'm also interviewing for jobs right now and this is something that really helps me communicate orally and directly. I've already transferred these skills to my job search."
Student Coaches in High Demand
The more than 40 Oratory Now student coaches are also available to their fellow students for one-on-one help with class presentations, interviews, or any situation where public speaking skills are important. The group offers all its coaching services for free.
Faculty members can ask student coaches to work with their classes too. Oratory Now receives about 20 requests each semester from faculty, including Deb Evans, assistant professor of American studies.
"What I was most impressed with was how much the student coaches were able to accomplish in a single session," said Evans. "Over the course of an hour's time, students were able to talk out their ideas and focus their thinking on their topic, and at the same time get very personalized feedback on their presentation style."
Students even coach staff. In January, Yeaton and eight students held a three-hour workshop for 30 fundraisers from College Advancement. The staff broke into small groups, each with a student coach, to work on two mock assignments—a pitch to a potential donor for financial aid and a one-minute introduction of Middlebury's president, Laurie Patton, at an alumni event.
At the end of the workshop, the students confessed to feeling nervous at first about offering advice to professionals who use public speaking skills regularly, while the fundraisers thanked the student coaches for their fresh insights and suggestions for improvement. Another session was held for more fundraising staff in early March.
Contests and Growth
In 2015 Yeaton revived what was once a Middlebury public speaking tradition—the Parker Merrill Speech Competition. The enthusiastic response led Yeaton and Oratory Now to add a new contest this year just for first-year students. The inaugural Spencer Prize in Oratory—named for the late Professor John Spencer, who emphasized public speaking in his classes—drew 48 participants.
And how does Yeaton explain the growing popularity of a low-tech, face-to-face form of communication among students who often prefer texting and social media? "Students love to hear other students' stories," said Yeaton. "Sometimes they also have an easier time receiving advice from their peers. The students giving feedback are learning too."
Photos by Todd Balfour; Reporting by Sarah Ray