Roman Kent, Chairman of the American Gathering of Jewish Holocaust Survivors, to Lecture at Middlebury College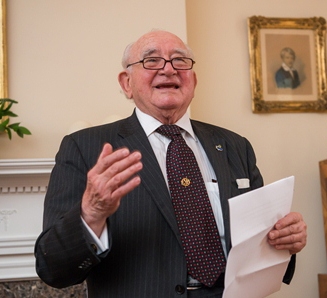 MIDDLEBURY, Vt. – In the week leading up to Yom Hashoah—Holocaust Remembrance Day, April 12—Middlebury College will welcome Roman Kent to campus. In a conversation with his son Jeffrey, Mr. Kent will give a public talk about his survival during the Holocaust and his active involvement in philanthropy on Tuesday, April 3, at 4:30 p.m. in Axinn 229.
On Wednesday, April 4, Children in the Holocaust, a documentary Kent coproduced in 1983, will be screened in Axinn 232 at 4:30 p.m. Narrated by Liv Ullmann, the film features interviews with survivors who are now adults but who recall the memories of the plight they endured when they were children during the Holocaust.
Born in Lodz, Poland, Kent spent the war years in the Lodz Ghetto and survived, with his younger brother Leon, the Auschwitz, Mertzbachtal, Dornau, and Flossenbürg concentration camps. One sister, Renia Kopelman, also survived and was sent to Sweden at the end of the war. Roman and Leon arrived in the United States in 1946 under the auspices of the children's quota of the United States government's Displaced Persons Act. After attending Emory University, he became a successful businessman in New York City, and Leon went on to become head neurosurgeon of Kaiser in Los Angeles.
In addition to numerous other philanthropic positions, Mr. Kent serves as president of the Jewish Foundation for the Righteous, an organization that provides financial support to aged and needy non-Jews who rescued Jews during the Holocaust, while preserving their legacy through a national education program. Mr. Kent also served as the treasurer of the Conference on Jewish Material Claims Against Germany, as well as a member of their negotiating committee.
Kent's recent honors and awards include the Medal of Honor and Recognition bestowed by the Polish Government; the Interfaith Committee of Remembrance Humanitarian Award; the Officer's Cross of the Order of Merit of the Federal Republic of Germany; and the Elie Wiesel Holocaust Remembrance Award. He is the author of Courage Was My Only Option (Vantage Press, 2008) and the children's book My Dog Lala (Teacher's Discovery, 2012).
The event is sponsored by the Holocaust Film Fund; Program in Jewish Studies; Linguistics Program; Charles P. Scott Center for Spiritual and Religious Life; German Department; Brainerd Commons; and Chellis House Women's Resource Center.
All events are free and open to the public.