Student Skipper Sells His Salmon to Dining Services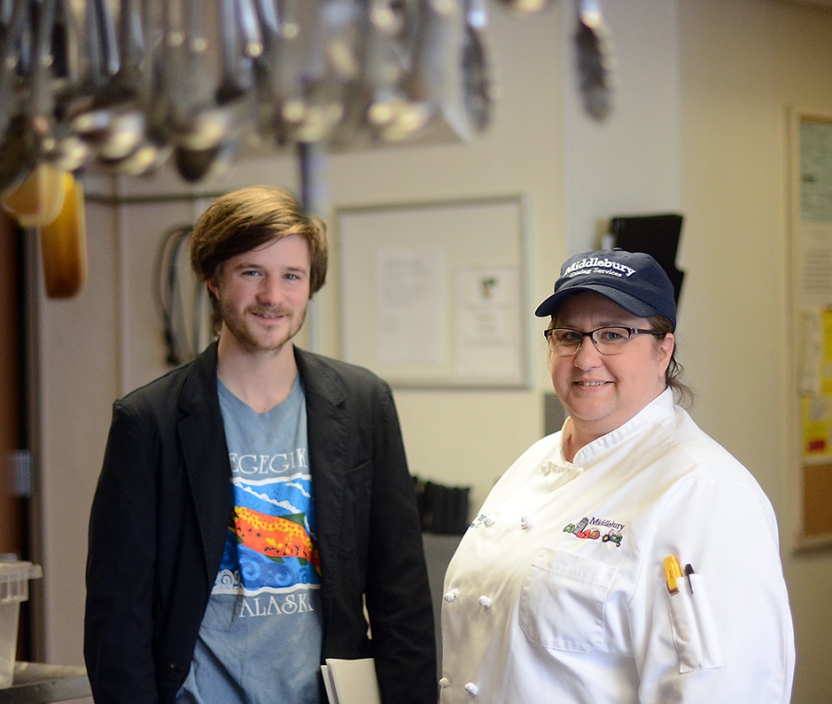 MIDDLEBURY, Vt. – When this year's February graduates sat down to grilled sockeye salmon, caramelized with a maple mustard glaze, many were surprised to learn that the delicacy on their plates was caught by a fellow student. Indeed, the fish for Feb Celebration and other special events at the College has been supplied by a Middlebury senior from Alaska, who spends his summers fishing for salmon from the deck of his own 32-foot boat.
Meet Auberin Will Strickland '18 of Palmer, Alaska. Since 2011, Aube (pronounced "Obie"), a film major, environmentalist, and successful entrepreneur, has been fishing for sockeye salmon in the Bristol Bay watershed north of the Aleutian Islands. Considered the most valuable wild salmon fishery in the world, the region is now "contested ground," Strickland says, because large-scale mining interests and the potential for offshore drilling threaten the waters.
"With threats coming at us from all sides," Strickland explains, "we Alaska fishermen strive to bring light to these issues and how they could affect the fishing industry, the economy of our state, and the lives of Alaska's native peoples. With our salmon business (called Fat Fish Company), we envision a future where everyone will understand the importance of where their food comes from and place value on knowing that it has been sustainably sourced."
Aube Strickland's crew sets the nets from the deck of his 32-foot fishing vessel the Cara Vita.
Middlebury College Dining Services, which emphasizes sustainable food sourcing, purchased 1,200 pounds of Strickland's frozen sockeye salmon to serve at Feb Celebration, on Earth Day, and at other special events, said Bo Cleveland, assistant director of dining services and executive chef.
The College could buy Atlantic salmon for a lower price, Cleveland explains, but "the integrity of Aube's whole supply chain is pristine, and we expect to continue to do business with him for his product, even after he graduates. His sockeye salmon has been a huge attraction [at dining events]. It's a great product, it's a local story, and it just makes sense to purchase it through him."
Cleveland and Strickland agree that wild-caught salmon is the best salmon on the market. Farm-raised salmon often contains antibiotics, growth hormones, and dye to make the meat more orange, the Middlebury senior said. Onboard his fiberglass boat, the Cara Vita, Strickland catches salmon using a gill net 12 feet deep and 900 feet long. His vessel has a refrigerated saltwater system that keeps the catch fresh until he hands it over to a processing ship operated by the Silver Bay Seafoods fishermen's collaborative, of which he is a member.
"Last summer I spent four weeks on the boat without ever touching land," he said, "and I have done as many as eight weeks." The sockeye salmon season runs from the beginning of June to the end of July, and the Alaska Department of Fish and Game monitors the fishery closely. "Fish and Game dictates when you can fish and for how long a period of time. It also uses GPS coordinates to establish the boundaries within which we are allowed to catch our fish."
Salmon fishermen catch their prey when the fish are returning to spawn in freshwater, and it is estimated that between 40 and 60 million salmon return every year to the lakes and rivers that flow into Bristol Bay, Strickland said. The average sockeye salmon weighs about five and a half pounds.
Strickland learned the trade as a crewman on other people's boats before buying his own salmon-fishing vessel after his first year at Middlebury. For a college student like him, the timing of the work is perfect. "The salmon fishing season is remarkably well scheduled to accommodate the life of a college student," he says with a grin. But before he can get back out on the water this summer, he has to finish his thesis (described as "a short film, a thriller") and graduate.
- With photo and reporting by Robert Keren