Traditional Korean Music Ensemble to Perform at Middlebury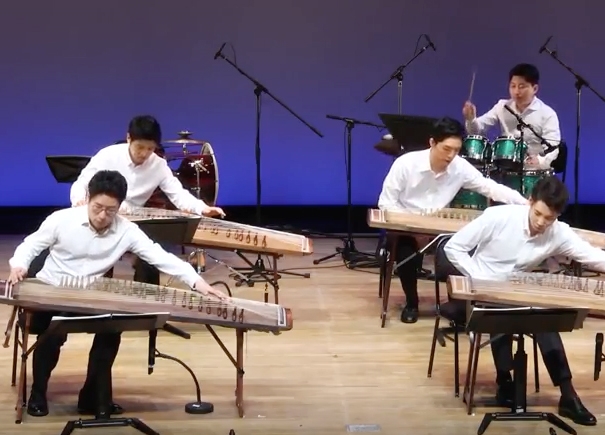 MIDDLEBURY, Vt. – An ensemble of traditional Korean musicians will perform at Robison Hall at the Mahaney Center for the Arts on Wednesday, March 21, at 4:30 p.m. Chunhogarang, which consists of six gayageum players, will stop in Middlebury as part of their New England tour. The gayageum is a traditional Korean zither-like instrument with 12 strings, though newer variants of the instrument have 21 strings. The group also plays yanggeum (lute), jangu (drum), danso (short flute) and two other wind instruments, saenhwang and taepyongso.
The Middlebury School of Korean, which is presenting the concert, hosted the ensemble during its summer session in Oakland, California in 2017.
"The audiences loved it so much, we wanted to share this rare performance of beautiful Korean traditional music with the main campus and community at Middlebury," said Sahie Kang, director of the School of Korean.
The tour, which is being underwritten by the Korea Foundation, will bring Chunhogarang to several colleges in the Northeast, including Brown, Wellesley, NYU, and Middlebury.
The gayageum dates back to the third century, an invention of the ancient kingdom of Kaya. Considered by many to be the longest-lasting traditional Korean instrument in existence, it is traditionally played while sitting on the floor with crossed legs, the head of the instrument resting on the right knee and the tail resting on the floor. For modern gayageum, the instrument may be placed on a special stand with the player seated on a chair behind it.
The March 21 performance is free and open to all.