Class of 2018 Celebrates Commencement
MIDDLEBURY, Vt. – The Middlebury College Class of 2018 gave a standing ovation to author Isabel Wilkerson for her stirring Commencement address on May 27, 2018, in which she called on the graduates to express radical empathy in their lives.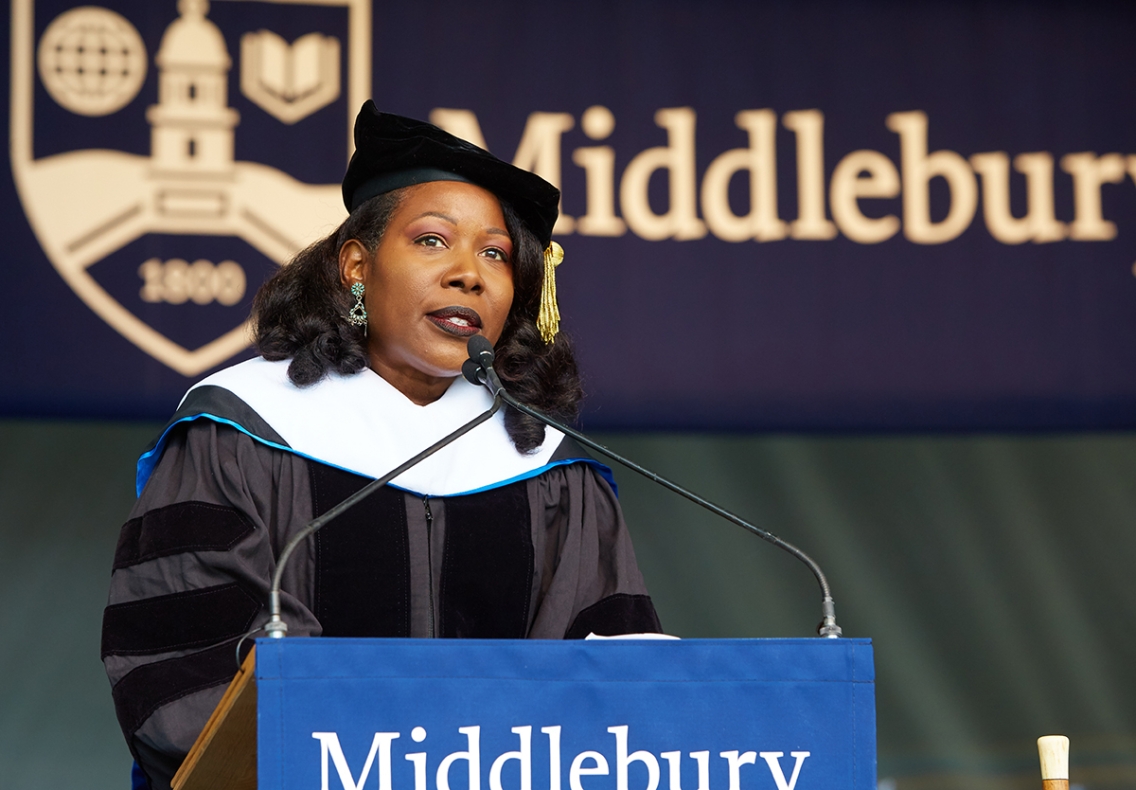 Author and Pulitzer winner Isabel Wilkerson speaks to the Class of 2018.
Wilkerson, who also received an honorary Doctor of Letters degree from Middlebury, closed her address with these few words of advice: "When you discover your strengths, you have no competition. You are your only competition. Make yourself and all of us proud. Get your Gamaliel Painter's cane, Class of 2018, and as my father would say, 'We are with you!'"
Middlebury President Laurie L. Patton welcomed parents, family members, friends, and community members to the 2018 Commencement on the Quadrangle between Voter Hall and McCullough Student Center. Under overcast, but dry, skies amid temperatures in the low 60s, the 532 members of the Classes of 2018 and 2018.5 waited patiently for the moment when they would cross the stage and receive their Bachelor of Arts degrees.
Patton praised the graduates' family members and friends—numbering in the thousands—whose "devotion and support have enabled these graduates to be here today." She noted that the senior members of the women's lacrosse team were in Salem, Va., on Sunday playing for the national championship and could not attend their formal graduation, so she would conduct a ceremony with them on their return.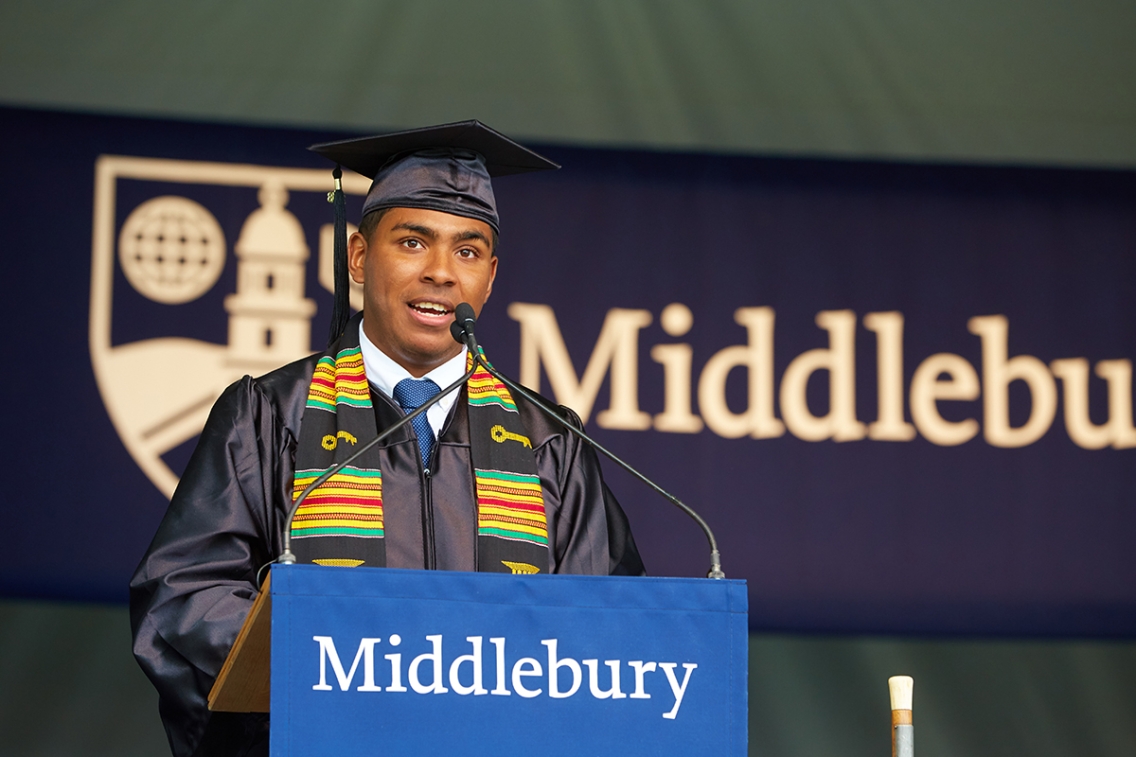 Sebastian Sanchez, of Brooklyn, NY, gave the student address for the Class of 2018.
The president announced that the Classes of 2018 and 2018.5 have started a scholarship fund as their class gift to help keep a Middlebury education accessible. She also said every graduate will receive a replica of Gamaliel Painter's cane, which has been a Middlebury tradition for decades, "to signify Middlebury's founding spirit, its optimism, and its future."
At every graduation since the College's bicentennial in the year 2000, a member of the graduating class has been selected as the Student Commencement Speaker. This year, Sebastian Tomas Sanchez '18, of Brooklyn, N.Y., decided not to offer words of wisdom to his classmates—"After all," he said, "what do I really know? I am only 21 years old"—but rather to share "some things I love about Middlebury, the lessons I've learned, and what lies ahead."
Some of my fellow graduates, Sanchez said, may be "leading the next charge on climate change, developing new breakthroughs in science and technology, improving race relations, or becoming the next pioneer in gender and sexual equality. The world is one big problem set, research paper, or science lab waiting to be solved… [and] the answers are sitting right there in our minds.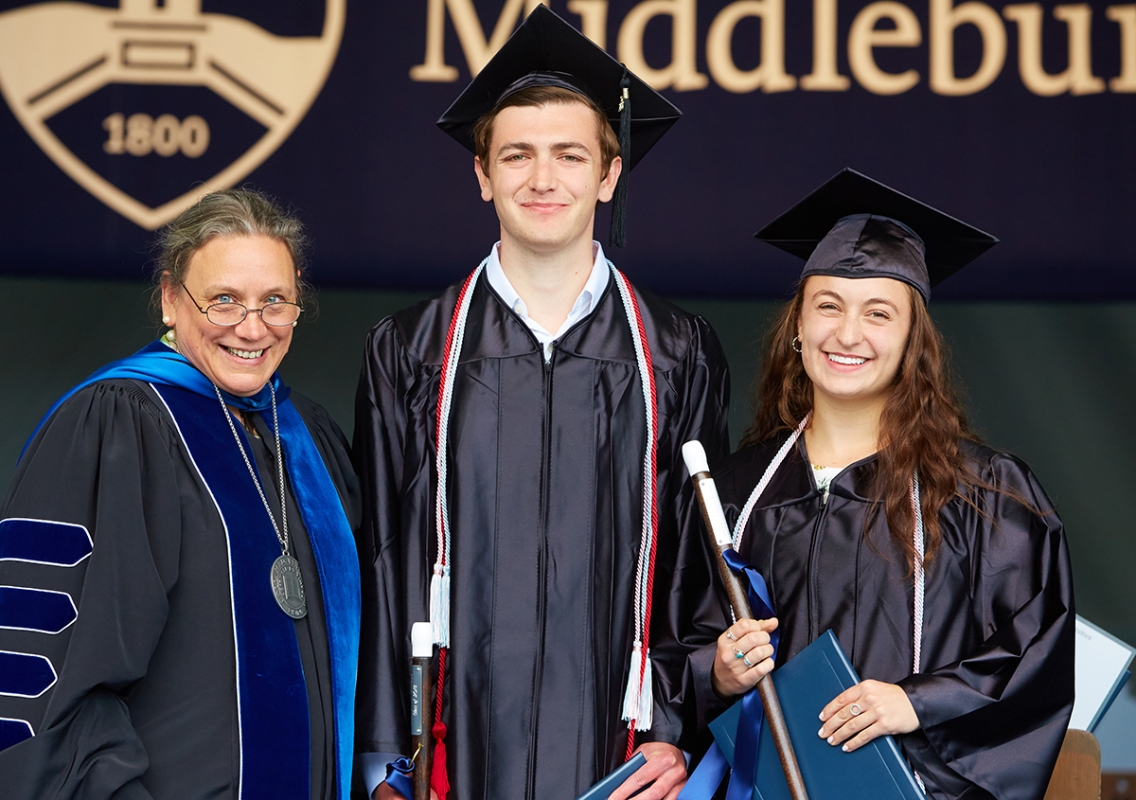 President Laurie Patton congratulates co-valedictorians Ry Storey-Fisher and Naomi Eisenberg. Hannah Hudson was salutatorian.
"More importantly, we have gained a multifaceted view of the world, seeing beyond one perspective or viewpoint. We might not like it and we might not agree, but we have the tools to challenge opinions and engage in deliberative dialogue.
"We are transitioning into a world where harsh views and fake news seem the norm, where people are unashamed to spew hate. But now we have the tools to engage with this world, leaving it a little more truthful, a little more kind," the political science major said.
"Though the world is wildly unforgiving, we learned to be intellectually fearless in the face of adversity. We must press on with persistence and resilience… So, let's keep learning, let's keep progressing, let's keep loving. Let's keep pressing on."
Honorary degrees
In addition to the baccalaureate degrees and the honorary doctorate conferred to Commencement speaker Wilkerson, Middlebury also granted:
- an Honorary Doctor of Arts degree to Jeanne A. Brink, the traditional Abenaki artist and activist, for her commitment to preserving the culture of her people, including Abenaki storytelling, history, language, basket making, oral traditions, dance, and games;
- an Honorary Doctor of Arts degree to Elaine Ostroff, a pioneer in the practice of Universal Design as a social justice issue, for her work in creating environments and products that are usable by people regardless of age or ability;
- an Honorary Doctor of Humane Letters to Velcheru Narayana Rao, a literary scholar, author, and translator of classical works in Telugu, India's second most-spoken language, and for reinterpreting Telugu literature and for introducing it to Western audiences; and
- an Honorary Doctor of Humane Letters to William P. Stritzler '60, the managing director and owner of Smuggler's Notch Resort, for redefining what a Vermont ski area can be, and for having a positive impact on the state's economy and environment.
The co-valedictorians of the Class of 2018 were Naomi Zecher Eisenberg of Newton, Mass., and Ry Sylvan Storey-Fisher of San Francisco, Calif. The class salutatorian was Hannah Beatrice Hudson of Southbury, Conn.
Faculty members Chong-suk Han (sociology/anthropology), Mario Higa (Portuguese), Marta Manrique-Gomez (Spanish), and Marybeth Nevins (sociology/anthropology) served as marshals of the 2018 Commencement, and Mark R. Orten, dean of spiritual and religious life, delivered the Invocation. The National Anthem was sung by Anne Marie Leclerc Beliveau '18 of Essex Junction, Vt.
In one of her last official acts as Middlebury chaplain, Laurel Macaulay Jordan '79, who is retiring at the end of June, gave the Benediction just before the graduates sang the alma mater "Walls of Ivy, Paths of Beauty," and recessed into the arms of waiting family members, friends, and classmates.
By Robert Keren; Photos by Todd Balfour, Brett Simison, and Yeager Anderson