College Community Chorus to Perform Two Concerts on Mother's Day Weekend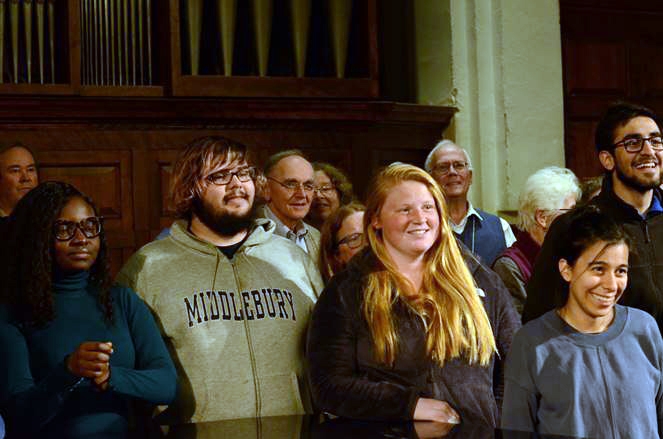 The Middlebury College Community Chorus rehearses for their spring 2018 concerts. Photo by Anastasiya Prokhorenko'19.
MIDDLEBURY, Vt. – Fifteen Middlebury students join the College Community Chorus and will take to the stage in Brandon and Middlebury on Mother's Day Weekend for its annual spring concerts, this year with the theme "Moonlit Nights & Sun-filled Days." Conductor Jeff Rehbach leads the 80-voice chorus as virtuoso pianist Timothy Guiles accompanies the ensemble. Rehbach notes that delightful classical, traditional, and popular music fills the hour-long program.
College students hail from China, Zimbabwe, Texas, California, Pennsylvania, Indiana, Massachusetts, Delaware, Maine, Vermont, New York, Kentucky, and Maryland. Community members of the College Community chorus — including College alumni, as well as current and retired staff and faculty — travel for weekly rehearsals from throughout the region, including Cornwall, Bristol, Weybridge, Middlebury, New Haven, Leicester, Orwell, Brandon, Moriah NY, North Ferrisburgh, Monkton, Salisbury, and Vergennes. The group welcomes all singers who delight in this 150-year-old community tradition, hosted by Middlebury College.
Performances take place on Saturday evening, May 12, 7:30 pm, at the Brandon Town Hall, and on Sunday afternoon, 13, 3:00 pm at the Mahaney Center for the Arts, Robinson Concert Hall at Middlebury College. Donations at the door in Brandon support ongoing renovations and programming at the historic Town Hall, while the Middlebury concert is free admission.
As the choir singers process and gather on stage, they open the concert with Awake! Bright day from Richard Wagner's famous opera Die Meistersinger. Following the quiet Evening Prayer from Englebert Humperdinck's 1893 musical setting of Hansel and Gretel, the choir greets a new dawn with Behold the sun!, a chorus excerpted from one of Franz Joseph Haydn's last major works, completed in 1801.
The program features music for the night by contemporary American composers Gwyneth Walker and Daniel Elder. Walker, who lived and farmed for many years in Vermont, seeks to capture the lyricism of the E. E. Cummings poem "after all white horses are in bed." Elder writes his own lyrics and music for the gentle nocturnes entitled Ballade to the Moon and Lullaby.
From world music traditions, the choir takes up a new arrangement of Yonder Come Day, a spiritual from the Georgia Sea Islands, as well as a traditional song from Ghana that describes children's games played beneath the bright moon. Popular tunes on the program include lyrical choral arrangements of Cole Porter's Night and Day, Lennon & McCartney's I'll Follow the Sun (as arranged for the King's Singers, an award-winning British a cappella ensemble), and Dolly Parton's Light of a Clear Blue Morning by Craig Hella Johnson, conductor of the Grammy® award-winning ensemble Conspirare.
The concert concludes with a flair, as the choir sings Pulitzer Prize winning composer Aaron Copland's The Promise of Living followed by Meridian, a stirring work scored for piano solo and chorus, by noted contemporary composer Ola Gjeilo—premiered in Vermont just three weeks ago by the Chorus, the Middlebury Community Wind Ensemble, and pianist Tim Guiles.
For more info, contact Jeff Rehbach, rehbach@middlebury.edu