College Presents Perkins Award for Teaching to Mathematician Priscilla Bremser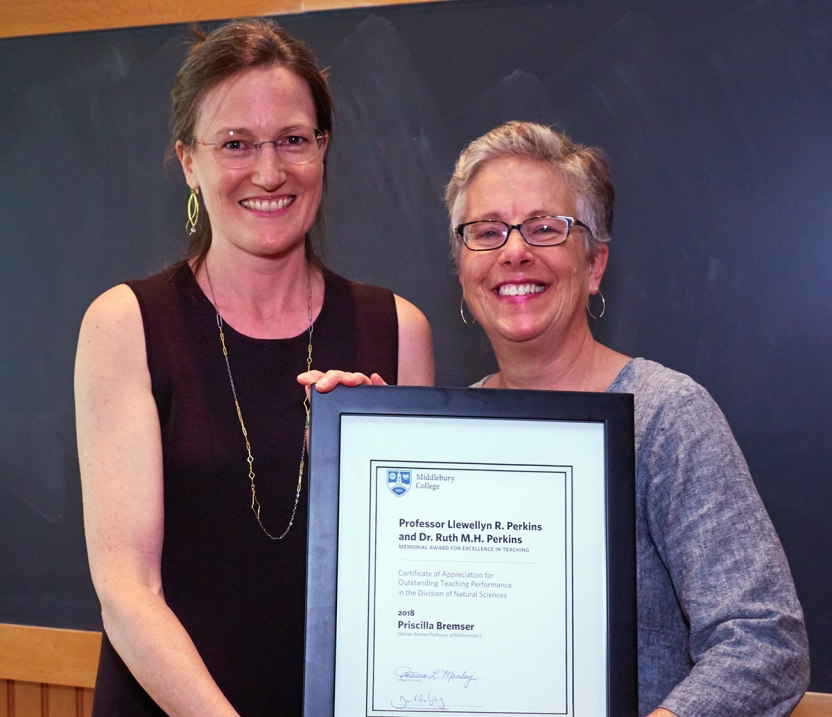 MIDDLEBURY, Vt. – Middlebury College has awarded the 2018 Perkins Award for Excellence in Teaching to Priscilla Bremser, the Nathan Beman Professor of Mathematics and chair of the Math Department. The Perkins Award is given annually to a member of the Middlebury College Natural Sciences division, alternating each year between mathematics and other departments in the sciences, and honors outstanding performance as a teacher.
At a ceremony and reception at McCardell Bicentennial Hall on May 7, faculty members, students, and members of the Perkins family gathered to honor Bremser.
"She consistently is the best at helping students actually learn, not just memorize," said Director of Sciences Pat Manley, quoting from a student nominator. "Focus in her class centers around understanding and effort. She routinely understands every student's confusion, helps correct it, and facilitates discussion. I feel that after one of her classes, I have a deeper understanding and appreciation of the material than after any other teacher's class."
Earlier in the year, all mathematics majors and minors were asked to submit a nomination for a faculty member who they felt should be honored for their excellence as a teacher, with the idea that they should think broadly about the role of teachers at Middlebury beyond the classroom, such as lab work, mentoring, and advising.
Senior mathematics and biochemistry major Sabina Haque took a linear algebra class with Bremser in the spring of her freshman year. "Taking that class simply revolutionized the way I thought about mathematics," said Haque, who spoke at the reception. "I was struck not only by stepping into a vastly different field of mathematics, but also a vastly different way of learning it. Professor Bremser, equipped with her unique flavor of flipped classroom, enables students to teach themselves complex and mathematical ideas."
Haque continued, "Professor Bremser, through her endless dedication, generosity, kindness, and the steadfast belief that any student can achieve high levels of mathematical understanding, exemplifies the meaning of 'exceptional.'"
Jack Petrillo, a senior mathematics and computer science major, said that when he first took a class with Bremser, he had not planned on being a math major. "After experiencing her hands-on and collaborative approach to learning mathematics, I realized it was a process of discovery and not just memorizing formulas and theorems," said Petrillo. "In each of her classes, Professor Bremser teaches perseverance and curiosity when approaching a problem. I'm entirely thankful for her consistent encouragement in pursuing an academic interest of mine, and I think I can speak for all of our peers that we've been very lucky to have Professor Bremser during our time at Middlebury."
Bremser, who earned her PhD in mathematics from Johns Hopkins University, arrived at Middlebury in the fall of 1984. She received tenure in 1991—the first woman to be tenured in the Mathematics Department. She has taught and published papers in number theory and in the theory of finite fields.
More recently, she has devoted time to researching mathematics education at all levels. For more than 10 years, she has been an instructor with the Vermont Mathematics Initiative (VMI), a three-year master's program for practicing elementary and secondary school teachers. She is also a founding editor of On Teaching and Learning Mathematics, a blog of the American Mathematical Society.
In 2017, Bremser and four colleagues from other institutions wrote the article "What Does Active Learning Mean for Mathematicians?" for the American Mathematical Society. That article will appear in the 2018 edition of The Best Writing in Mathematics (Princeton University Press).
Bremser expressed gratitude for her colleagues, who she said have helped her on her journey at Middlebury. In brief remarks, she described two events during her career that had a particularly strong impact on her teaching.
In 1992, she attended a mathematics education reform conference at Bowdoin College. A presenter gave her the idea of teaching abstract algebra by having students work only in small groups in the classroom. She says she tried it the next fall and has been teaching the course that way ever since. Bremser thanked all of her students, but said she was especially grateful to the ones in 1992 who were willing to try a new approach.
Bremser also noted that the Vermont Mathematics Initiative, through which she has taught—and learned from—practicing schoolteachers, has been a major influence on her teaching.
The Perkins Award was presented by Catherine Harris, the granddaughter of Professor Llewellyn Perkins and Dr. Ruth Perkins '32, for whom the honor is named. Llewellyn Perkins taught mathematics at Middlebury from 1914 until his retirement in 1941. Harris was joined in the audience by her mother and sister. The honor includes a citation on two plaques, which are located in Warner Hall and McCardell Bicentennial Hall, as well as an allocation of enrichment funds to further the recipient's professional development.
The Perkins Award is provided by the Professor Llewellyn R. Perkins and Dr. Ruth M.H. Perkins Memorial Research Fund, and it was made possible by a gift from Ruth Perkins, Middlebury Class of 1932, in memory of her husband, Llewellyn, who taught at Middlebury from 1914 through 1941. Professor Perkins founded and chaired the mathematics department.
Their children, Marion Perkins Harris '57, a science teacher, and David Perkins, a physician, augmented the fund and expanded the scope of the award to honor their mother, Ruth, as well as their father. The award supports the recipient's faculty development. It is presented in even-numbered years to a member of the mathematics or computer science department, and in odd-numbered years to a faculty member who teaches in the natural sciences.
Reporting by Stephen Diehl; Photo by Todd Balfour