Jennifer Herrera Condry and Jonathan Miller-Lane Win Virtue Exceptional Service Award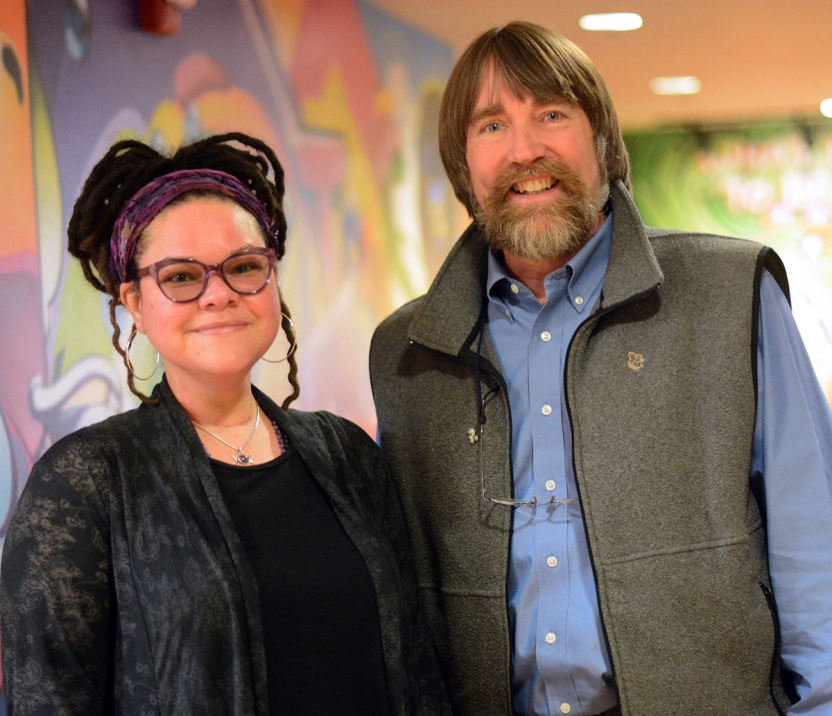 MIDDLEBURY, Vt. – Middlebury has announced that Jennifer Herrera Condry, associate director of the Anderson Freeman Resource Center, and Jonathan Miller-Lane, associate professor of education studies and commons head for Wonnacott Commons, are this year's recipients of the Virtue Family Exceptional Service Awards.
Herrera Condry has worked for Middlebury in various roles since joining the College in 2002, with a particular focus over the last decade on multicultural student affairs. In her most recent role as associate director of the Anderson Freeman Resource Center (AFC), she manages the Posse program, helps to develop and staff cocurricular programs that serve underrepresented students, and supports a multitude of student cultural organizations. A fellow staff member shared that "Jennifer's presence and guidance are integral to the continued success and flourishing of the center and its operations."
Among many achievements over her Middlebury career, Herrera Condry spearheaded and managed the implementation of gender neutral bathrooms in public buildings and the preferred name and gender pronoun procedures. She developed Middlebury's first comprehensive program to support the academic and social success of first-generation students, which includes First@Midd, peer mentoring, monthly academic and community-building activities, and an annual graduation celebration. She also led public art initiatives at the AFC and more recently at McCullough Student Center.
Nominators described Herrera Condry as a role model for supporting and connecting with students, going beyond her job responsibilities to make "tremendous efforts to enhance and transform our community to become a more engaged and inclusive Middlebury."
Miller-Lane, who has taught at Middlebury since 2003, has worked to encourage fundamental changes in campus discourse about race. In September 2017, he gave the first talk of the Carol Rifelj Faculty Lecture Series for the academic year, titled "Discourse and Discord at Middlebury: A Way Forward," in which he asked the campus community for meaningful engagement with issues related to "whiteness."
Miller-Lane has held several institutional service roles at Middlebury, including serving as director of education studies, faculty head of Wonnacott Commons, lead professor for the Mellon Foundation grant that supports the Sophomore Seminar in the Liberal Arts, and lead professor of the JusTalks initiative.
One of his nominators wrote, "I've had the pleasure of sitting in on various classes, workshops, Commons dinners, and informal gatherings that Jonathan has facilitated. His inclusive practices have strongly informed my own approach to pedagogy and community building. The high regard in which Jonathan is held—by colleagues and students—reflects our appreciation for his sustained intentional commitment cultivating a deeply inclusive Middlebury community."
Established in 2017 by Ted '82 and Dani Shaw Virtue '82, the $25,000 cash awards recognize faculty and staff who have gone above and beyond their normal professional responsibilities to support and connect with students in ways that build a more engaged and inclusive Middlebury community. Herrera Condry and Miller-Lane were selected for the 2018 awards from a group of nominees forwarded to a selection committee by faculty, staff, and students at the College, Middlebury's Language Schools, the Bread Loaf School of English, the Bread Loaf Writers' Conference, and the Middlebury Institute of International Studies.