Middlebury Celebrates Sesquicentennial Phi Beta Kappa Induction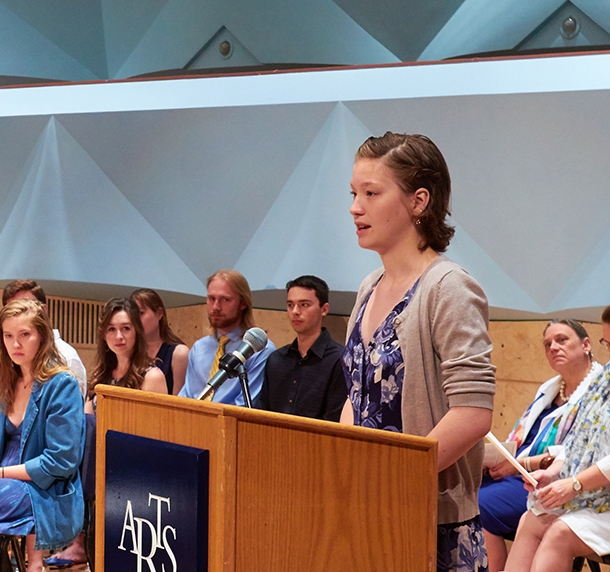 MIDDLEBURY, Vt. – In a Commencement Weekend ceremony at Robison Concert Hall, 51 Middlebury College students participated in the 150th Middlebury Phi Beta Kappa induction. Phi Beta Kappa is the country's oldest honor society for the liberal arts, having been founded in 1776 by a group of undergraduates at the College of William and Mary. The members inducted Saturday joined 13 classmates who were inducted last fall after three years at Middlebury.
Professor of Classics Jane Chaplin, the president of Middlebury's Phi Beta Kappa chapter, welcomed the audience and asked the new inductees to reflect on the responsibilities that come with membership.
"My guess is that a majority of the people here this morning are so familiar with liberal arts education that, as I often do, you take for granted that critical inquiry and love of learning enrich human life," said Chaplin. "In reality, however, liberal arts education is not the dominant mode of education in this country or elsewhere in the world. So nowadays, Phi Beta Kappa has a fresh purpose: articulating and celebrating the value of liberal arts education. My colleagues and I hope your education feels precious to you, and that you will want to share it with others. Perhaps in another sesquicentennium, everyone who wants to will be able to enjoy what you have gotten at Middlebury."
Caley Henderson '18 gave the student address, an interrogation of the value of earning high grades. The only thing certain about a high grade, she noted to her fellow students, was that they had met the expectations of a teacher. The grade itself did not say anything about what motivated them to achieve it or what may have been lost in the pursuit of a high GPA, she said.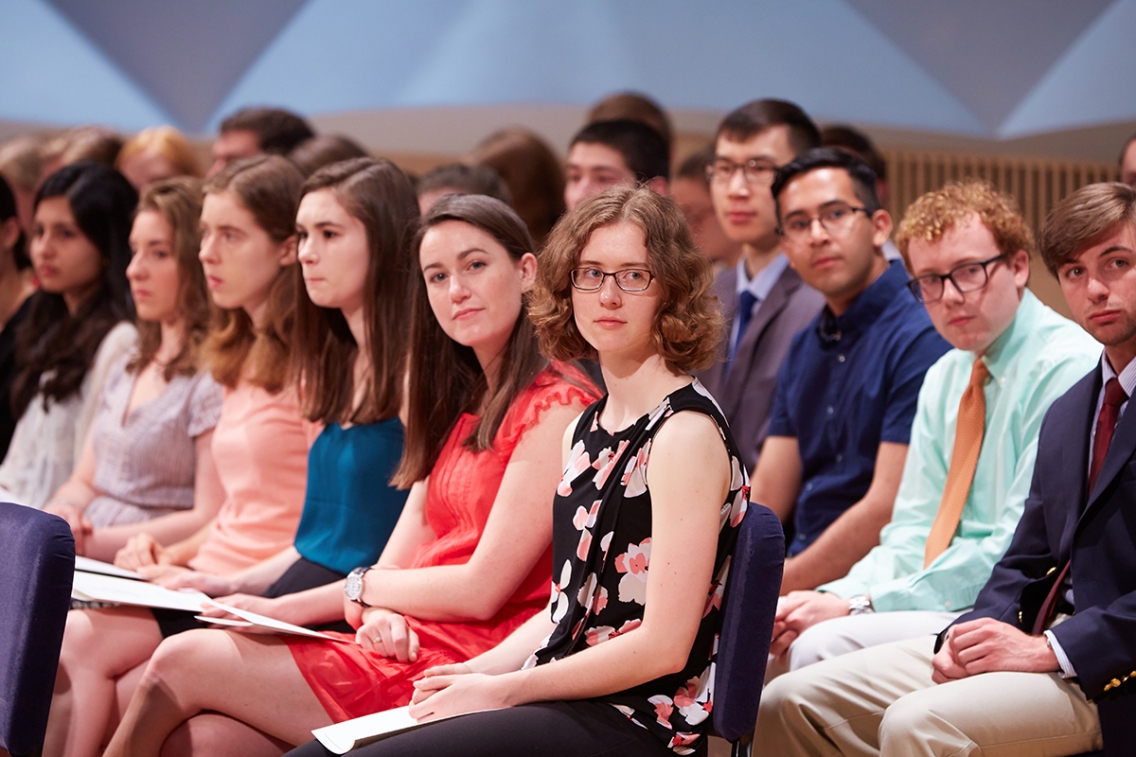 Fifty-one students were inducted to the Middlebury chapter of Phi Beta Kappa on Saturday, May 26, joining 13 of their classmates who were inducted last fall.
Henderson said that it would be a mistake to assume that because they were leaving school, it meant the end of grading. Life offers all kinds of "new grading" after graduation, she said. She offered two bits of advice to her classmates: First, try to notice the new kinds of grades in your life, whose expectations are being applied to you, and how those expectations are influencing your decision making. And, second, try to be intentional about whose expectations you plan to meet.
"Strive to meet the ones that will stretch you in new ways and help you to lead a fuller and deeper life on your own terms," Henderson said. "Try to stake your own self-worth on your own standards."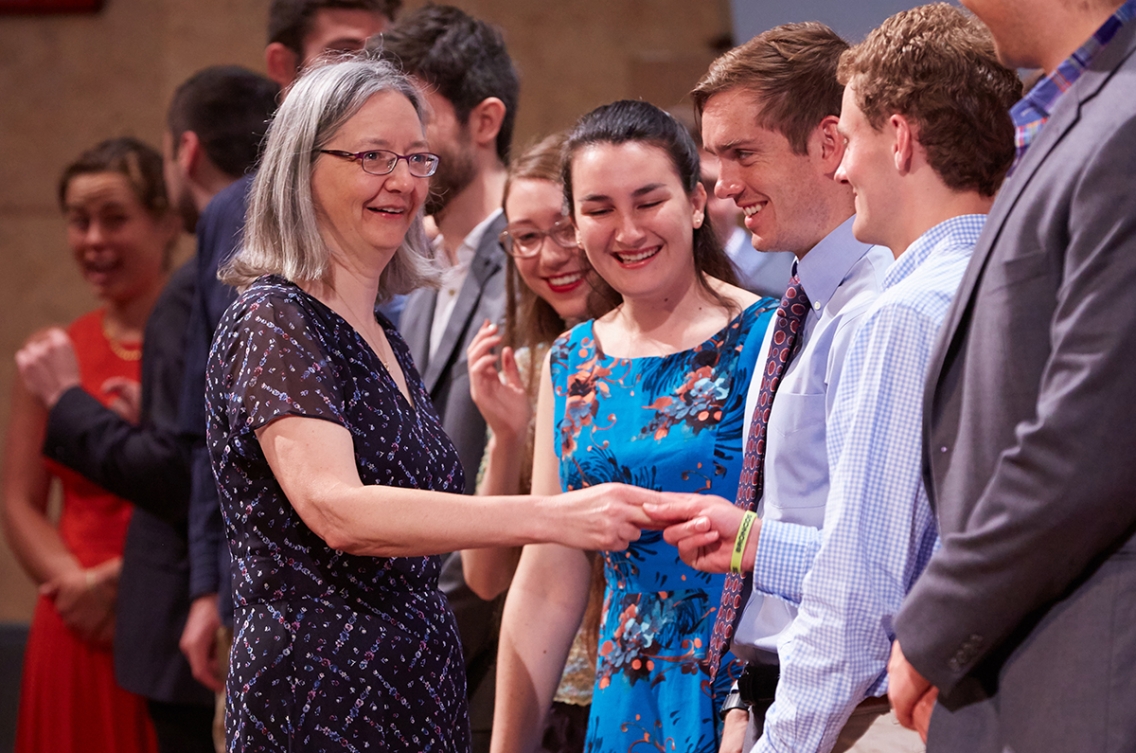 Professor of Classics and President of the Middlebury Phi Beta Kappa chapter Jane Chaplin teaches students the Phi Beta Kappa handshake.
Henderson and classmate Naomi Eisenberg, both of whom were elected after three years at Middlebury, received the Phi Beta Kappa Prize, which is presented "to the graduating senior(s) whose scholarly or artistic accomplishment and breadth, and contribution to the intellectual life of the community, best exemplify the Society's regard for intellectual excellence."
Professor of Psychology Susan Baldridge, vice president of the Middlebury Phi Beta Kappa chapter, introduced each of the new inductees and read a brief reflection—supplied by the students—which included descriptions of their plans for the future.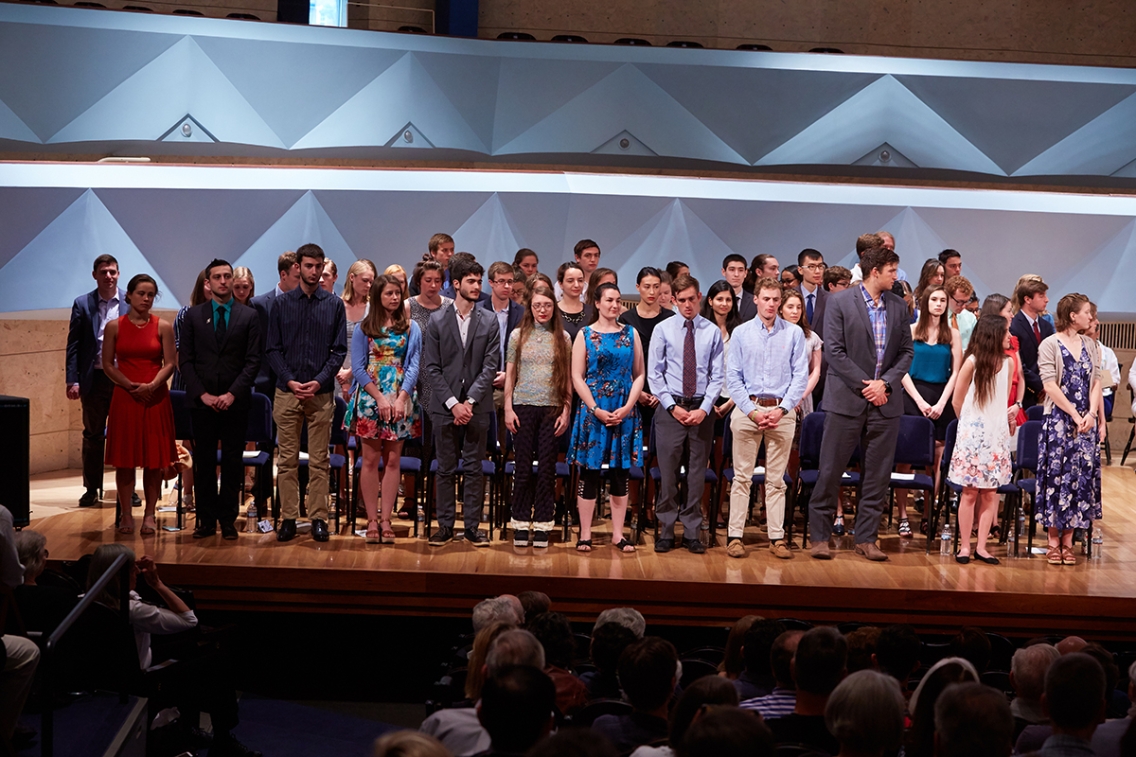 The group of new inductees on the stage at Robison Concert Hall during the induction ceremony on May 26.
Each year the Middlebury chapter elects up to 10 percent of the senior class to Phi Beta Kappa membership. Two percent of the class is elected in August, on the basis of six semesters' work, and up to an additional eight percent is elected in May, on the basis of work completed over eight semesters.
One of the traditional symbols most often identified with Phi Beta Kappa is the key, which the society developed in its early days. Middlebury owns one of the oldest Phi Beta Kappa keys still in existence—that of Middlebury's first president, Jeremiah Atwater. In addition to Chaplin and Baldridge, Middlebury's chapter officers include Laurie Jordan, chaplain of the College, who serves as secretary, and Ellie Gebarowski-Shafer, assistant professor of religion, who serves as assistant secretary.
Elected after four years at Middlebury
Annie Beliveau
Kevin Benscheidt
Deniz Bingul
Noelle Blose
Benjamin Borgmann-Winter
David Brockington
Benjamin Brown
Katherine Brown
James Callison
William Case
Javier del Cid
Robert Erickson
Lauren Finkelstein
Matthew Floyd
Morgan Grady-Benson
Hannah Habermann
Shane Healy
Jim Qiwei Ho
John Husson
Abigail Jameson
Oscar Johansson
Chloe Johnson
Deborah Leedy
Addie Mahdavi
Katherine Mayopoulos
Timothy McGovern
Hazel Millard
Delaney Moran
Alexandra Muck
John Overstreet
Ryan Peer
Aayam Poudel
Dylan Quenneville
Chico Sanchez
Meg Sayre
Joseph Schindler
Charles Shotton
Julia Shumlin
Reid Silverhart
Priyanjali Sinha
Jonathan Turnage
Marie Vasitas
Cassandra Wanna
Margaret Weber
Thomas Wentworth
Remeny White
Bryce Williamson
Kaitlin Wood
Maya Woser
Mika Wysocki
Joshua Yuan
Elected after three years at Middlebury
Bernardo Andrade
Eleanor Eagan
Naomi Eisenberg
Maximillian Greenwald
Caley Henderson
Hannah Hudson
Katherine Johnson
Alison Kraner
Tamar Matiashvili
Jason Meuse
Nellie Pierce
Victoria Pipas
Ry Storey-Fisher