Student Voices on Commencement Day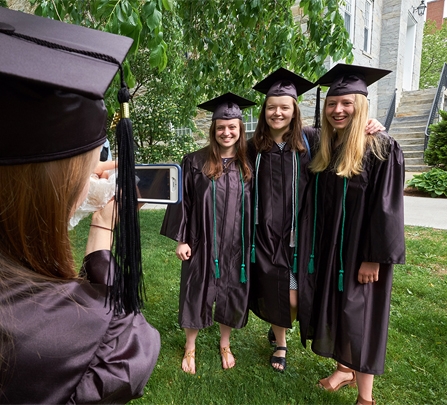 MIDDLEBURY, Vt. – On Commencement morning, just before 9 a.m., families and friends eager for a good view of the stage began to file into the rows of folding chairs lined up on Middlebury's main quad. At the same time, on the east side of Old Chapel Road, the first students trickled into the line-up area, out of sight from their families, looking for friends and their academic departments.
For students, it was a moment of complex emotions—excitement, wistfulness, anxiety, joy—all flooding in at the same time.
"It's really bittersweet," said Brooke Angell, a molecular biology and biochemistry major from Ranolph, Vt. "I'm excited to finish it all, but my biggest reservations are from leaving the people and wondering when I'll get to see my friends all in one place again." Angell is ready for her next adventure: she's heading to the University of Washington this summer to work with fellow Middlebury alumnus Stanley Fields, professor of genome sciences and medicine, in his lab.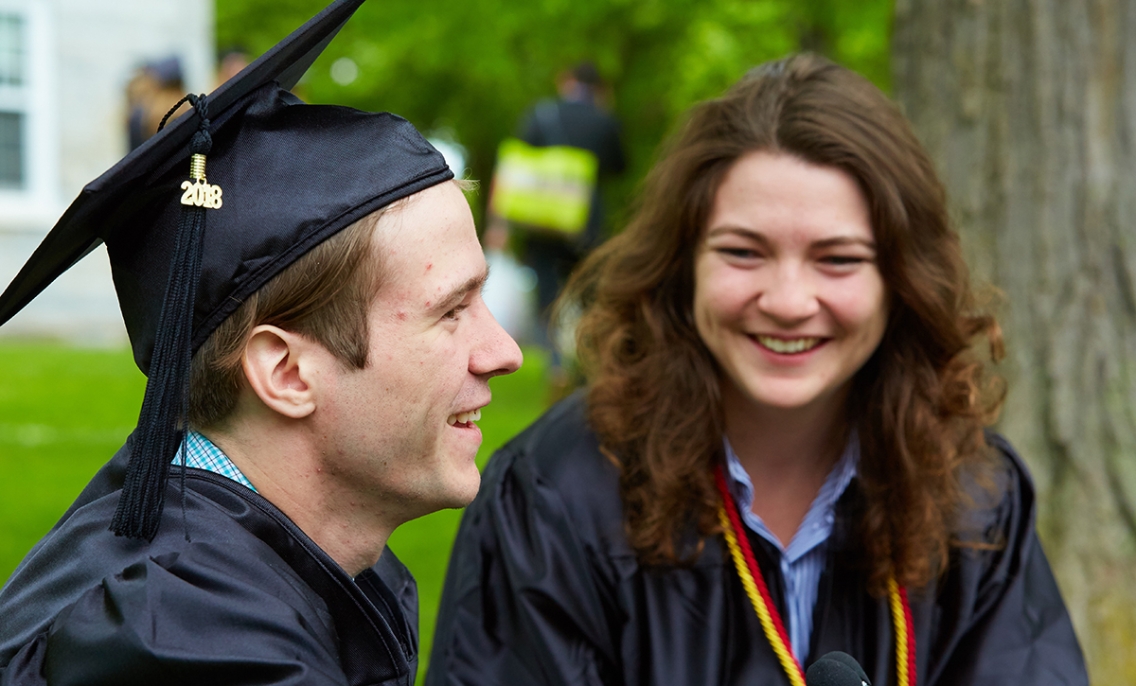 Andrew Jenkins and Brooke Angell
Mathematics major Andrew Jenkins, of Colton, NY, said the whole senior week and graduation day felt a little surreal. "I don't think it's all entirely registered yet," he said. "You want to do justice to all the friendships you've made here before you leave."
Ratang Sedimo, an economics major from Gaborone, Botswana, said he was trying to focus on the all the happy moments and not think about how much he'll miss his friends. He plans to go back to Botswana for about seven months before returning to the U.S. to begin his master's in applied economics at Johns Hopkins University.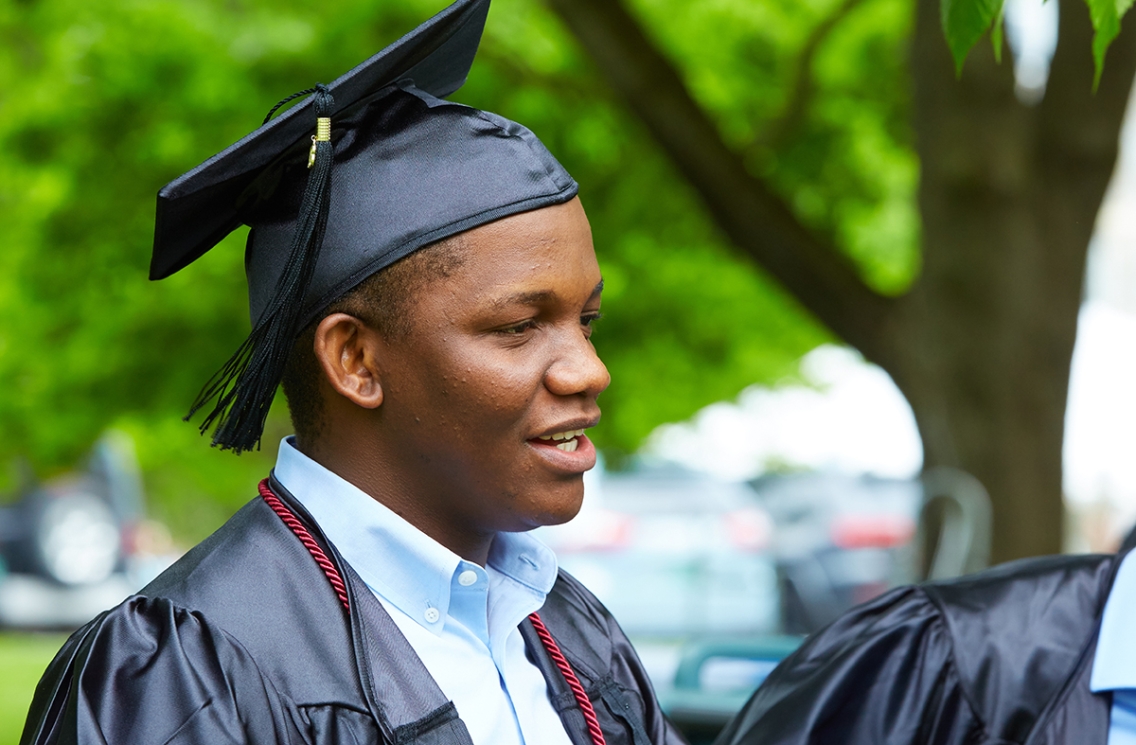 Ratang Sedimo
As the lineup of students began to fill the sidewalk from the Axinn Center to Old Chapel, Stephen Bissainthe cut a striking figure among the sea of black academic regalia. At six foot six, the political science major, who was also a participant in the Reserve Officers' Training Corps through the University of Vermont's Green Mountain Battalion, towered above his classmates in his Army dress uniform. Bissainthe will take a well-deserved break this summer before starting a four-year commitment as an active-duty field artillery officer at Fort Sill, Oklahoma, in the fall. "I feel good, prepared, and eager," he said. "It's definitely excitement balanced with some nerves, but it's a healthy mix."
Stephen Bissainthe
Quincy Simmons will head back home to Brooklyn, NY, after graduation. "It's been good to be at Middlebury, but I'm excited to get back to the city." Simmons, a BOLD scholar who majored in theatre with an education studies minor, has a job lined up in the education outreach program at the Brooklyn Academy of Music. But before she starts her new post in July, she'll be working on a women-in-theatre program and traveling to London.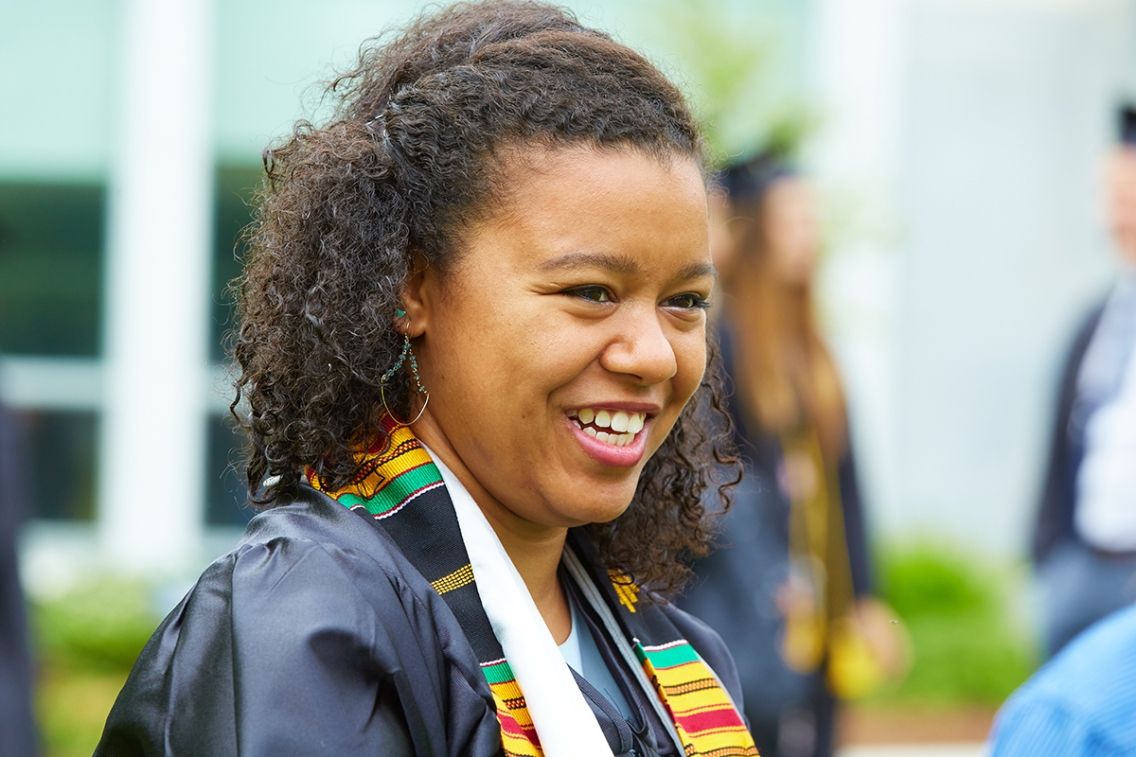 Quincy Simmons
One of the graduates, Michelle Yaruqui, completed her degree in February and participated in Feb Celebration. But the economics major from Newark, New Jersey, was originally a member of the regular Class of 2018 and wanted to be with her friends on Commencement weekend. She is currently teaching calculus at a charter school in Newark, though she eventually plans to move into consulting and research in developing countries.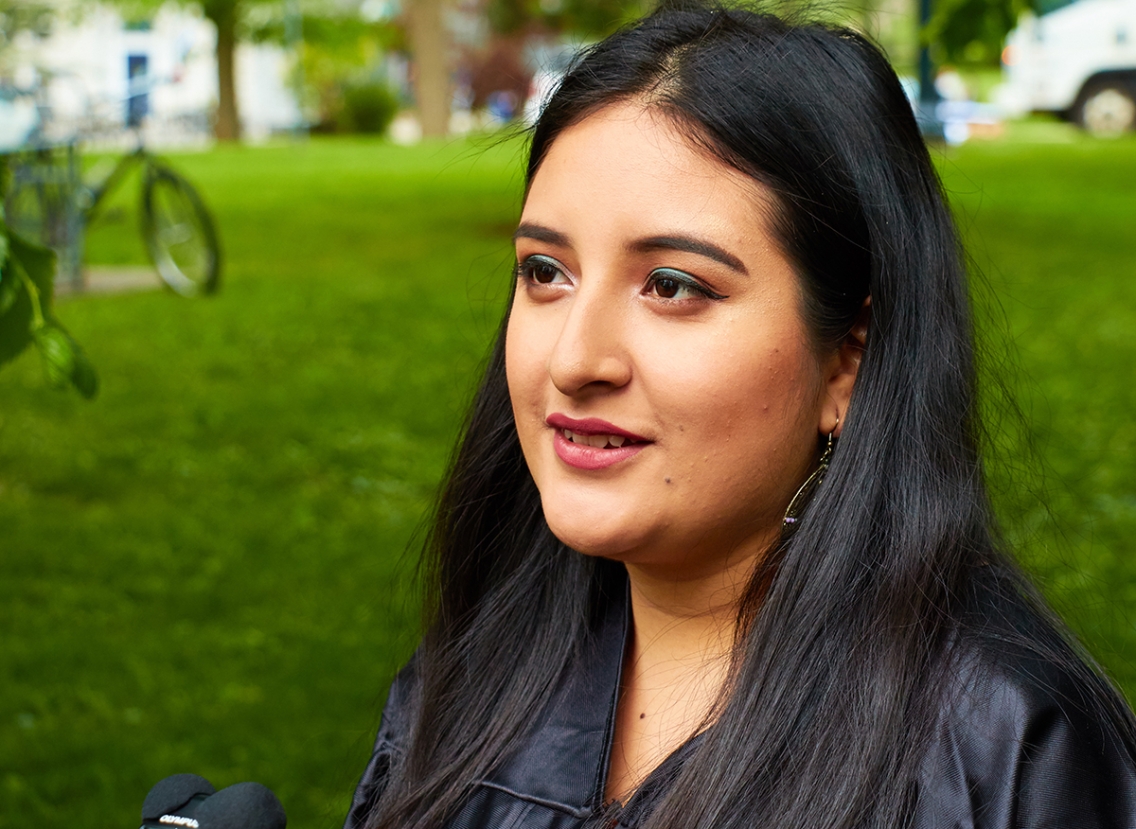 Michelle Yaruqui
Not everyone was nervous about the great unknowns to follow graduation. Iram Asghar, a joint theatre and studio art major from Brooklyn, NY, said she was planning to "wing it." She's planning to return to the city and find some work to pay the rent while she makes connections in the Brooklyn arts community and develops her own show. "I've been kind of winging it this whole time and it brought me to Middlebury, so I think if I keep winging it, something good will happen."
Derek Ding, a psychology major from Shenzhen, China, will join Asghar this summer to work in costuming for a couple of months before starting a master's program in clinical social work, specializing in clinical psychology, at Columbia University this fall.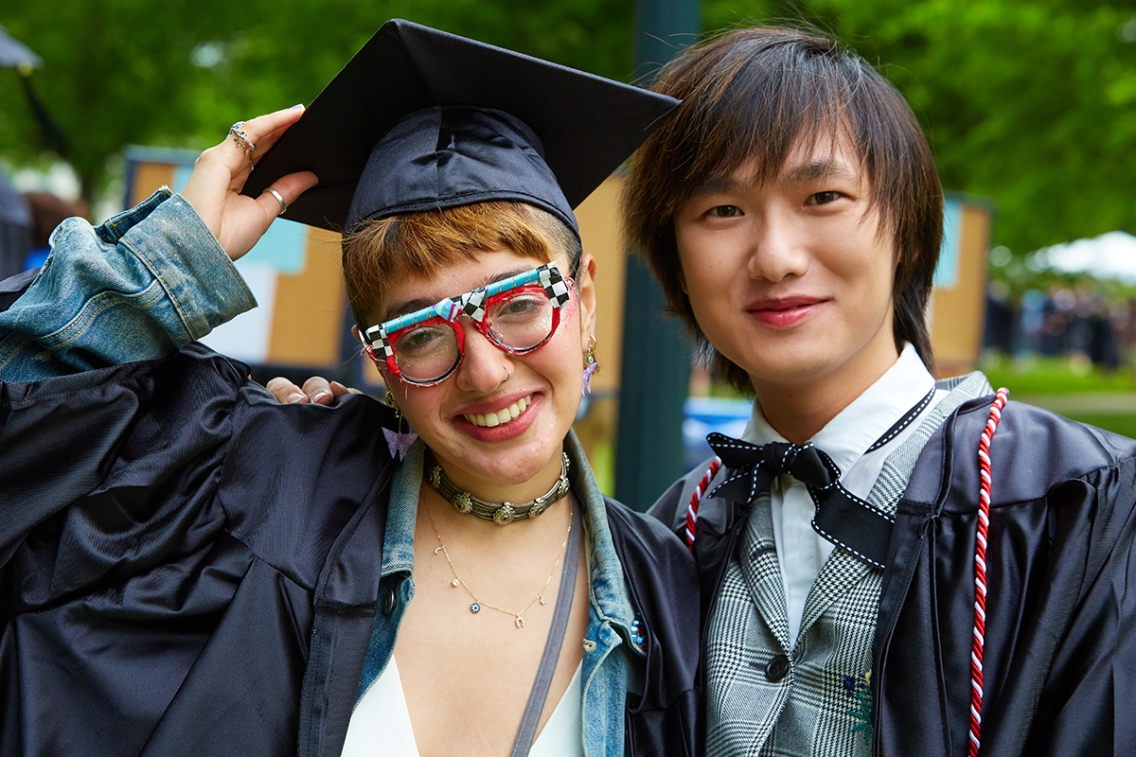 Iram Asghar and Derek Ding
For some students, the future includes staying in the Middlebury fold. Innocent Mpoki, a political science and religion major from Masvingo, Zimbabwe, is planning to attend the Middlebury Institute of International Studies to earn his master's in international policy and development. Before he starts that program, though, he's hoping to find a job to gain some experience and earn a little money.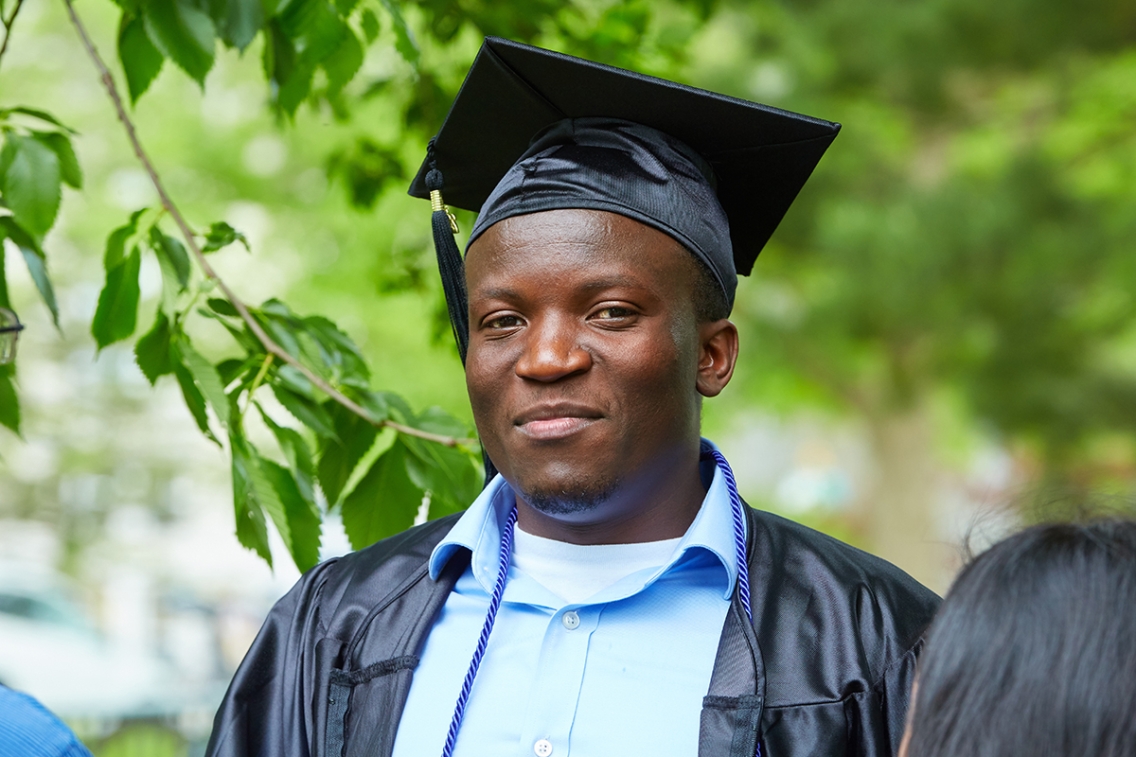 Innocent Mpoki
"This has been home for the last four years," said Mpoki. "I'm going to miss home. I enjoy the daily challenge of thinking continuously and I'm going to miss that."
By Stephen Diehl; Photos by Todd Balfour