Middlebury Breaks Ground on New Interim Academic Space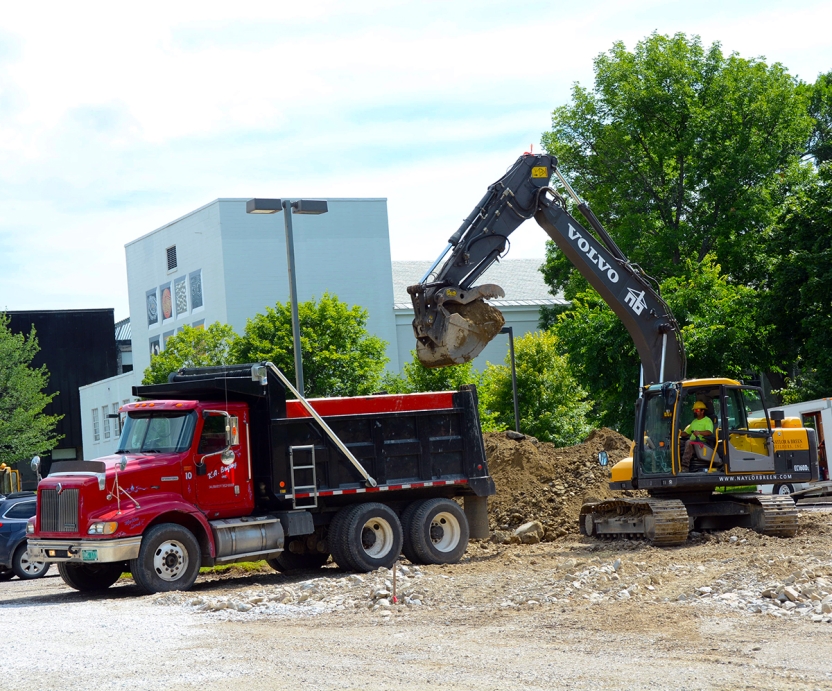 [view:embed_content==585554]
MIDDLEBURY, Vt. – Middlebury has broken ground on a building that will provide a new home for its burgeoning Computer Science Department as well as temporary office space for faculty and staff who will be relocated during a series of building renovations. Naylor and Breen Builders of Brandon, Vermont, are constructing the building on a lot just east of Johnson Memorial Building. It will be completed in June 2019.
One floor of the 24,000 square-foot building will be dedicated to computer science, containing classrooms, faculty offices, research labs, lounges, and study space. It will closely approximate the department's current space on the sixth floor of McCardell Bicentennial Hall (MBH).
The Middlebury Board of Trustees approved construction of the building in November, 2017
"We are currently at 100 percent occupancy in MBH," said Tom McGinn, project manager for Middlebury. "Student enrollments in the MBH-based majors and programs have seen a large increase over the last decade with a concurrent increase in faculty to keep pace with the rise in enrollments."
The vacated space in MBH will allow other MBH departments to expand in order to meet the growing space pressure, McGinn said.
The other floor of the new building will house 43 faculty and staff members who currently occupy Munroe Hall, a building that will undergo a substantial renovation from June 2019 through June 2020. Munroe houses the Departments of Religion, Sociology/Anthropology, and Political Science. A major renovation of Warner Hall will follow from June 2020 through June 2021. Additional renovations planned for beyond 2021 include Johnson Memorial Building and Adirondack House.
McGinn says that Middlebury's Academic Space Committee, a group composed of faculty, Facilities Services, and the Provost's Office, has explored many options to accommodate growth following the opening of the last academic building—the Axinn Center—in 2008.
"The committee explored and analyzed many alternatives in an effort to create/find new academic space," said McGinn. "A new building, acquisition of off-campus property, truly temporary spaces (i.e., modular offices/classrooms), conversion of existing on-campus buildings to academic uses, enrollment limits were all explored in great depth and considerable detail."
Designed by McLeod Kredell Architects (MKA) of Middlebury, the building uses a pre-engineered metal building system, which keeps the cost down and provides greater flexibility both for configuring the inside and disassembling it to move or recycle in the future if the College chooses to. The new construction will cost $4.5 million.
"The design uses the steel structure to create welcoming, column-free entry porticos and open, flexible spaces at the interior," said architect and faculty member John McLeod. "Different metal siding profiles and colors add shadows, texture, and visual interest to the exterior. And a playful mix of window sizes and configurations both animate the exterior and bring generous daylight to the interior, regardless of how the floor layouts may change over time."
McLeod says the new building is likely to be a welcome addition on campus. "It will offer the campus community much needed flex space—whose potential uses are varied and almost endless—in the form of a progressive architectural design that resonates with its surroundings."
Reporting by Stephen Diehl; construction photo by Robert Keren