Middlebury Students Fight Prejudice against Albinism at Summit for Youth in Kenya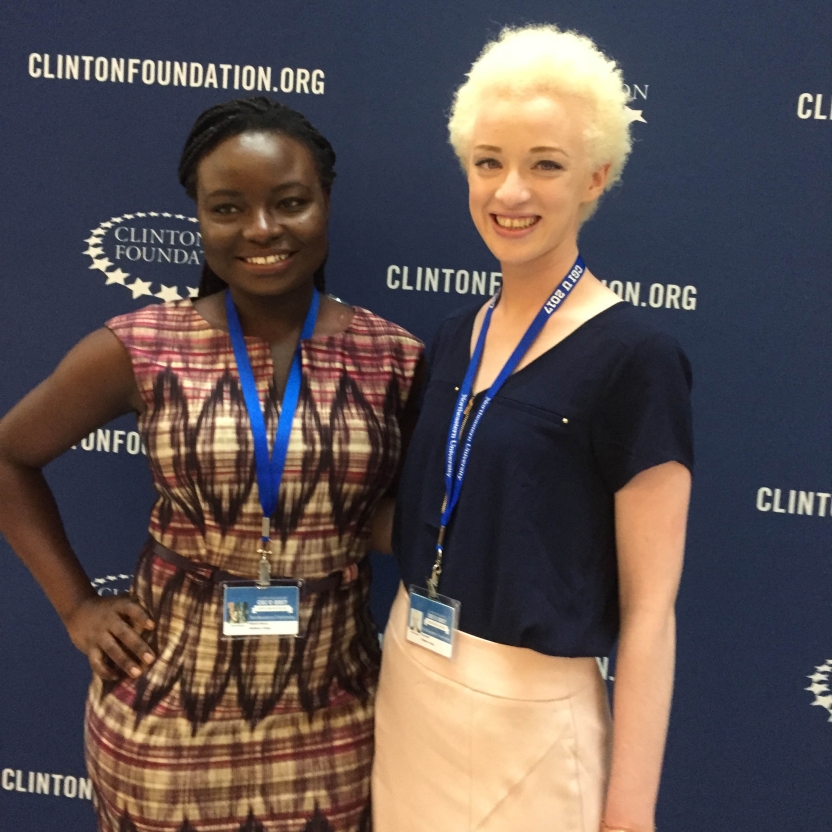 MIDDLEBURY, Vt. – This summer Meron Benti '19 and Philitricia Baraza '18 will direct a camp in Kenya for young adults with albinism—a rare genetic condition that causes a lack of melanin in people affected by it. The camp, or summit, called Amani for People with Albinism (APWA), is a youth empowerment program that will take place in Meru, Kenya, August 17–24. Benti and Baraza were awarded a $10,000 Projects for Peace grant to fund APWA. Projects for Peace, an initiative started by the late philanthropist Kathryn W. Davis, is designed to spark innovative, entrepreneurial approaches to building meaningful prospects for peace around the world.
"I experienced discrimination because of my condition," said Benti, an anthropology major and a native of Ethiopia who has albinism herself. "A program like ours can support other young people with albinism and allow them to develop self-confidence and an understanding of their inner talents and abilities."
An economics major from Kenya, Baraza said they chose to include the word Amani, which means peace in Swahili, in the camp's name for several reasons. "We hope the camp will bring participants together in a peaceful setting," said Baraza, "where young Kenyan adults with albinism can build the leadership skills necessary to spread positive awareness of their condition. We hope it can bring some inner peace to these young people as well."
In their Projects for Peace proposal, Baraza and Benti note that albinism is most common in Sub-Saharan African countries where approximately one in every 5,000 to 15,000 people suffers from it. Africans with albinism face higher chances of developing skin cancer, fewer educational opportunities, and life-threatening conditions caused by beliefs in witchcraft about the power of their body parts. They are more likely to face discrimination and unemployment because of the vision disabilities caused by their condition. They may also lack family support because families without knowledge of albinism often abandon their children with the condition.
APWA will offer young adults aged 18–27 from various Kenyan communities the opportunity to take part in personal and professional development workshops organized in partnership with a Kenyan nonprofit, the International Peace Initiatives Center, based in Kenya, and the U.S. They also worked with the Albinism Society of Kenya who helped spread the word about APWA and identify youth for participation.
Along with the Projects for Peace grant, Benti and Baraza are working to raise $2,500 on MiddSTART, a microphilanthropy site that helps Middlebury students find the necessary funding for creative, entrepreneurial projects. With nine days left before their July 25 deadline, they had raised all but $590. The MiddSTART effort will help cover the costs of lodging, food, and transportation for the summit participants and volunteers. The funding will also support the filming of a documentary about the program that further promotes positive awareness about albinism and those with the condition. Alyne Gonçalves '18.5, a geography and environmental studies major from Praia, Cape Verde, recently joined Benti and Baraza in their efforts to organize the camp and will lead the documentary project.
"While this program only lasts a week," said Benti, "we hope that what the participants learn, the relationships they form, and the messages shared at the event will stay with these young adults for much longer. We hope to inspire participants to shape more positive futures for themselves and other people with albinism living in Kenya and all over Africa."
More information about APWA is available on the project's Facebook page.