Postcard from China: 'Understanding the China Dream'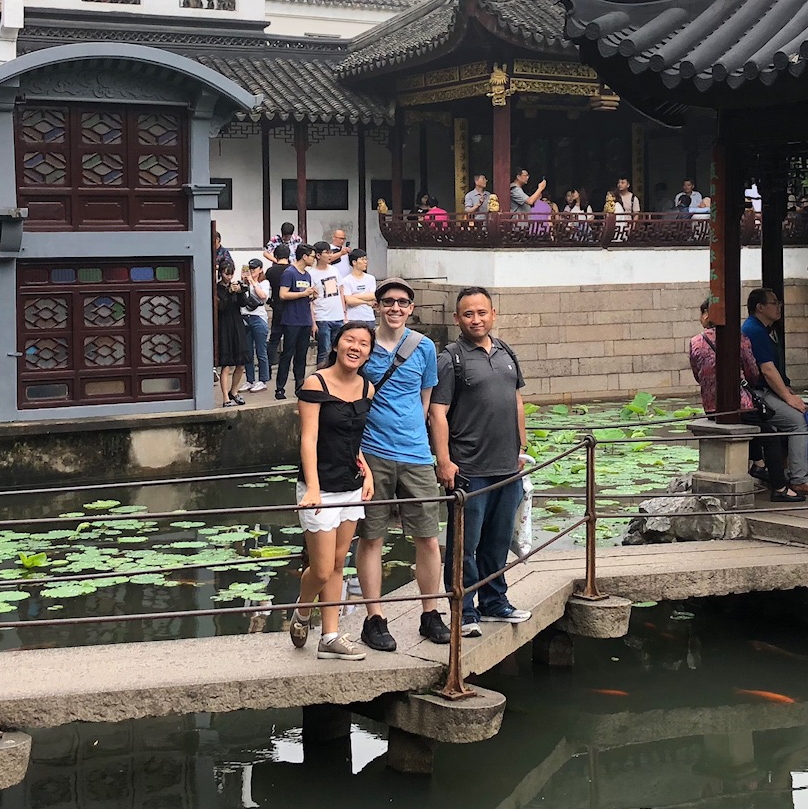 Hanna Hagerty '20 described how she gained a greater understanding of modern China during a two-week trip there with fellow Middlebury College students, Middlebury Institute students, and faculty from both institutions.
I was one of five Middlebury College undergraduates—along with 13 graduate students from the Middlebury Institute of International Studies and three professors—who recently completed the Institute's immersive learning practicum in China titled "Understanding the China Dream." Led by Yuwei Shi and Wei Liang, professors at the Middlebury Institute, and Jessica Teets, professor of political science at Middlebury College, we traveled through six cities in two weeks researching contemporary Chinese foreign policy, economics, and civil society. In particular, we examined these three broad categories in the context of the "China Dream," promoted by Chinese President Xi Jinping as an embodiment of national ideals and aspirations.
Our two-week whirlwind began in the nation's capital. After spending four days in Beijing, we traveled down to Suzhou and Shanghai in Jiangsu Province via high-speed train. Next, we flew inland to Yunnan province to visit Dali and Kunming, the provincial capital. Finally, we flew back to the coast and ended our trip in Shenzhen.
Visiting six cities in two weeks, we participated in 20 different meetings with a wide variety of individuals and groups. These meeting were predominantly conducted as presentations followed by Q&A or semi-structured discussions. We met with university professors, investment banks, a state-owned enterprise, nonprofit incubators and coordinators, government representatives, and more. Through these meetings we pieced together a more comprehensive understanding of how China is navigating development in economic, political, and social spheres.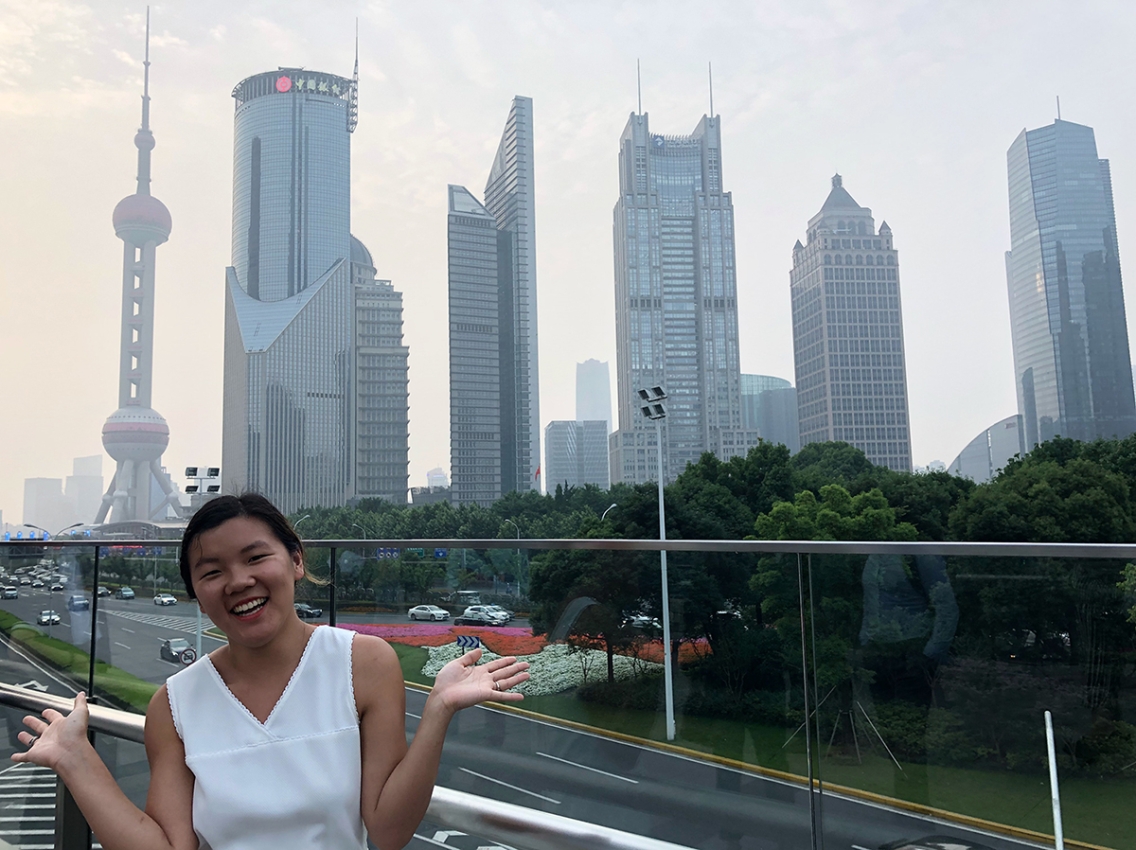 Hanna Haggerty '20 stands with Shanghai's skyline in the background.
As an immersive learning experience, this trip was an amazing opportunity to meet and interact with important individuals in different business, academic, and governmental fields. Attending a press conference at the Ministry of Finance, sitting in the boardroom of the Asian Infrastructure Investment Bank, and visiting Tencent and Microsoft all stand out as prominent examples of the ways in which this trip was a unique experience.
Throughout our trip, we had the opportunity to pose questions and engage with prominent professionals according to our own personal interests. Our areas of research covered a wide variety of topics, ranging from nonproliferation, China-Japan relations, and international trade to Hukou policy, minority status, and technological innovation. While we did not have the time to explore each subject in depth, the number and diversity of meetings we attended enabled us to at least touch on each of our wide array of topics.
The level of prior experience with China varied considerably among our group. Out of 21 participants, two of us did not speak any Mandarin Chinese and four had never visited China before, while four others hold or have held Chinese citizenship. Whether we walked into this trip with dozens of visits under our belt, just a few, or none at all, I believe we all had new experiences and left with new insights informed by some very interesting people and places.
Personally, I learned a tremendous amount from the different individuals and organizations we visited. I entered this trip with a very rudimentary understanding of contemporary China. While two weeks of firsthand experience is far from a complete crash course in the subject, this trip contributed substantially to my understanding of what China is in a modern context. During those two weeks, each visit added another small piece of information, and eventually I had accumulated enough pieces to start visualizing broader structures and patterns. This practicum helped me challenge and complicate preconceptions I had about what contemporary China looked like and how it functioned on a global stage. Finally, I believe the people I traveled with had a significant impact on how valuable and enjoyable this adventure was.