Special Collections' Exhibit Is Middlebury's First to Focus Exclusively on Medieval Printed Books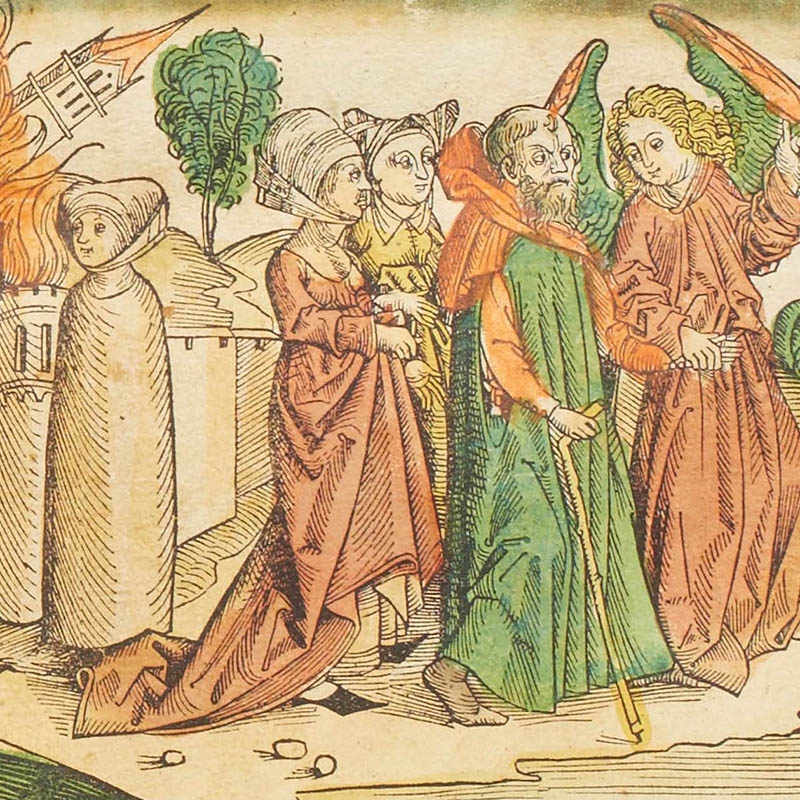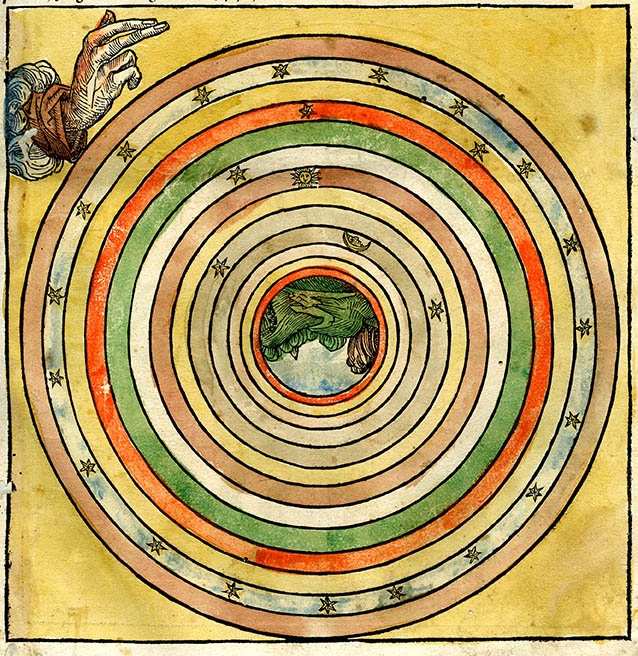 An early opening page in the Nuremberg Chronicle (1493) establishes the order of the universe and its cosmography, as created by God. The earth sits at the center of the universe, upside-down to the viewer but oriented towards the hand of its creator. Nicolaus Copernicus would publish his heliocentric model of the universe in Nuremberg exactly 50 years later.
Helen and Arthur Tashiera were Californians who spent their summers in the 1920s and 1930s in Shrewsbury, Vt. According to College Archivist Danielle Rougeau, their admiration for Middlebury's academic programs led them to donate an early printed book to Middlebury in 1938—it was the College's first medieval book. In 1946, they donated 43 additional European printed books that also date from the time of print's infancy in the 1400s and 1500s.
Marie Théberge, whose son Philippe Bronchtein is a 2010 Middlebury graduate, was the guest curator of the exhibit. Former Special Collections Postgraduate Fellow Mikaela Taylor '15 designed it with additional support from Rougeau and Irwin.
Théberge, who lives in Quebec, completed her master's in French studies at Montclair State University in 2016. While earning her degree, she relied heavily on medieval books in both Special Collections and the Middlebury College Museum of Art. After receiving her master's, Théberge approached Special Collections with a proposal to volunteer her time on a project. "She wanted foremost to be helpful, and to participate in the care and preservation of rare books," said Irwin.
Théberge's own work had focused on French medieval manuscripts—handwritten books, rather than mechanically produced. "Early printed and handwritten books share many features," said Taylor. "They are fascinating but can also be a challenge to modern students—they are typically in Latin, and their subject matter can seem arcane when tackled by a 21st-century reader. With Marie, we found a curious, conscientious, and serious researcher ready to interpret and showcase these books."
"Curating the exhibit of the Tashiera collection gave me a wonderful opportunity to interact with beautiful early printed books," said Théberge. "I also loved collaborating with the team at Special Collections—it was truly an enriching experience. I am especially grateful to Mikaela Taylor for her creativity and enthusiasm for my vision of the exhibit."
In the Footprints of the First German Printers: 1450–1500 will be on display in Davis Family Library atrium (main level) and Harman Periodicals Reading Area (lower level) through September 30.
For More Information